Greece is one of the countries I love to visit and it has been on my list for a long time. In addition, to have beautiful places, I think Greece has an attractive food culture. Foods that are easy to cook and healthy. The Greeks use unsaturated oils, such as olive oil, in their dishes along with fresh vegetables, which give them a special taste. The tzatziki sauce is a creamy sauce with a garlic and cucumber flavor that is served with Greek dishes and I am sure you will love it once you try it. Hope you enjoy the homemade tzatziki recipe.
What Is Tzatziki?
Tzatziki sauce or dip is mostly found in Southeast European cuisine. This sauce is made with salted strained yogurt, cucumber, garlic, olive oil, herbs like dill and mint and is served with many Greek dishes. A creamy, with garlic flavor and refreshing Greek sauce that goes with everything! Of course, another dip called "cacik" (Turkish yogurt and cucumber dish) is made in Turkey, which is very similar to this sauce.
What to Serve With Tzatziki?
Many Greek dishes are served with this sauce, such as chicken wrap, meatballs, souvlaki, tortilla chips, and falafel. The good thing about this sauce is that you can safely change the classic recipe. Instead of grating cucumbers, chop them finely, or just add garlic and cucumber to yogurt. The important thing is that you get the desired taste of this sauce and prepare the sauce next time with the same special recipe for yourself.
Pro Tips to Make Tzatziki Recipe
Cucumber has a lot of water and when it is grated or mixed with other ingredients, this water comes out and makes the sauce or anything else you made with cucumber look watery. Be sure to strain the yogurt and cucumber so that the sauce is not thin and watery.
I prefer to use full-fat yogurt for this recipe whenever possible. 

The taste will be richer, you will have and creamier Tzatziki sauce. 

You can use both fresh or dried herbs.

Mint and dill are two herbs that are used a lot to make this sauce.

Do not forget to add salt, paprika, and black pepper.
Did you like the homemade Tzatziki recipe? Try my samosa recipe as well! Leave your comment below and If you make this recipe, be sure to tag your photos #yummynotes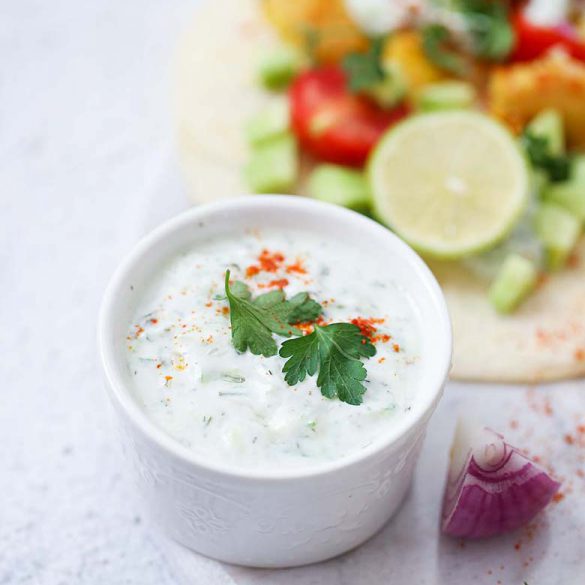 Ingredients
2 cups salted strained yogurt

1 English cucumber, grated

2 cloves garlic minced

1 tablespoon finely chopped fresh dill

1 teaspoon finely chopped fresh mint

1 teaspoon of fresh lemon juice

olive oil for sprinkling on top

Salt and pepper to taste
Instructions
Step 1
Grate the cucumber. Grate it into a bowl and squeeze out the excess water with your hands.
Step 2
Add the yogurt to a bowl and stir in the cucumber, garlic, dill, mint, lemon, salt and pepper.
Step 3
Let sit for at least 10 minutes in fridge. Serve with olive oil drizzled on top. 
Did You Make This Recipe?