Galettes are simple pastry desserts served with a variety of fillings or seasonal fruits. The crust is very flaky and firm, made with flour, butter, and cold water. Although different fillings can be made for galettes, this easy strawberry galette is something you should definitely try.
About  This Recipe
This is a quick and easy strawberry galette to make, and it's just so good. Flaky and crispy crust wrapped around sweet and juicy strawberries made a heavenly delicious homemade dessert.
Why You Will Love This Recipe
Easy to make: With their rustic look, galettes are easier to make than pies. But the simpler method of preparing galette crust does not affect its good taste.
Full of strawberry flavor: Imagine a slice of a galette made with fresh strawberries on a plate served with a generous scoop of vanilla ice cream on top. I will fall in love with its perfection.
What Do You Need To Make Easy Strawberry Galette?
Flour: Use all-purpose flour to make galette crust dough.
Butter: For this recipe, you should use cold unsalted butter, and cut it into small pieces.
Sugar: The amount of sugar required for the crust is not too much at all, however, it is possible to cut it out if you want to minimize the sugar intake.
Salt: The salt helps to enhance the flavor of the pie crust.
Water:  Water should be ice cold. The cold water helps to keep the butter cold so it does not melt. If the water is at room temperature or hot you'll lose the flakiness.
Strawberries: Use fresh strawberries and just chop the fresh strawberries and sprinkle them with a little sugar.
Corn starch: Corn starch has thickening power. For a shiny, glossy filling we add corn starch.
Did you like the easy strawberry galette recipe? Try my strawberry banana cheesecake salad recipe as well! Leave your comment below and If you make this recipe, be sure to tag your photos #yummynotes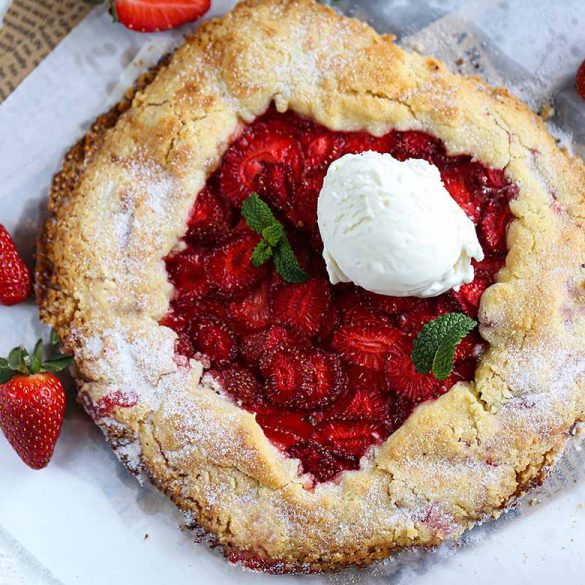 Ingredients
1 ½ cups all-purpose flour + more to flour the surfaces

10 tablespoons cold unsalted butter, cut into small cubes

4 tablespoons cold water

½ teaspoon salt

2 tablespoons sugar

1 large egg yolk
Instructions
Step 1
Place the flour, butter, sugar, and salt into the food processor bowl and pulse a few times to form a crumble-like mixture.
Step 2
Pour in ice-cold water and pulse until the dough comes together.
Step 3
Dust your work surface with flour and form the dough into a small disk. Wrap the dough with a piece of plastic and refrigerate for about 30 minutes.
Step 4
In a small bowl mix sliced strawberries, corn starch, and sugar.
Step 5
Roll out the dough to a thickness of about 3 mm on a baking paper.
Step 6
Place the strawberry filling on top and gently fold the edges over the filling.
Step 7
Place the galette into the freezer for 10 minutes.
Step 8
In a small bowl whisk egg yolk with a fork until smooth. Pre-heating oven to 200°C/392°F.
Step 9
Brush the edges of the dough with egg yolk and sprinkle with sugar.
Step 10
Bake for 30 minutes or until the edges are turning golden brown.
Did You Make This Recipe?