We all have a person in our life who has been motivated us to do a job or something good, for example, motivating for cooking, and we always remind that person by smelling the aroma or the special taste of a meal. A taste of food that may have passed several generations to reach us.  My grandmother believed that every season has its own food! One of these foods, which is very dependent on the season, is Abdoogh Khiar or Persian cold cucumber and yogurt soup.
What You Need To Make Abdoogh Khiar
Yogurt
Cucumber
Raisin
Walnut
Sabzi Khordan(scallion, summer savory, tarragon, basil, mint)
Crushed dried rose petals
Crushed dried bread
Water
Ice cubes
Doogh
How To Make Abdoogh Khiar?
Abdoogh Khiar is a popular cold soup in the warm season, and it is one of the healthiest Persian foods that can supply the fiber, vitamins, and minerals you need. Peppermint and basil are anti-inflammatory. Its tarragon is fragrant and appetizing, its cucumber contains vitamin C and decreases thirst. Yogurt and doogh, which are the main ingredients, contain calcium and protein. Raisins and Walnuts are also rich in potassium. For healthier recipes be sure to use low-fat yogurt or doogh instead of yogurt.
In the first step, stir yogurt in a large bowl to smooth it. Many people also add a little cream in this step. Then add the chopped cucumbers to yogurt and stir well. Cut the cucumbers into equally shaped dice. You can also dice your cucumbers into thicker pieces if you prefer. Then add the rest of the ingredients to Abdoogh Khiar.
And finally pour water. The amount of water you add depends on your taste. Some people like thick Abdoogh Khiar. After mixing all the ingredients, add two or three cubes of ice.
Tips To Make Cold Cucumber And Yogurt Soup
Adding a little black pepper will give your Abdoogh Khiar a wonderful flavor.
Traditionally, this cold soup is prepared and served in pottery(ceramic).
Note that basil and mint must be in your herbs list to prepare Abdoogh Khiar. The best herb combination to make a delicious Abdoogh Khiar is basil, mint, summer savory, and tarragon.
If you wish, you can use fresh dill, crispy stalks of shallots, Scallions, and garlic.
If you do not have access to fresh fragrant herbs, use dried herbs.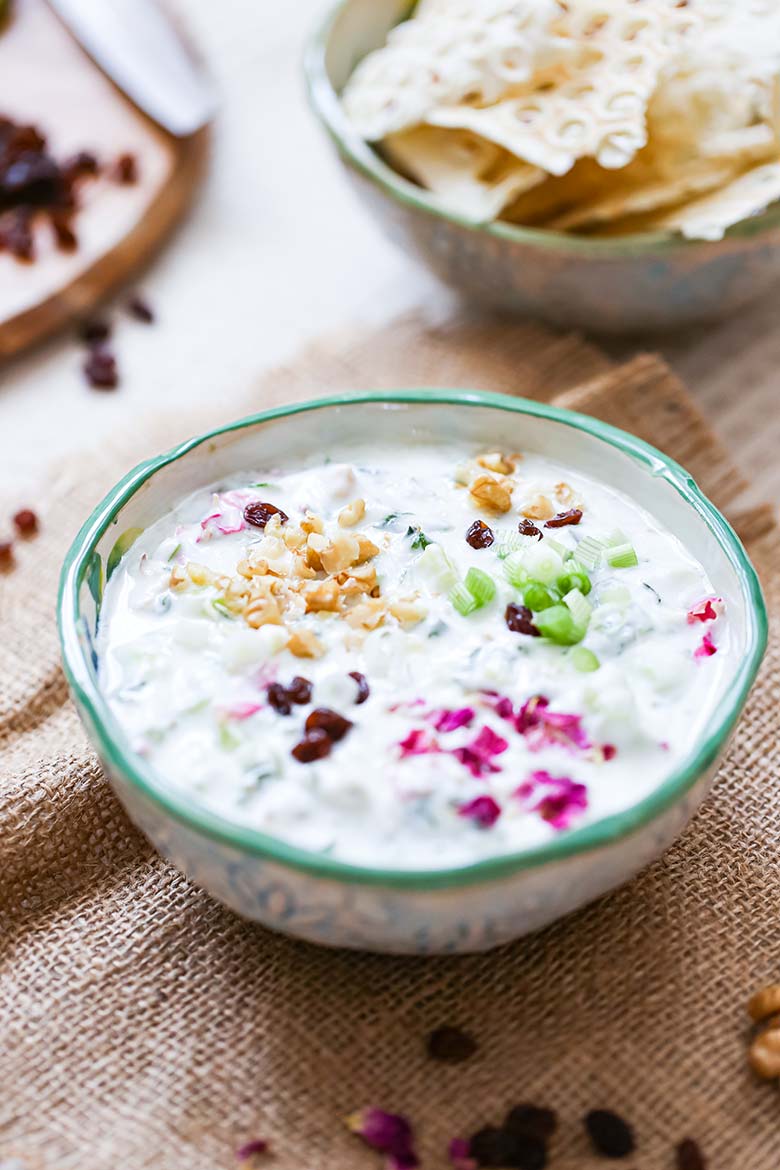 Did you like the homemade snickers milkshake recipe? Leave your comment below and If you make this recipe, be sure to tag your photos #yummynotes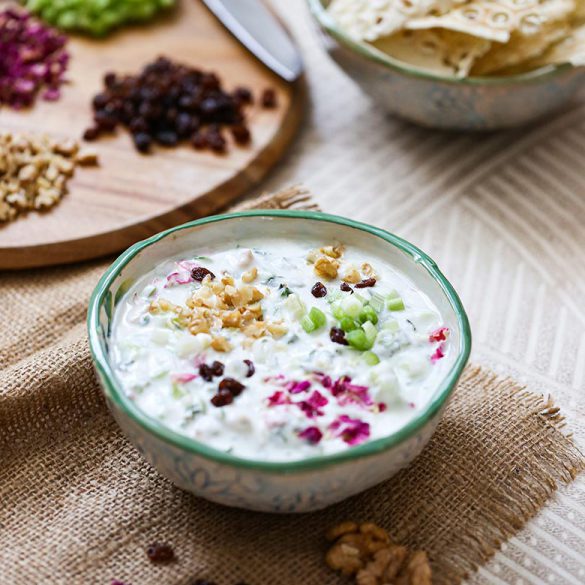 Ingredients
300gr yogurt

3 cucumbers, diced

100gr raisin

100gr walnuts

2 tablespoons scallion

2 tablespoons summer savory

2 tablespoons tarragon

2 tablespoons basil

2 tablespoons mint

1 tablespoon crushed dried rose petals

Crushed dried bread

Water

Ice cubes

2 cup Doogh
Instructions
Step 1
Stir the low-fat yogurt thoroughly. If you want to add that cream.
Step 2
Add water to yogurt and stir slowly.
Step 3
Crush the walnuts and add raisins, salt, and pepper to the yogurt.
Step 4
Dice cucumbers and add vegetables and dried rose petals to other ingredients.
Step 5
Finally, add a Doogh to the mixture and stir until the ingredients are thoroughly mixed.
Step 6
Add ice cubes before serve. Serve with crushed dried bread.
Did You Make This Recipe?