Dolmeh felfel is one of the varieties of dolmeh. "Dolmeh" is a Turkish word meaning "stuffed". Grape leaves dolmeh(dolmeh barg), eggplant dolmeh(dolmeh bademjan) zucchini dolmeh, tomato dolmeh are different types of dolmeh. But the unique taste of the bell pepper makes the dolmeh felfel one of the most popular dolmeh recipes. This delicious food is one of the best traditional Iranian cuisine. And because of its charming appearance, it is suitable for parties at family gathering.
My mum usually cooks dolmeh felfel with green bell peppers but i used colored bell peppers for this recipe. The dolmeh stuffing includes rice, yellow split peas, minced meat, dolmeh herbs(scallion, summer savory, tarragon, mint, parsley, coriander), onion, tomato paste and spices. Dolmeh aromatic herbs mixture is like koofteh tabrizi.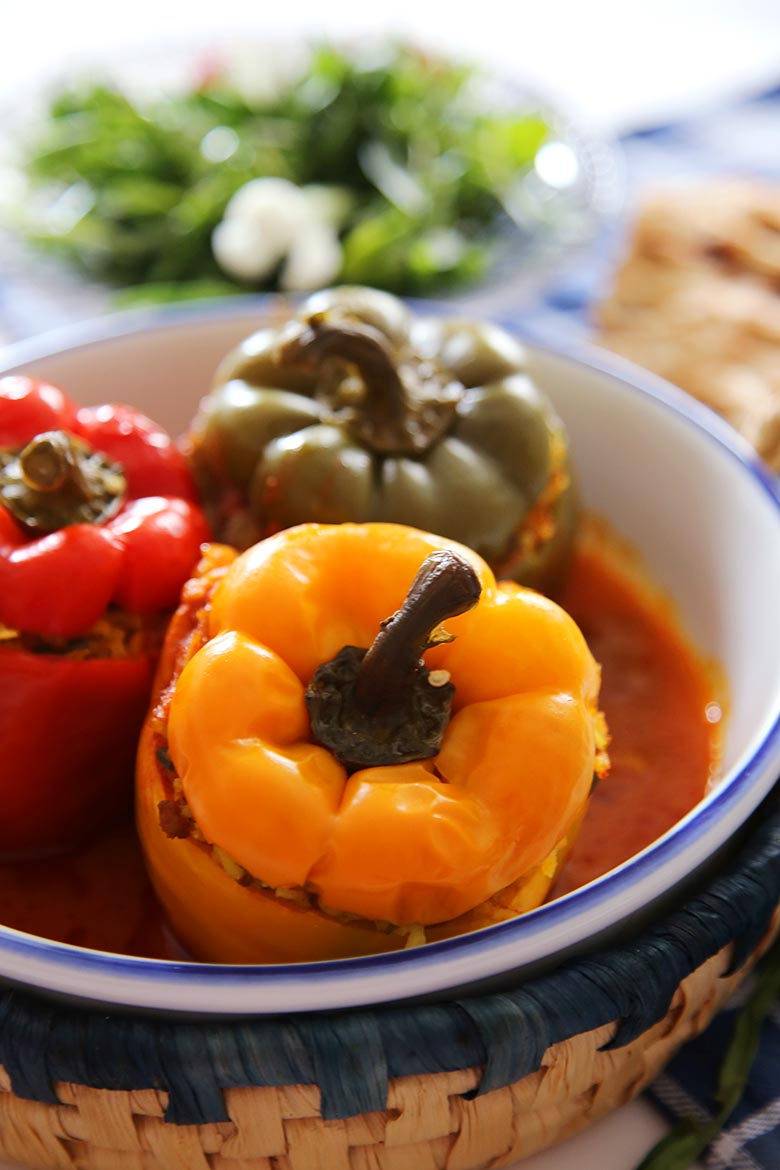 Vegetarian Stuffed Peppers
In the preparation of dolmeh, the meat can be removed from the material and replaced by other materials such as mushrooms. Dolme felfel without meat is suitable for people who, for whatever reason, can not eat meat or are vegetarians.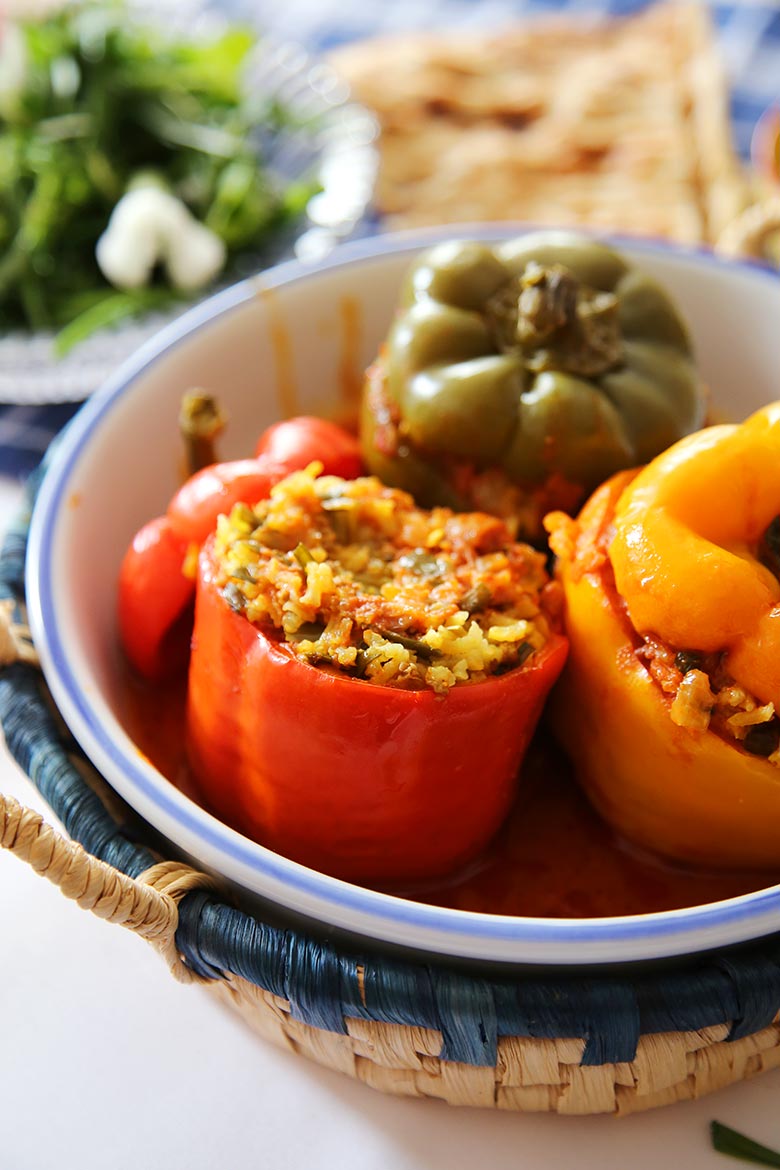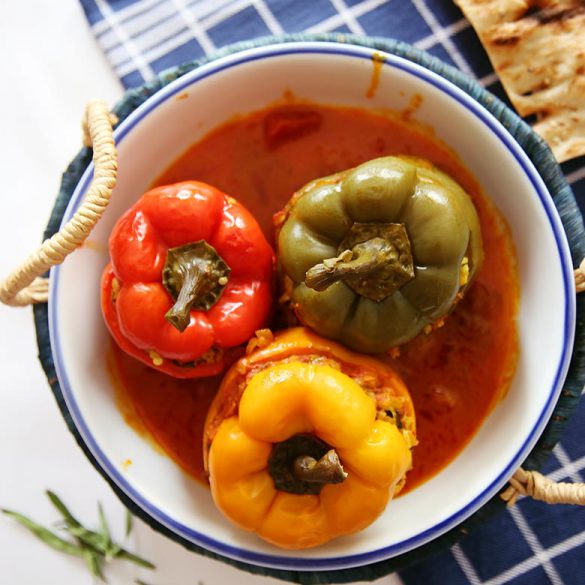 Ingredients
1 cup rice

½ cup yellow split peas

5 colored bell peppers

300gr ground beef

2 onions

1½ cups fresh herbs(scallion, summer savory, tarragon, mint, parsley, coriander)

2 tablespoons tomato paste

2 tomatoes

3 cups water

Salt, turmeric and black pepper

Oil
Instructions
Step 1
It is better to soak the yellow split peas from the night before.
Step 2
Place the yellow split peas that has been soaked from the night before, with some water inside the pot, put it over medium heat until half cooked.
Step 3
Rinse rice until the water went clear. Place rice in a large pan filled with water and let it cook. The rice is done after 6 to 8 minutes when it begins to rise to the top and the water comes back to a boil. Check the rice is cooked at the end by trying a grain. Break one grain in half. Rice should be soft on the outside but hard in the middle.
Step 4
Take bell peppers head with a knife and empty it in such a way that it does not damage the bell peppers wall.
Step 5
Take onion and peel it and cut it to small cubes. Put a little oil in the pan and put on heat. Now add the onions and saute until golden.
Step 6
Add the ground beef to the onions. Saute a little and then pour the turmeric, salt and pepper. Add tomato paste and stir it until golden or brown. Now cover pan and allow the meat to cook a little over the heat. (About 15 minutes is enough)
Step 7
Add chopped vegetables to the meat. You do not need to saute vegetables. Then add rice and cooked yellow split peas to meat and stir slowly to mix together. Be careful not to squash rice and yellow split peas. Now the dolmeh felfel stuffing is ready.
Step 8
Peel off and dice another onion. Inside the pot, which is supposed to cook the dolme felfel, put a little oil on and add the onion and saute it. Dice 2 tomatoes. Add the abacus of the eggplants that you have left empty, along with tomatoes in the pot. Now add salt, pepper and turmeric, and stir slightly for 2-3 minutes. Then pour 3 cups of water into the pot. You can add a little tomato paste to the sauce. If you like sour foods you can add a little abghoore(sour grape juice) to the sauce for better taste.
Step 9
Bring the sauce to boil, lower the heat and place peppers in the pot. Cover the pot and let the dolmeh cook well. After 1 hour, your delicious dolme felfel is ready.
Did You Make This Recipe?