Adas polo(Persian Lentil Rice) is one of the traditional and popular Iranian dishes which, in addition to having a good taste, has a high nutritional value due to having lentils. Packed with plant-based protein, and topped with sauteed barberries, raisins, and dates this dish is hearty and comforting!
About This Recipe
Adas polo is a mixed rice dish. A dish consisting of rice, beef, or chicken, barberries, raisins, and dates. Persian lentil rice has a special place in traditional Persian cuisine. It is rich in protein and is served with various delicious side dishes.
Why You Will Love This Recipe?
Easy to Make. Adas polo has a simple cooking method and comes together in less than 1 hour.
Loaded with nutritious ingredients. Lentil is the main ingredient of this traditional dish. Lentil is a great source of protein, dietary fiber, iron, and potassium.
Can be turned into vegan food: Adas polo is usually served with sauteed minced beef or chicken, but the good news is that you can cook Adas Polo without meat and turn it into a delicious vegan dish. Adas polo is a delicious combination of rice layered with lentils topped with raisins, minced beef, and sauteed onions. However, some people prepare the topping without adding meat and serve it as vegan food. (You can add dates and raisins in the vegan version).
What You Need to Make Adas Polo
Rice: To make Persian dishes, It is better to use high-quality Iranian rice or long-grain basmati rice.
Lentils: You should use brown lentils for this recipe.
Ground beef: The ground beef is sauteed with a little onion and spices until it is completely golden brown.
Yellow onion: We need onions both for topping and for cooking minced beef.
Advieh: The spice needed to make Adas Polo is a combination of black pepper, cinnamon, salt, and turmeric. It is not necessary to add cinnamon and you can ignore it.
Barberries, raisins, and dates: As a topping, raisins, barberries, and dates are usually sauteed with some oil. Of course, adding dates is optional and you can use a combination of barberries and raisins for topping.
Bloomed saffron: When rice is cooked you can mix a few tablespoons of rice with bloomed saffron and use it as the topping.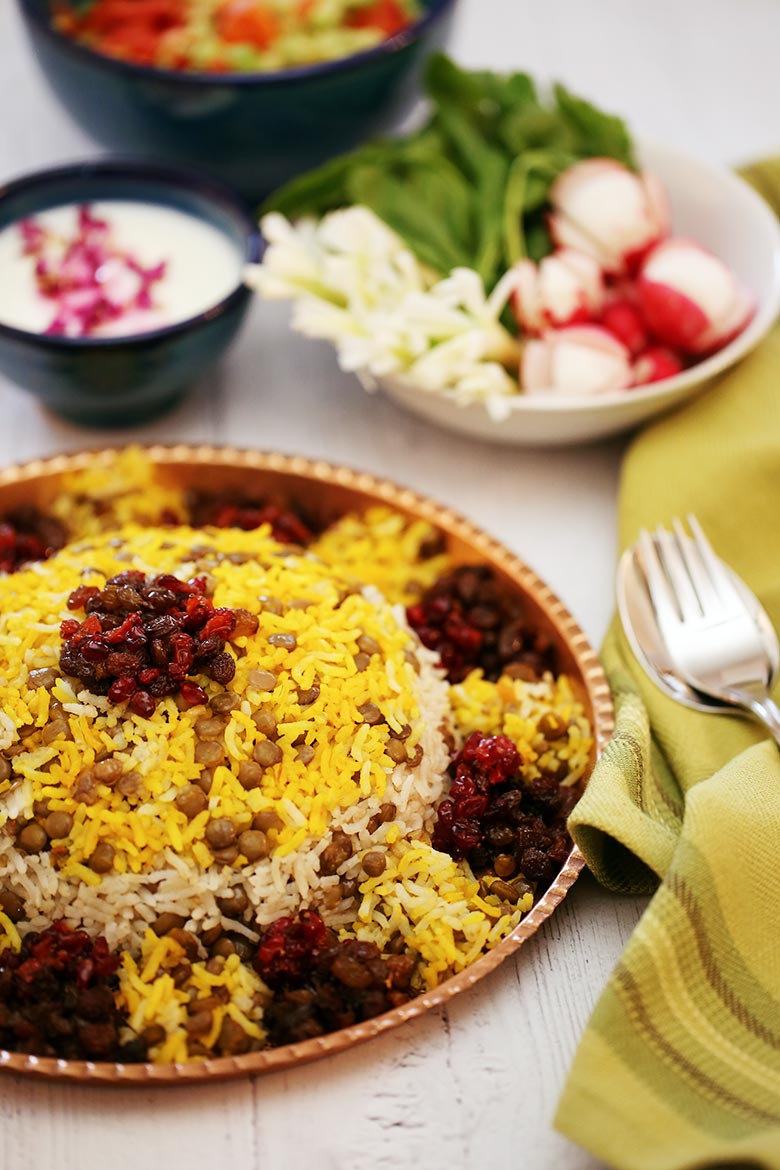 What to Serve with Adas Polo?
You can serve Adas Polo with a bowl of salad Shirazi, I also love to serve this dish with a bowl of plain yogurt mixed with mint.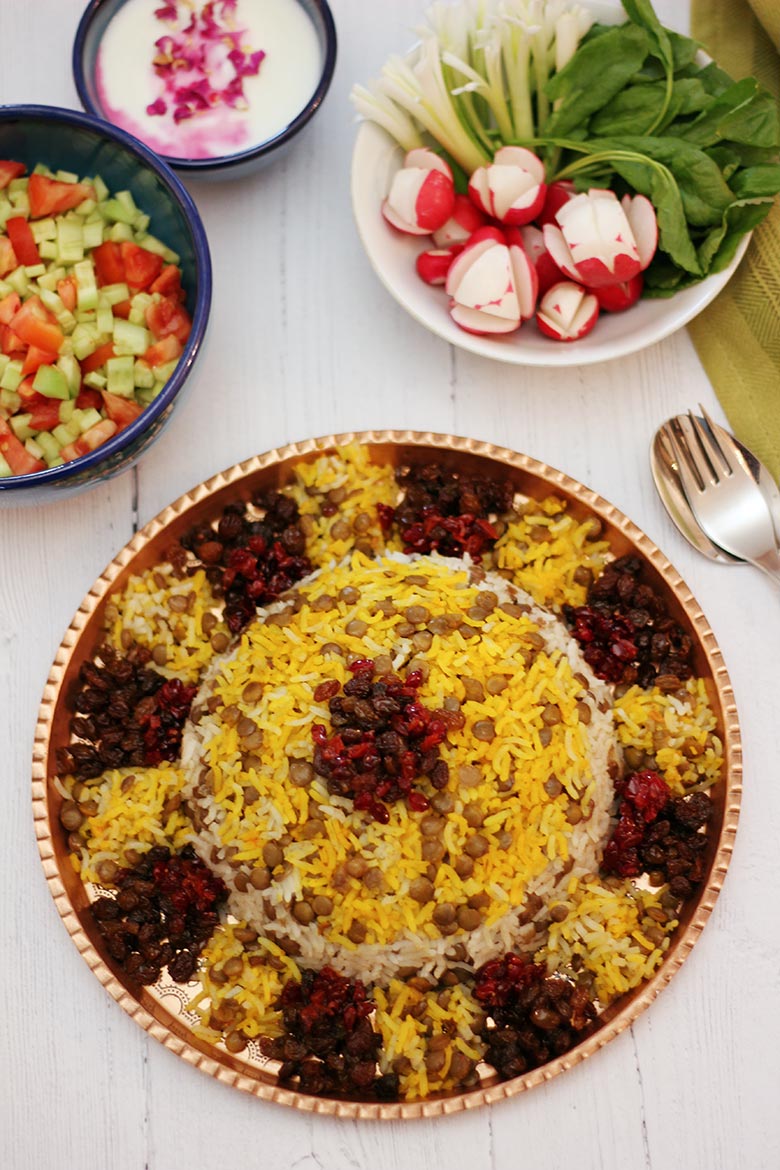 Adas Polo With Chicken
Some people like to make this recipe with chicken instead of minced beef. To serve Adas Polo with chicken, sauté some onion in a little oil in a pot until the onions are tender. Place chicken breasts in the pot and add salt, turmeric, and pepper. Add 2-3 cups water and bring to a boil, then simmer for about 45 minutes or until tender and cooked through. Serve with lentil rice and raisins.
Crunchy Crust (Tahdig)
If you are a huge fan of crunchy crust, pour some oil at the bottom of the pot. Then Sprinkle the desired amount of sesame on it and then cover it with lavash bread. Then add layered rice and lentils.
Different Methods of Making Lentils and Rice
In Yazd province, lentils and rice are cooked with dried dill and Cinnamon (which is Sprinkled in layers of lentils) which have a different and distinctive taste.
In Fars province, lentils and rice are cooked with cabbage.
lentils and rice are served with a little caraway in Khorasan.
Lentils and Rice for Vegetarians
Serve lentils and rice with sweet or salty scrambled eggs or Khagineh.
You can serve lentils and rice with fried dates or raisins.
Serve lentils and rice without additives as a delicious vegan dish.
Looking for More Persian Recipes?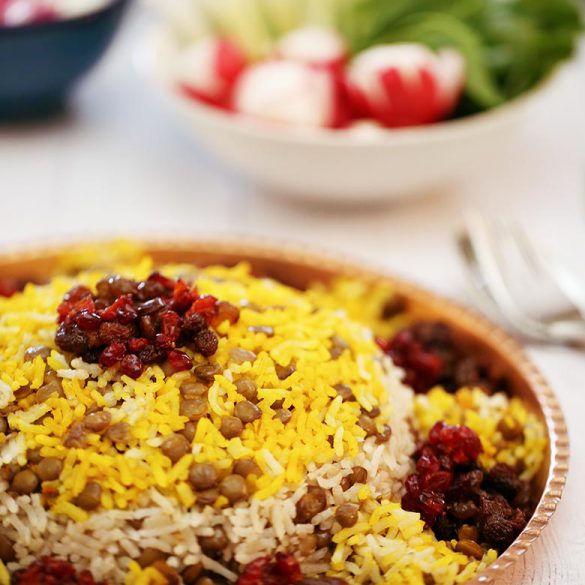 Ingredients
1 cup lentils

200 grams ground beef

2 tablespoons vegetable oil

1 onion finely chopped

1 teaspoon turmeric

½ teaspoon cinnamon

½ teaspoon salt

2 pinches good quality saffron threads

1 cup raisins

1 cup Medjool dates pitted (optional)

For the rice

2 cups basmati rice washed and drained

1½ teaspoons salt

Vegetable oil
Instructions
Step1 
Rinse lentils with cold water before boiling to remove any dust or debris. You can soak the lentils for one to two hours to speed up the cooking process.
Step 2
Wash the raisins and barberries and pat dry on kitchen paper.
Step 3
Cook on a stovetop, using 3 cups of water to 1 cup of lentils. Be sure to use a large enough saucepan as the lentils will double or triple in size. Bring to a boil, cover tightly, reduce heat and simmer until they are tender. For whole lentils, cook time is typically 15-20 minutes. Then set aside.
Step 4
In a large pan, heat the vegetable oil. Fry the onion until it's golden. Add the ground beef and cook until it's light brown. Add the salt, cinnamon, turmeric, and bloomed saffron. Stir until ground beef is cooked completely. Reduce the heat and add the raisins and dates and stir. Set aside.
Step 5
Pour 6 cups of water into a large nonstick pot and bring to a boil over high heat. Add rice into a pan filled with boiling water. After 6 to 8 minutes when it begins to rise to the top and the water comes back to a boil. Check the rice is cooked at the end by trying a grain. Break one grain in half. Rice should be soft on the outside but hard in the middle. Pour rice into the colander to drain; then set aside.
Step 6
Scoop one-third of the rice into the pot. Layer with one-third of the cooked lentils. Repeat until you're out of rice and lentils and shape it into a pyramid. Add 3 tablespoons of the bloomed saffron. Cover the pot and cook until rice begins to steam for 30 - 40 minutes.
Step 7
Transfer the rice to a serving dish. Serve with cooked ground beef mixture.
Did You Make This Recipe?