If you love trying all kinds of soup, here is a very delicious and very nutritious soup recipe for you. Mediterranean white bean soup recipe. White beans are a rich source of vegetarian protein and fiber, which is why they are so filling. White beans and vegetables are used to cook this soup, which gives it a wonderful taste.
About This Recipe
To prepare Mediterranean white bean soup, we need white beans and vegetables such as celery, parsley, etc. This soup is very easy to prepare and at the same time, it is very nutritious and delicious. To make the soup more creamy, you can also use a small chopped potato and spinach.
What do You Need To Make White Bean Soup
Canned White beans: I used canned white beans for this soup, but you can cook the beans yourself. To cook white beans, you have to soak them overnight. You will also need 1 to 1.5 hours to cook it.
Onion: 1 small yellow or white onion is enough.
Celery: You need a celery stalk to complete the vegetables needed for this soup. The celery leaves should be separated and the stem should be washed and chopped.
Carrot: I usually add carrots to any soup I can. I think soup without carrots lacks something.😆
Vegetable broth: If you like the non-vegan version of this soup, you can also use chicken broth.
Tomato paste: Tomato paste for white bean soup is optional, you can remove it if you like.
Salt, pepper, and paprika
Oil
Parsley leaves for garnish
How Long Does This Soup Last?
You can keep this soup in a covered container in the refrigerator for 3 days.
How to Serve Mediterranean White Bean Soup?
To serve this soup, you can add a few chopped parsley leaves and sprinkle a little grated Parmesan cheese. A little olive oil and paprika also look great.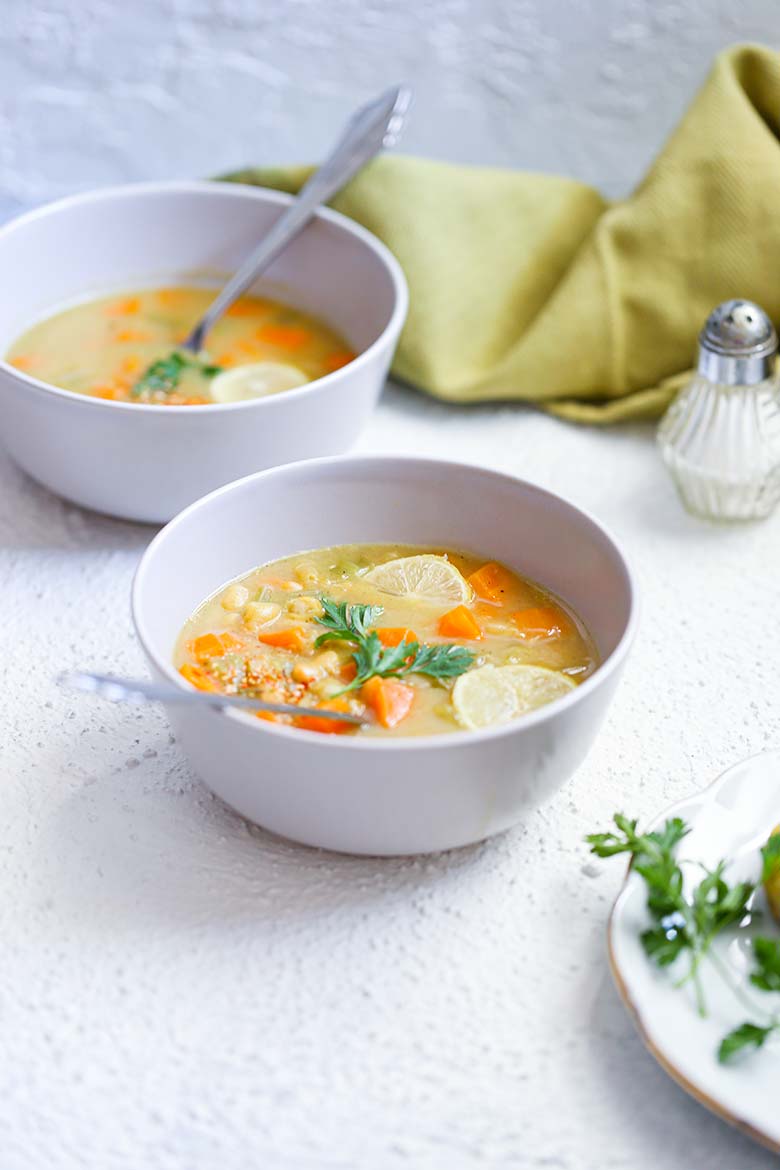 Did you like the Mediterranean white bean soup recipe? Try the Turkish yogurt soup recipe as well! Leave your comment below and If you make this recipe, be sure to tag your photos #yummynotes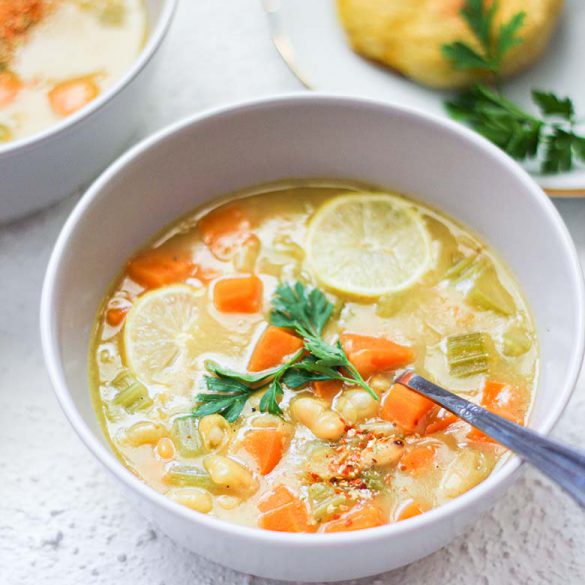 Ingredients
1 can white beans, drained

1 medium onion, diced

1 garlic clove, diced

1/2 celery stalk, diced

1 medium carrot, diced

2 cups vegetable broth

2 tablespoons oil

Salt, pepper, paprika

Parsley leaves for garnish

Parmesan cheese for garnish
Instructions
Step 1
Pour the oil into a saucepan and heat. Add the onion and saute until golden.
Step 2
Then add chopped carrots and celery and cook for 5 minutes. Add the garlic and saute for another 3 minutes on low heat.
Step 3
Drain the canned white beans and add to the pot.
Step 4
Add vegetable or chicken broth with a glass of hot water. Add the desired amount of salt, pepper, and spices.
Step 5
Increase the heat and bring to a boil.
Step 6
Then reduce the heat, cover and let the soup simmer for 30 to 40 minutes and thicken.
Step 7
Serve the soup with a few parsley leaves, lemon and Parmesan cheese.
Did You Make This Recipe?