Start your day off with these tender and fluffy blueberry pancakes. They are incredibly easy to make, delicious, crispy on the sides, tender in the middle, and bursting with blueberry flavor in every bite!
About This Recipe
This yummy blueberry pancake is a fruity twist on a classic pancake recipe, it's perfectly sweet and great for a weekday breakfast. They are so tender and fluffy with a melt-in-your-mouth texture and are full of bright blueberry flavor! If you have a batch of fresh or frozen blueberries on hand you can make these fluffy pancakes.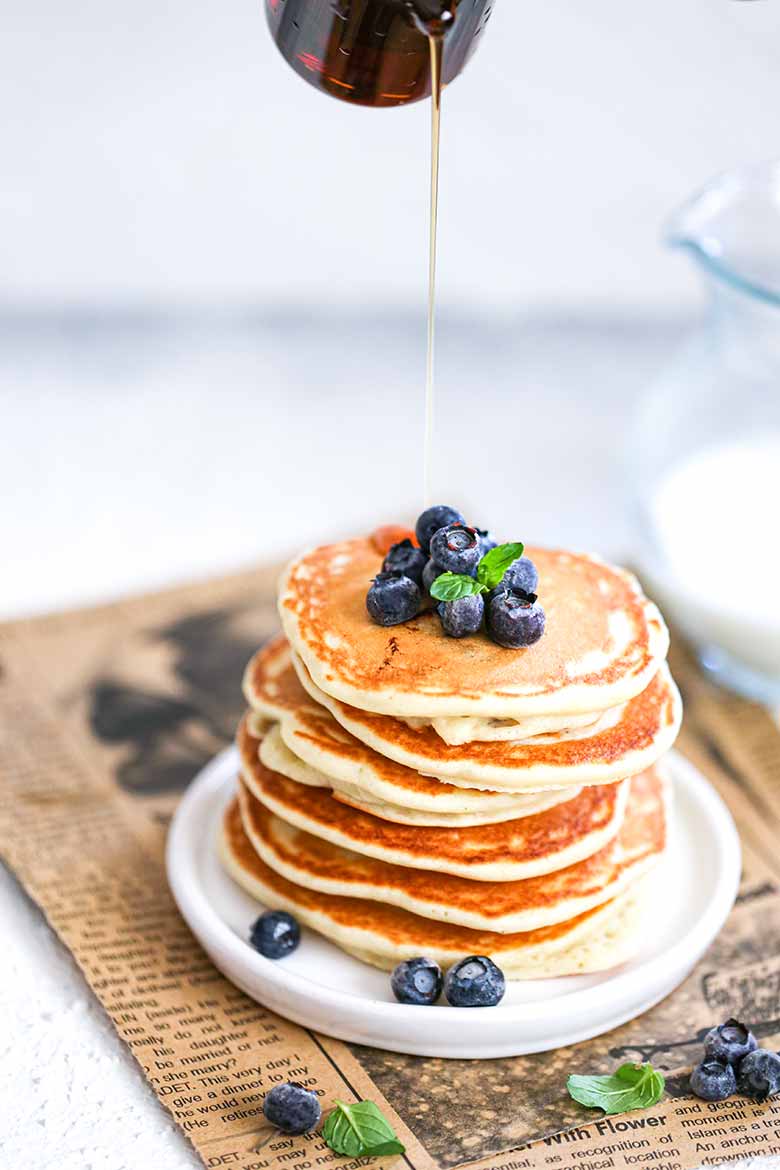 What Do You Need to Make Blueberry Pancakes
Blueberries: You can use a handful of fresh or frozen blueberries.
Flour: All-purpose flour will work just fine in most pancake recipes. You can use whole wheat flour which contains more fiber and protein.
Egg: You will need one or more eggs, depending on the number of pancakes you make.
Baking powder: Baking powder is a leavening agent that increases the volume and lightens the texture of the pancakes.
Baking soda: Buttermilk is naturally acidic. Buttermilk's acids react with baking soda to improve the rise of pancakes.
Salt: You will find a small amount of salt in most pancake recipes.
Sugar: Use granulated sugar to add a touch of sweetness.
Buttermilk: Buttermilk gives an extra fluffy texture to the pancakes.
Vanilla extract: Vanilla adds sweetness and flavor.
Butter or oil
How to Make Pancakes Like a Pro? 
You can use canola oil or another odorless and flavorless vegetable oil instead of melted butter in the pancake batter.
Buttermilk makes the pancake texture softer and more fluffy. So if buttermilk was used in the recipe instead of milk, be sure to follow it.
Be sure to use baking powder to have fluffy pancakes. But do not beat it too much in the egg and do not mix the batter too much.
If your pancakes stick to the pan, there are several reasons. Remember to have a non-stick frying pan for pancakes. Grease the surface of the frying pan with a few drops of oil and kitchen paper towels. You do not need to put a lot of oil in the pan at all.
After you have prepared the pancake batter, let the batter rest for 20 to 30 minutes.
The thickness of the pancake batter should be such that it can be easily poured but not too runny.
Cook with low to medium heat. Pancakes do not need much time to cook. when you see bubbles on the top of the pancakes, it's time to flip them.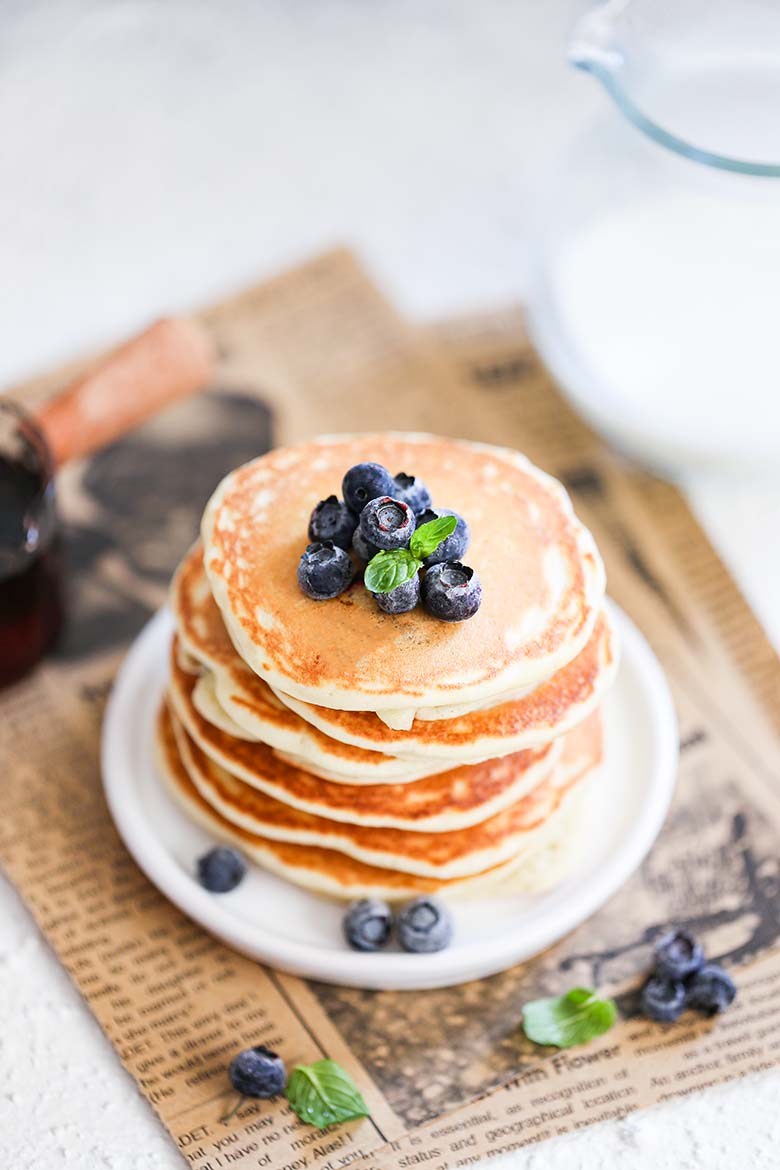 FAQs
What to Serve With Blueberry Pancakes?
You can serve blueberry pancakes with nuts, whipped cream, maple syrup, fresh fruits, and chocolate chips.
How Do You Keep Blueberry Pancakes From Sticking?
Grease the griddle or skillet with cooking spray or butter, this will help the pancake to not stick on the skillet and to make it crispier on the edges when it is cooked.
Can You Reheat Blueberry Pancakes?
Yes, you can reheat the leftovers. Preheat the oven to 350ºF. Arrange them in a single layer on a baking sheet. Brush pancakes with melted butter and reheat them for 5 to 10 minutes.
Is It Better to Use Fresh or Frozen Blueberries in Pancakes?
I use fresh blueberries if I have them on hand, but if blueberries are not in season, you can use frozen, just don't thaw them before adding them to the batter. Otherwise, you end up with mushy pancakes.
Why Are My Pancakes Not Fluffy?
Mixing the ingredients too much will often result in a chewy, flat, and dense pancake. So don't overmix the pancake batter by trying to smooth out all the lumps.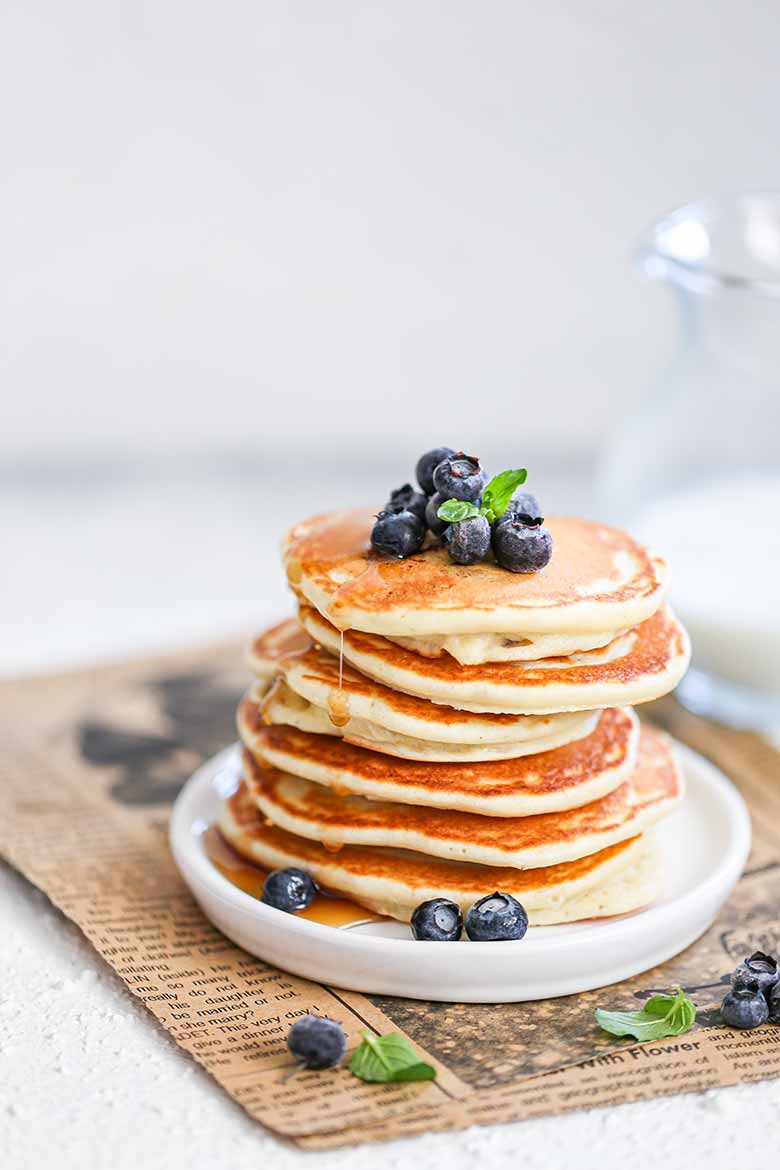 Did you like the blueberry pancakes recipe? Try my pumpkin spice pancake recipe as well! Leave your comment below and If you make this recipe, be sure to tag your photos #yummynotes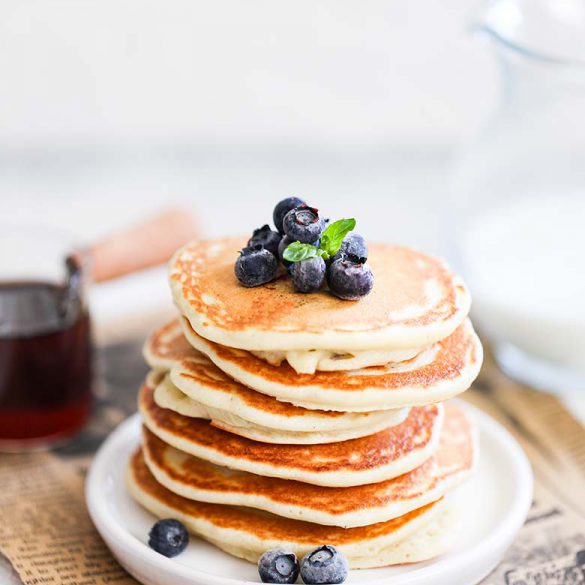 Ingredients
1 cup flour

1 egg

3/4 cup buttermilk

2 tablespoon butter, melted

1 teaspoon vanilla extract

2 tablespoons sugar

1 teaspoon baking powder

1/2 teaspoon baking soda

1/4 teaspoon salt

A handful of fresh or frozen blueberries
Instructions
Step 1
In a clean, dry bowl, mix the flour, salt, baking soda, and baking powder.
Step 2
In another bowl, whisk the buttermilk, vanilla extract, egg, melted butter, and sugar.
Step 3
Add the wet ingredients to the bowl of dry ingredients and whisk so that the flour lumps do not appear inside the mixture. Add blueberries and whisk.
Step 4
Lightly grease a non-stick pan with oil spray. Pour 1/4 cup of the pancake batter into the pan.
Step 5
When bubbles start to appear on the top surfaces of the pancakes, turn them over.
Step 6
Stack them on a plate and top with blueberries, and maple syrup.
Did You Make This Recipe?