These pumpkin pancakes with pumpkin puree taste like autumn. Light and fluffy bursting with pumpkin pie flavor. Don't forget to try the recipe and share it with your loved ones.
About This Recipe
These fluffy pumpkin pancakes with pumpkin puree are full of fall flavor and super easy to make! A batch of warm pumpkin pancakes topped with crushed pecan or walnuts and drizzled with maple syrup is a great option for a weekend breakfast with your loved ones. They are typically made by combining pumpkin puree, flour, milk, eggs, sugar, and spices such as cinnamon, nutmeg, and ginger.
Why You Will Love Pumpkin Pancakes With Pumpkin Puree
Perfect for fall: A combination of cinnamon, vanilla extract, ginger, and nutmeg adds warmth and richness to the pancakes.
Easy to make: These pancakes are so easy to make and they are done in less than 30 minutes! This simple recipe gives you a good reason to head into the kitchen and make your fall-flavored pancakes.
Great leftover: Made a big enough batch of pancakes and don't know what to do with the leftovers. These pumpkin pancakes keep well for 2 or 3 days. Just wrap them tightly in plastic wrap or place them in an air-tight container in the fridge.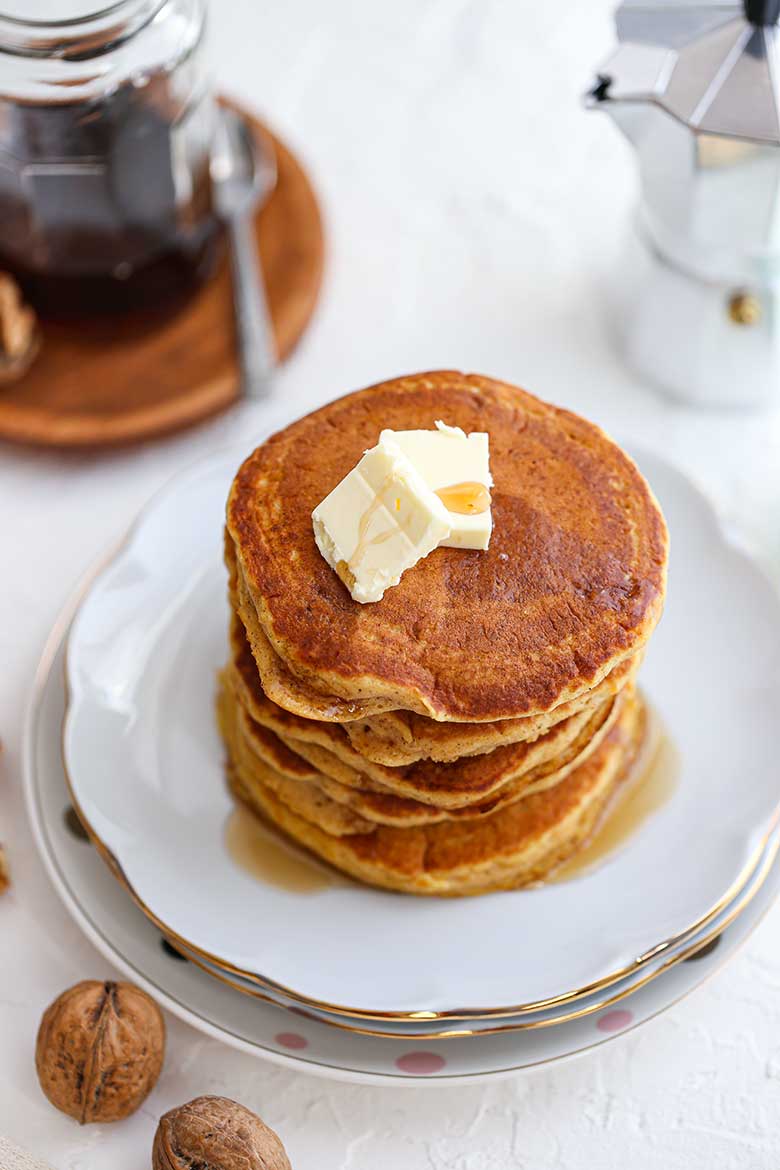 Fluffy Pumpkin Pancakes With Pumpkin Puree
Pumpkin puree: To make these pancakes, you can use homemade pumpkin puree or canned pumpkin puree. I usually use homemade and fresh pumpkin puree.
Spice: I really like the combination of cinnamon, ginger, and a little nutmeg along with the pumpkin flavor. You can also add a pinch of allspice and/or cloves if you like.
Flour: In general, pancake recipes tend to turn out well using all-purpose flour. For a healthier version of pancakes, use whole wheat flour.
Melted butter: I think melted butter is the best option for these pancakes, but if you like, you can substitute vegetable oil for butter using a 1:1 ratio.
Sugar: You can use brown sugar, maple syrup, or regular sugar as a sweetener for this pancake.
Egg: You will need one or more eggs, depending on the number of pancakes you make.
Milk: Milk adds moisture, and keeps the pancakes fluffy.

Baking powder: Baking powder helps leaven the pancake batter, creating a soft and fluffy texture.

Expert Tips
If you want to make evenly shaped pancakes, you can use pancake pans. Another way is to use a small measuring cup to pour the pancake batter (1/4 cup is good).
Make sure that all your pancake ingredients are at room temperature and fresh.
Do not over-mix the pancake batter.
You shouldn't put too much oil or butter in your pan.
When bubbles start to appear on the top surfaces of the pancakes, turn them over.
Optional Add-ins
Chocolate chips: Bring these pumpkin pancakes to the next level of decadence by adding chocolate chips to the pancake batter.
Chopped nuts: The pecans or walnuts will add a delightful crunch and a rich, nutty flavor to complement the pumpkin flavor. Simply chop the toasted pecans or walnuts and mix them into the pancake batter before cooking.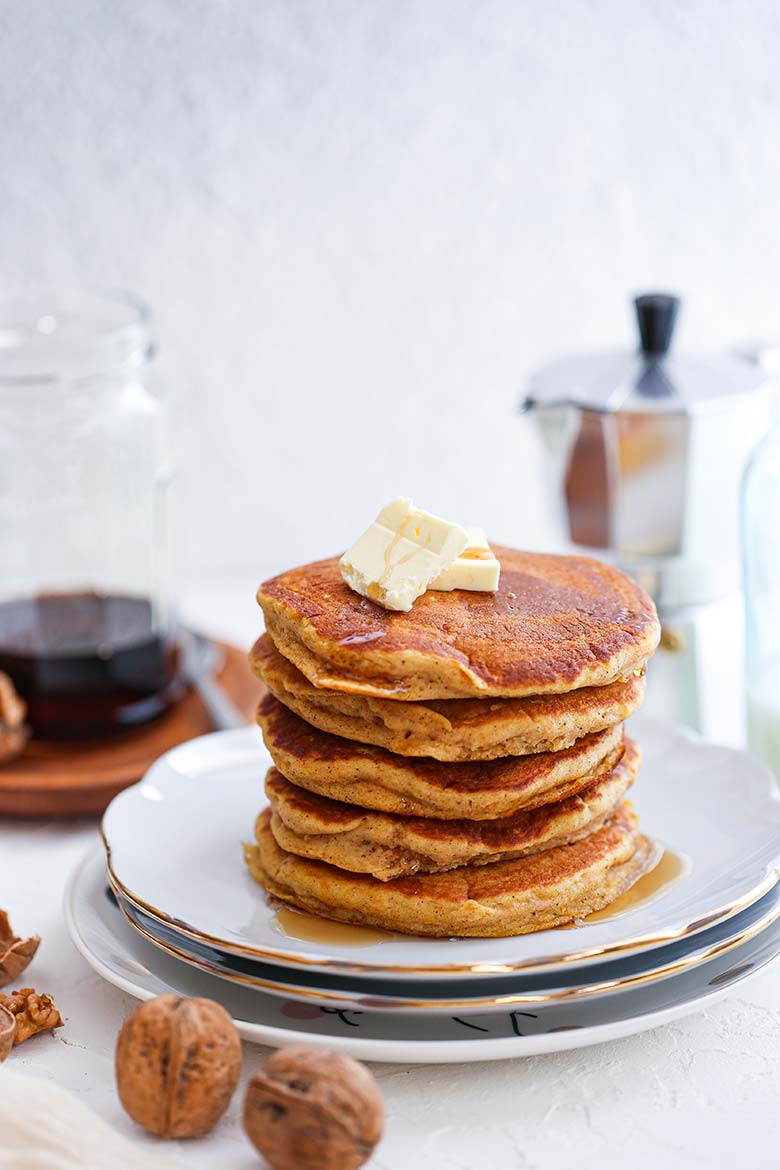 FAQs
How to Serve Pumpkin Pancakes?
Serve pumpkin pancakes with butter and warm maple syrup or other desired toppings. Walnut and pecans pair well with these pancakes. You can also sprinkle a few extra walnuts or pecans on top of the pancakes for added texture.
What Makes Pancakes Fluffy Milk or Water?
Milk makes pancakes fluffier and helps the pancake batter to rise. With adding milk to the pancake batter you will have moist and tender pancakes.
How to Store Pumpkin Pancakes?
You can serve the pancakes immediately after cooking and until they are relatively hot, or eat them after cooling. It can also be stored in a sealed container for up to 3-4 days in the refrigerator.
Can I Reheat Pumpkin Pancakes?
Yes, you can definitely reheat pumpkin pancakes. The best way to do this is to preheat your oven to 350°F (175°C), place the pancakes in an oven-safe dish, and warm it in the oven for about 5-10 minutes, or until heated through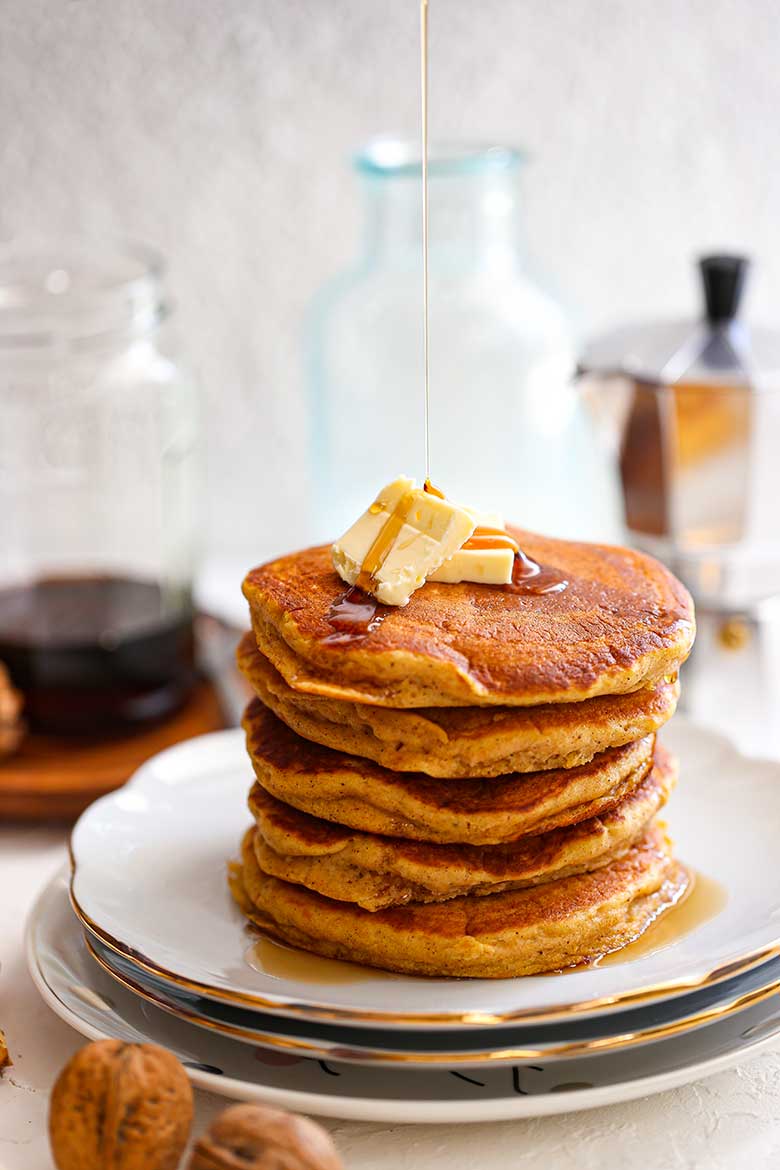 Did you like the pumpkin pancakes with pumpkin puree recipe? Try my mini pancake recipe as well! Leave your comment below and If you make this recipe, be sure to tag your photos #yummynotes 
Looking for More Pancake Recipes?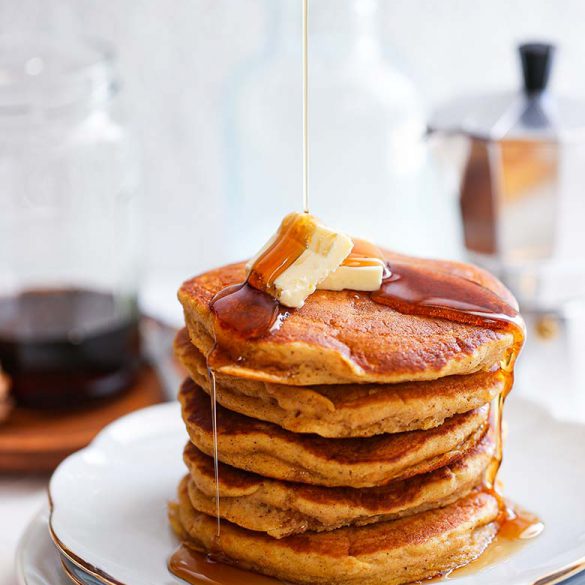 Ingredients
1 cup all-purpose flour

3/4 cup milk

1 egg, at room temperature

2 teaspoons baking powder

1 teaspoon cinnamon

1/4 teaspoon nutmeg

1/4 teaspoon salt

1/4 teaspoon ground ginger

1 teaspoon vanilla extract

1/3 cup pumpkin puree

2 tablespoons butter

2 tablespoons brown sugar
Instructions
Step 1
In a clean, dry bowl, mix the flour, salt, baking powder, ground ginger, cinnamon, and nutmeg.
Step 2
In another bowl, whisk the pumpkin puree, milk, vanilla extract, egg, melted butter, and sugar.
Step 3
Add the wet ingredients to the bowl of dry ingredients and whisk so that the flour lumps do not appear inside the mixture.
Step 4
Lightly grease a non-stick pan with oil spray. Pour 1/4 cup of the pancake batter into the pan.
Step 5
When bubbles start to appear on the top surfaces of the pancakes, turn them over.
Step 6
Stack them on a plate and top with butter, walnut, and maple syrup.
Did You Make This Recipe?