There are some tastes and smells that make you forget how old you are. Years pass, but our fondness for flavors associated with memories and happy moments never goes away. I'm sure that this chocolate pudding will revive your memories. In this chocolate pudding recipe, you will be introduced to a delicious chocolate dessert step by step with just simple ingredients that you can make in a quarter of an hour. Yes In 15 minutes all the ingredients are mixed and cooked. Of course, it is best to put the pudding in the fridge for a few hours until it is firm and creamy, but you can serve the chocolate pudding warm as well.
What You Need To Make Chocolate Pudding Recipe
Let's see what we need to make this delicious dessert.
Corn starch
Chocolate chips
Butter
Cocoa powder
Milk
Sugar
Egg yolks
Vanilla extract
Tips To Make Chocolate Pudding
It doesn't matter the type of starch, you can use wheat or corn starch. But you should not use flour or any other ingredient instead, it will not give the same consistency.
Not the whole egg, only the yolk as written in the ingredients is used.
Make sure to adjust the amount of sugar according to your taste. Just keep in mind the sweetness of chocolate while doing this.
Butter is one of the indispensable ingredients like other ingredients. Unfortunately, it is not possible to use oil instead.
You can use dark or milk chocolate. Dark will give a more intense chocolate flavor.
You can balance the chocolate flavor by using half dark and half milk chocolate
Did you like the easy chocolate pudding recipe? Leave your comment below and If you make this recipe, be sure to tag your photos #yummynotes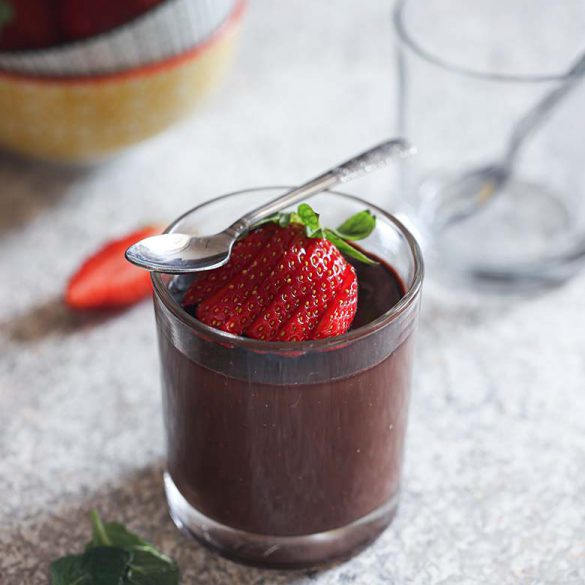 Ingredients
2 tablespoons corn starch

1/4 cup chocolate chips

2 tablespoons butter

1/4 cocoa powder

2 cups of milk

2/3 cup sugar

3 egg yolks

Vanilla extract 1/4 teaspoon
Instructions
Step 1
In a pot add milk, egg yolk, cocoa powder, sugar, and corn starch. Put in on the heat, allow it to gently heat up and stir to dissolve corn and cocoa.
Step 2
Then continue to stir on the heat until the mixture thickens and boils.
Step 3
Lower heat to and stir for another 30 seconds. Turn off the heat and add the chocolate chips, vanilla and butter and continue stirring until they melt.
Step 4
Then transfer the pudding to the bowl and cover it and leave in the fridge for 4 hours.
Did You Make This Recipe?