Halva is a delicious and famous Persian dessert or sweet that has different types. The ingredients needed to prepare it is different depending on the type of halva. For example, wheat flour halva is made from a mixture of white wheat flour with sunflower oil, sugar, cardamom, rose water, and saffron, but there is another type of halva that uses grape molasses or date molasses instead of sugar. This Persian halva recipe is so easy and incredibly delicious!
Pro Tips For Persian Halva Recipe
The choice of flour is one of the most important points that you should consider in preparing halva. There are several recommendations for choosing flour, but we recommend you to use whole wheat flour because whole wheat flour improves the taste and color of halva.
As I mentioned above, the choice of flour is very important. Therefore, before starting to bake halva, first pass the flour through a fine sieve to get large grains of flour. Otherwise, you will have small lumps of flour in halva.
Halva's color may vary between different shades of brown, depending on the amount of time you saute flour. If you are looking to make dark halva, we will teach you tricks of the trade that is not mentioned in any cooking website! To darken the halva's color, you can add 1 tablespoon of cocoa powder when adding oil to the flour, the taste of cocoa in the halva is not clear!
Depending on the type of halva you make, you can use sugar, powdered sugar, brown sugar, honey, date molasses, or grape molasses depending on the recipe. Of course, this is a taste, but the way halva is prepared is usually with sugar.
Can Halva be Cooked Without Rose Water?
Short answer: Yes. Rosewater(Golab) has a special place in the way halva is prepared due to its special aroma. If you want to find a suitable alternative, you can use cardamom and saffron.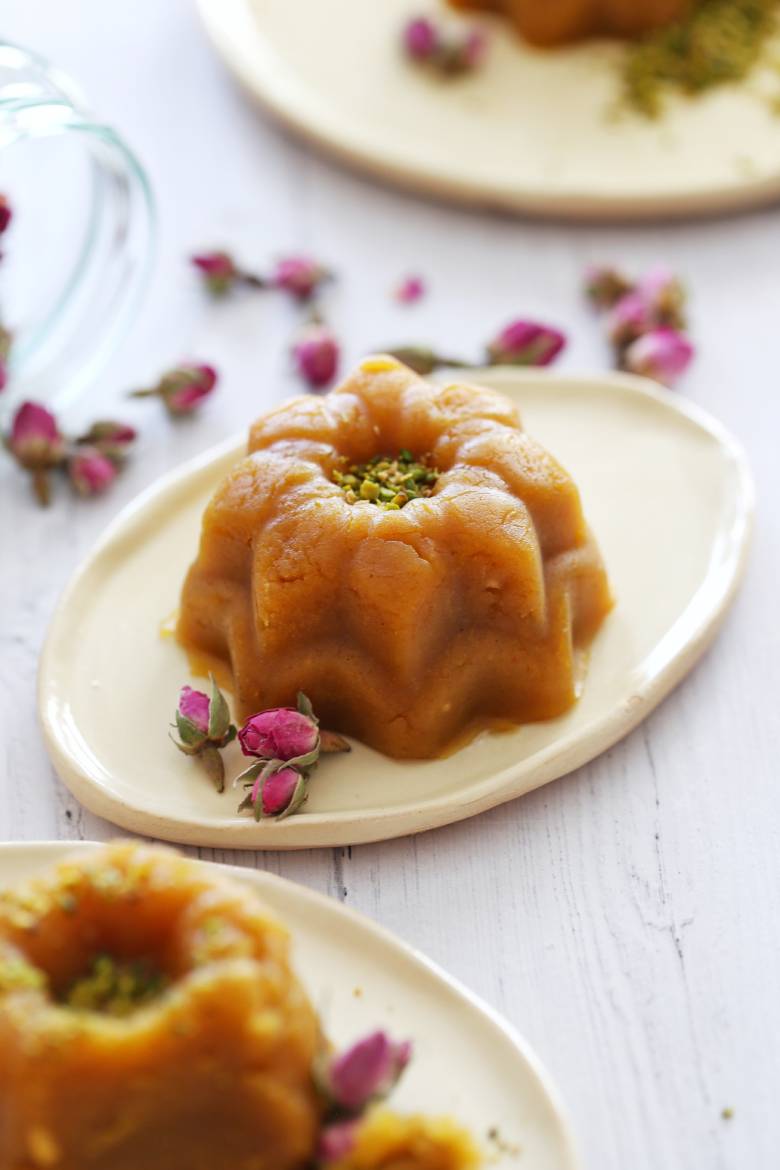 Is it Possible to Cook Halva Without Saffron?
Like rosewater, saffron is very important in baking traditional halva and due to its beautiful color and pleasant aroma, It is better to use it in the recipe.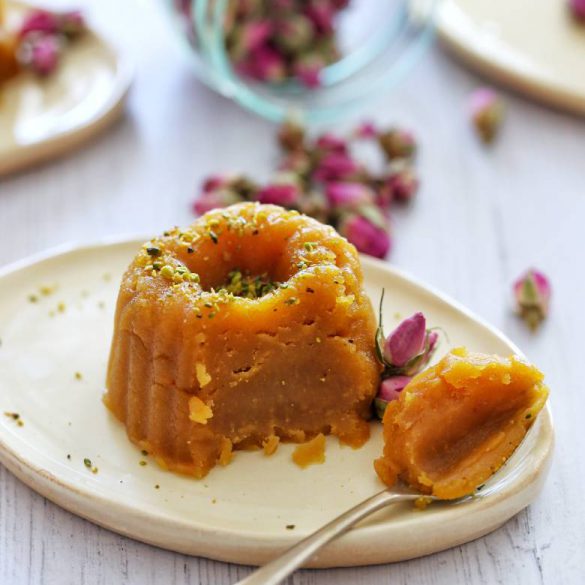 Ingredients
2 cup flour

1 cup of sugar

1½ cups water

1/3 cup rosewater

50 gr butter

1 cup oil

5 tablespoons bloomed saffron

1/4 teaspoon cardamom powder
Instructions
Step 1 
To prepare the syrup, you need to mix sugar, water, rosewater, and saffron and put it in a pot on medium heat to boil for 5 minutes, pour the oil into another pot to heat it; Sift the flour twice, then pour it into a pan and start frying on low heat.
Step 2
Stir the flour until it becomes golden brown. Be very careful that your flour does not burn (stir the flour regularly with a spoon); After the flour becomes golden brown, add hot oil to the flour and mix well until the flour turns golden.
Step 3
Turn down the heat and add the hot syrup(a mixture of water and sugar that you have already prepared), after adding all the ingredients, mix well, then add the butter and stir until halva has thickened.
Step 4
Transfer the halva into a serving dish. Garnish halva with almonds, pistachios, and coconut powder.
Did You Make This Recipe?