The benefits of fruits eaten in their season for human health are known by many. With plenty of water, minerals, and vitamins they contain, fruits are both delicious snacks and foods that can replace not healthy desserts. Pineapple fruit salad is one of those salads. If you want to eat both nutritious and delicious desserts, this fruit salad recipe is for you.
Use fresh fruits
To make the fruit salad look and taste better, it is better to use fresh fruits. Fruits that have been refrigerated for some time and are about to spoil are not suitable for making fruit salads. One of the most common mistakes made when preparing fruit salad is to cut the fruits more than necessary. This causes the fruits to lose vitamins. 
Fruit Salad Portion Size
Summer fruits have a very rich nutritional value, especially in terms of antioxidants. However, excessive consumption of fruits raises blood sugar and causes frequent hunger. Also, sauces that are added to fruit salads increase its caloric content. For example, chocolate sauce, jelly, honey and cream can be formed and cream cheese can be added to fruit salads as a sauce, but keep in mind that they increase the calorie content of the salad.
Choose fruits for salads
The taste of salad fruits should match. I added pineapple, strawberry, grape, banana and tangerine to this salad, which are very tasty together.
Did you like the pineapple fruit salad recipe? Try my strawberry banana cheesecake salad as well! Leave your comment below and If you make this recipe, be sure to tag your photos #yummynotes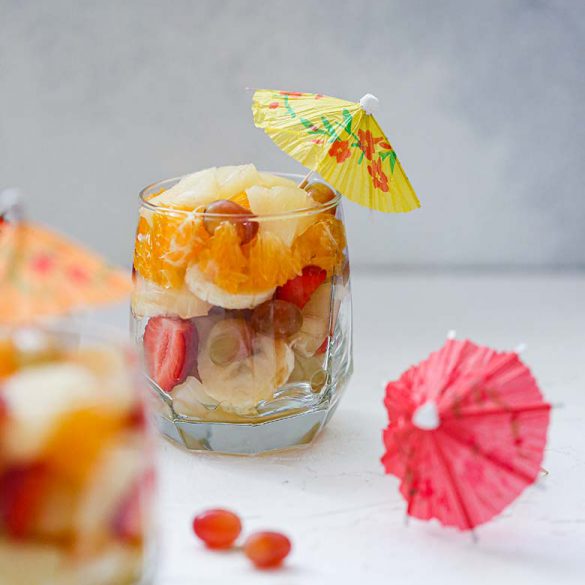 Ingredients
2 cups pineapple cut into 1-inch cubes

1 cup red grapes

1 cup banana

1 cup strawberry halved

1 cup

1 cup mandarin orange slices

1 tablespoon honey

2 tablespoon lime juice
Instructions
Step 1
Chop the fruits and pour them into a large bowl.
Step 2
Add lime juice and honey and toss fruits gently.
Step 3
Refrigerate the salad for at least half an hour.
Did You Make This Recipe?