I am sure you will love the wonderful Nutella-filled pancakes recipe for breakfast and tea time. Soft and fluffy pancakes filled with Nutella are great for a weekend breakfast table. You can't get enough of these Nutella pancakes.
What You Need to Make Nutella Pancakes
Flour: Use all-purpose flour for these pancakes.
Baking powder: Baking powder helps leaven the pancake batter, creating a soft and fluffy texture.
Nutella chocolate and hazelnut spread: As the name implies, these pancakes are filled with hazelnut Nutella spread.
Sugar: Granulated sugar is commonly used to make chocolate chip pancakes.
Salt: You will find a small amount of salt in most pancake recipes.
Egg: You will need one or more eggs, depending on the number of pancakes you make.
Vanilla extract: The basic flavor found in all package recipes.
Buttermilk: Classic pancakes are made with milk, but some pancakes can also be made with buttermilk.
Butter: The butter should be melted or vegetable oil should be used instead of butter.
How to Make Pancakes Like a Pro? 
You can use canola oil or another light vegetable oil instead of melted butter in the pancake batter.
Be sure to use baking powder to have fluffy pancakes. But do not beat it too much in the egg and do not mix the batter too much.
If your pancakes stick to the pan, there are several reasons. Remember to have a non-stick frying pan for pancakes. Grease the surface of the frying pan with a few drops of oil and kitchen paper towels. You do not need to put a lot of oil in the pan at all.
The thickness of the pancake batter should be such that it can be easily poured but not too runny.
Cook with low to medium heat. Pancakes do not need much time to cook. when you see bubbles on the top of the pancakes, it's time to flip them.
Did you like the Nutella pancakes recipe? Try my chocolate chip pancakes recipe as well! Leave your comment below and If you make this recipe, be sure to tag your photos #yummynotes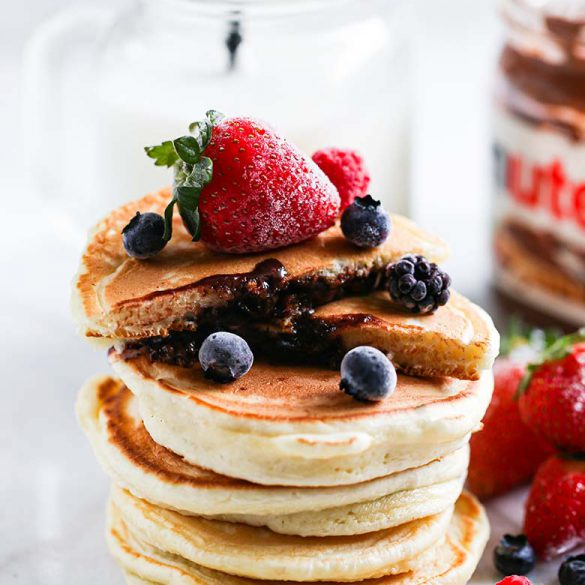 Ingredients
2 eggs

2 tablespoons sugar

1 1/2 cups all-purpose flour

1 buttermilk

1 teaspoon baking powder

1 teaspoon vanilla extract

1/3 cup Nutella spread

1/4 teaspoon salt
Instructions
Step 1
Line a baking tray with parchment paper.
Step 2
Take a teaspoon of softened Nutella and spread it on the parchment paper in the form of a circle. Baking paper will ensure that the chocolate discs do not stick to the tray and you can easily remove it after freezing.
Step 3
Let the chocolate discs chill in the freezer for about half an hour. 12 chocolate discs will be enough.
Step 4
In a clean, dry bowl, mix the flour, salt, baking powder.
Step 5
In another bowl, whisk the buttermilk, vanilla extract, egg, melted butter, and sugar.
Step 5
Add the wet ingredients to the bowl of dry ingredients and whisk so that the flour lumps do not appear inside the mixture.
Step 6
Lightly grease a non-stick pan with oil spray. Pour 2 tablespoons of the pancake batter into the pan. Let's put one of the chocolate discs on it, being careful not to press it too much.
Step 7
And let's cover the chocolate round with another 2 tablespoons of pancake batter.
Step 8
When bubbles start to appear on the top surfaces of the pancakes, turn them over.
Step 6
Stack them on a plate and top with whipped cream, extra Nutella, or fruits.
Did You Make This Recipe?