Would you like to make pancakes with your favorite cookie flavor? One of my favorite things to do is try new flavors for pancakes, waffles, and crepes. Sometimes the result is great and sometimes not. Honestly, I think Oreo cookie sandwiches are ideal for making oreo pancakes. If you like to try pancakes with cream and Oreo cookie flavor, this Oreo pancakes recipe is for you.
About This Recipe
Light and fluffy pancakes loaded with Oreo cookie flavors topped with whipped cream and drizzled with chocolate sauce. Oreo pancakes are easy to make and never fail to win hearts.
Why You Will Love This Recipe
Full of Oreo flavor: Fluffy Oreo pancakes are a dream come true. Full of crushed Oreos and topped with whipped cream. These pancakes are perfect for breakfast, or dessert!
Easy to make: Oreo pancakes are so easy to make and they are done in less than 30 minutes!
Great leftover: Made a big enough batch of pancakes and don't know what to do with the leftovers. These cookie pancakes keep well for 2 or 3 days. Just wrap them tightly in plastic wrap or place them in an air-tight container in the fridge.
What You Need to Make Oreo Pancakes
Flour: Use all-purpose flour for these pancakes.
Baking powder: Baking powder helps leaven the pancake batter, creating a soft and fluffy texture.
Oreo cookies: I used oreo creme-filled sandwich cookies for these pancakes.
Unsweetened Cocoa powder: A little cocoa powder will give a deep chocolate flavor to your pancakes.
Sugar: Granulated sugar is commonly used to make chocolate chip pancakes.
Salt: You will find a small amount of salt in most pancake recipes.
Egg: You will need one or more eggs, depending on the number of pancakes you make.
Vanilla extract: The basic flavor found in all package recipes.
Buttermilk: Classic pancakes are made with milk, but some pancakes can also be made with buttermilk.
Butter: The butter should be melted or vegetable oil should be used instead of butter.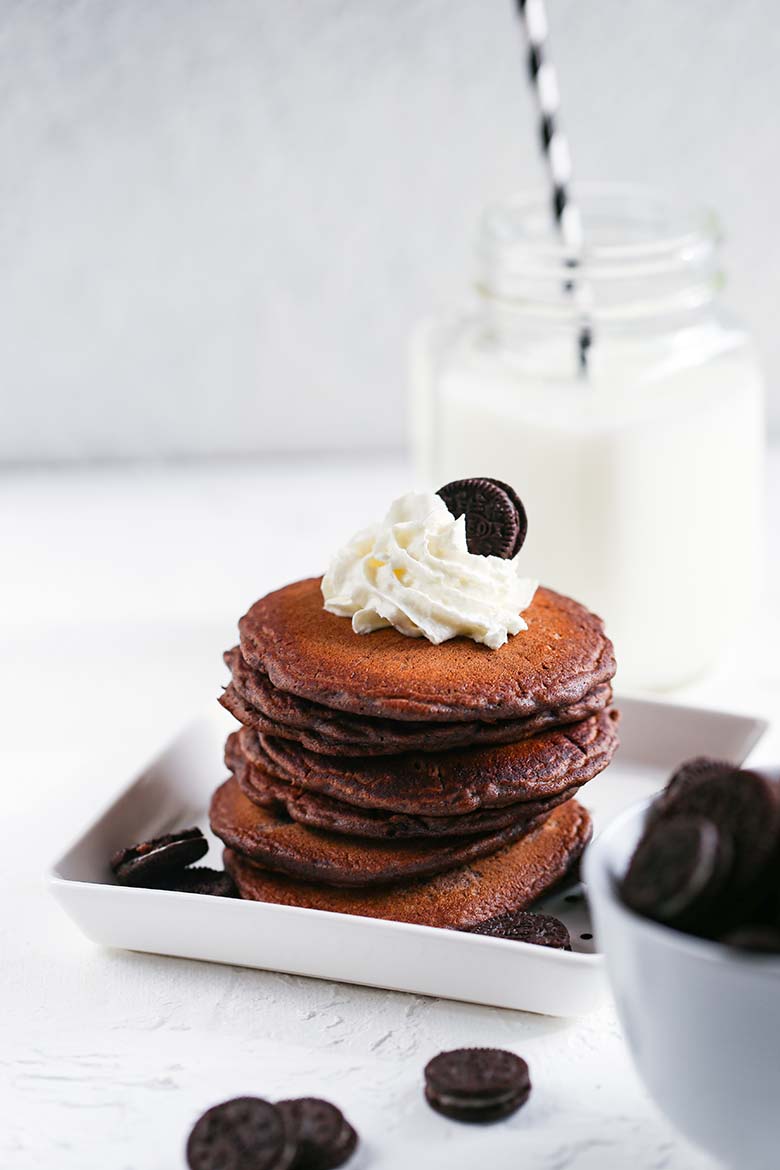 How to Make Pancakes Like a Pro? 
You can use canola oil or another light vegetable oil instead of melted butter in the pancake batter.
Be sure to use baking powder to have fluffy pancakes. But do not beat it too much in the egg and do not mix the batter too much.
If your pancakes stick to the pan, there are several reasons. Remember to have a non-stick frying pan for pancakes. Grease the surface of the frying pan with a few drops of oil and kitchen paper towels. You do not need to put a lot of oil in the pan at all.
The thickness of the pancake batter should be such that it can be easily poured but not too runny.
Cook with low to medium heat. Pancakes do not need much time to cook. when you see bubbles on the top of the pancakes, it's time to flip them.
How to Serve Oreo Pancakes?
Serve Oreo pancakes with freshly whipped cream, chocolate sauce and  crushed Oreos.
How To Store Oreo Pancakes?
You can serve the pancakes immediately after cooking and until they are relatively hot, or eat them after cooling. It can also be stored in a sealed container for up to five days in the refrigerator.
Did you like the Oreo pancakes recipe? Try my pumpkin pancakes recipe as well! Leave your comment below and If you make this recipe, be sure to tag your photos #yummynotes 
Looking for More Pancake Recipes?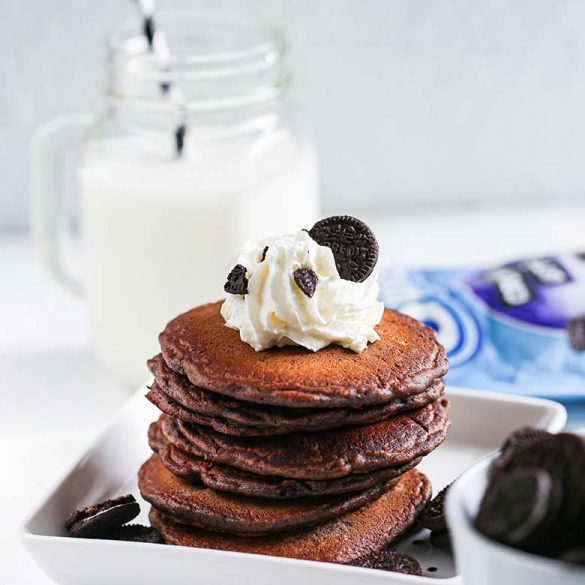 Ingredients
1 egg

1 cup buttermilk

1 tablespoon unsweetened cocoa powder

3 tablespoon butter, melted

1 teaspoon vanilla extract

4 tablespoons granulated sugar

1 teaspoon baking powder

1 cup flour

1/4 teaspoon salt

6 Oreos, finely crushed

Extra Oreos, whipped cream, and chocolate sauce for topping
Instructions
Step 1
In a clean, dry bowl, mix the flour, cocoa powder, crushed Oreos, salt, baking powder.
Step 2
In another bowl, whisk the buttermilk, vanilla extract, egg, melted butter, and sugar.
Step 3
Add the wet ingredients to the bowl of dry ingredients and whisk so that the flour lumps do not appear inside the mixture.
Step 4
Lightly grease a non-stick pan with oil spray. Pour 1/4 cup of the pancake batter into the pan.
Step 5
When bubbles start to appear on the top surfaces of the pancakes, turn them over.
Step 6
Stack them on a plate and top with whipped cream and chocolate sauce.
Did You Make This Recipe?