Everyone in our family loves apples except me. Apples are always the first choice when buying fruit. Granny Smith, pink lady, or golden delicious, are all accepted in the family. It is true that I usually do not choose apples from the fruits on the table, but I like desserts and pastries made with apples. Now, among these desserts, spiced apple muffins have a special place in my heart.
About This Recipe
You probably know that one of the most used fruits in confectionery is the apple. Apples are available in most parts of the world. In addition, this fruit can be found all year round and is also cheap. For these reasons, this fruit has always been an essential ingredient in confectionery recipes. The only thing you need to know is that not all apples are suitable for baking. Always use fresh apples. When buying, make sure that the apple's skin is pristine and undamaged. Also, ripe apples are crisp and firm to the touch.
What You Need to Make Spiced Apple Muffins
Apple: I usually use granny smith or pink lady apples to make muffins. Apart from the type of apple, make sure that the apple is firm and fragrant.
Spices: Some of the common spices that go well with apples are cinnamon, cloves, cardamom, and nutmeg. Now we are going to use a combination of cinnamon, nutmeg, and cloves to bake these muffins.
Flour: For this recipe, you need all-purpose flour.
Baking powder: Baking powder causes muffins to rise. Using the right amount of baking powder in cakes and muffins is very important.
Vegetable oil: Vegetable or sunflower oil makes the texture of muffins soft and moist.
Egg: In this recipe, only 1 egg is used.
Sugar: I use a combination of brown sugar and white sugar for this recipe.
Vanilla extract: Like all muffins and cakes that we bake, vanilla extract is essential.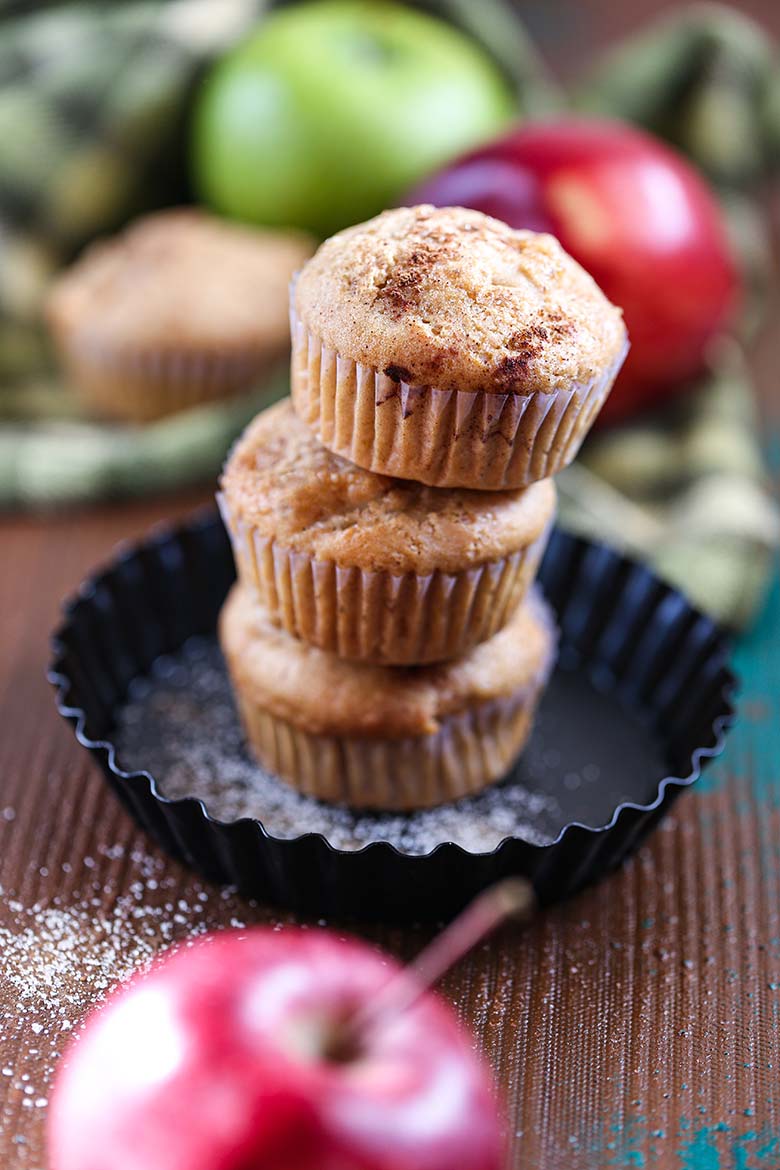 How to Make Spiced Apple Muffins Like a Pro?
Before starting, gather the ingredients and place them on the countertop.
Measure the required ingredients accurately.
Make sure that all your ingredients are at room temperature and fresh.
Mix the wet and dry ingredients with a spatula, and don't mix the batter too much. Mix dry and wet ingredients in separate bowls and then add them together.
Bake for 20 to 25 minutes or until a toothpick inserted in the center of the cake comes out clean. Cool in the pan on a wire rack for 10 minutes.
Did you like the spiced apple muffins recipe? Try my carrot cake muffins recipe as well! Leave your comment below and If you make this recipe, be sure to tag your photos #yummynotes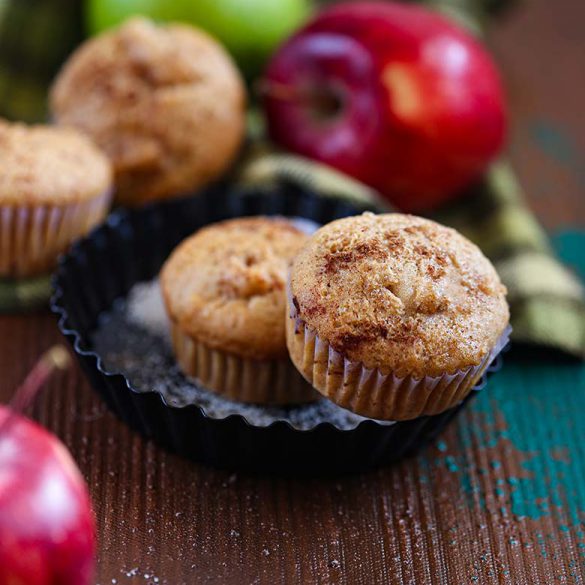 Ingredients
1 cup granny smith or pink lady apples (diced)

1/3 cup vegetable oil

1 1/2 cup all-purpose flour + 2 teaspoon for coating apples

1 1/2 teaspoon baking powder

1/4 teaspoon salt

1/2 cup milk

1 teaspoon vanilla extract

2 teaspoons cinnamon

1/4 teaspoon ground nutmeg

1/4 teaspoon ground cloves

1/2 cup granulated sugar

1/4 cup brown sugar
Instructions
Step 1
Preheat the oven to 375°F. Place cupcake papers into a cupcake pan.
Step 2
Sift the flour and put the milk and eggs out of the refrigerator to reach room temperature.
Step 3
The recipe of most muffins is to mix dry ingredients in one bowl and wet ingredients in another, and at the end, these two bowls are added together.
To prepare the bowl of dry ingredients, pour the sifted flour into a clean bowl, add the baking powder and salt to the ingredients.
Step 4
Add ground cinnamon, nutmeg, and cloves to the bowl of dry ingredients. Add a quarter cup of brown sugar to the dry ingredients.
Step 5
Mix the dry ingredients thoroughly with the whisk until it is smooth and the ingredients are evenly distributed. Set aside the dry bowl.
Step 6
Put the diced apples in a bowl, add 2 teaspoons flour, and stir.
Step 7
Pour the milk into another bowl. Add oil to milk.
Step 8
Add the eggs to the ingredients and then whisk the milk, oil, and egg mixture.
Step 9
Add the apples to the wet ingredients and mix gently. Now make a hole in the middle of the dry ingredients.
Step 10
Place the wet ingredients in the middle of the dry ingredients and mix with a whisk. An electric mixer is not usually used in making muffins, but if you think it is difficult to stir, mix the ingredients with the slowest speed.
Step 11
Pour the batter into the cupcake papers. Fill the molds to two-thirds and sprinkle some cinnamon and sugar mix on muffins.
Step 12
Put the tray in the oven for 20 to 25 minutes, check after 20 minutes, if it is fully cooked, take it out of the oven let it cool down a bit, and then serve.
Did You Make This Recipe?