Is there anyone among us who doesn't like Nutella? Someone who loves Nutella like me is always looking for recipes with this chocolate hazelnut spread. I think soft and chocolatey Nutella cupcakes with creamy and sweet frosting is the best idea.
What Do You Need to Make Nutella Cupcakes?
Nutella chocolate and hazelnut spread: As the name implies, these cupcakes are filled with hazelnut Nutella spread. Of course, we are going to make Nutella frosting for cupcakes together.
Flour: For this recipe, you need all-purpose flour.
Baking powder: Baking powder causes cupcakes to rise. Using the right amount of baking powder in cakes and muffins is very important.
Butter: Use unsalted butter for these cupcakes.
Egg: In this recipe, only 2 eggs are used.
Sugar: Use brown sugar for Biscoff muffins.
Vanilla extract: Like all muffins and cakes that we bake, vanilla extract is essential.
Milk: Milk or buttermilk is usually used to make cupcakes.
How to Make Cupcakes Like a Pro?
Before starting, gather the ingredients and place them on the countertop.
Measure the required ingredients accurately.
Make sure that all your ingredients are at room temperature and fresh.
Bake for 20 to 25 minutes or until a toothpick inserted in the center of the cake comes out clean. Cool in the pan on a wire rack for 10 minutes.
Did you like the Nutella cupcakes recipe? Try my Nutella muffins recipe as well! Leave your comment below and If you make this recipe, be sure to tag your photos #yummynotes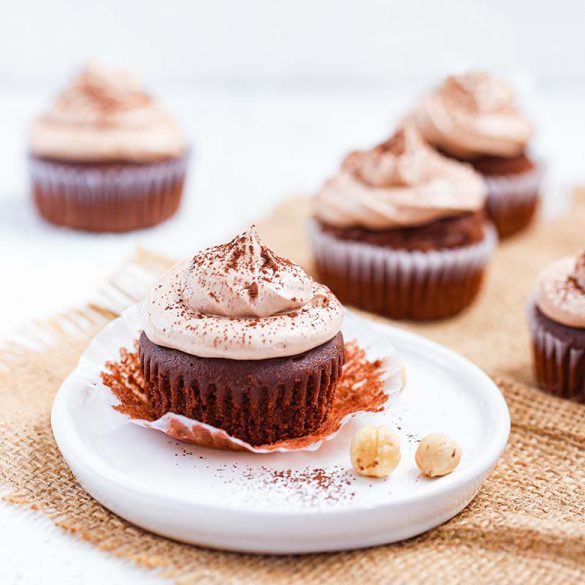 Ingredients
1 1/3 cup all-purpose flour

1/2 cup butter, melted, room temperature

1/2 cup milk

1/3 cup natural unsweetened cocoa powder

2 large eggs

2/3 cup sugar

1 1/2 teaspoon baking powder

1/4 teaspoon salt

1 teaspoon vanilla extract

Nutella Frosting

3/4 cup butter, room temperature

2 tablespoons heavy cream

1/2 cup Nutella

2 cups powdered sugar

1 teaspoon vanilla extract
Instructions
Step 1
Preheat the oven to 180°C or 356°F  and line a 12-hole muffin tray with paper cases.
Step 2
Place eggs and sugar into a bowl and whisk until very light, fluffy, and thickened.
Step 3
Add melted butter and vanilla extract to the mixture beat until combined. Then add milk and mix for another minute.
Step 4
Sift flour, cocoa powder, baking powder, and salt into a large clean, and dry bowl.
Step 5
Add the dry ingredients to the batter in two steps and mix gently with a spatula until the mixture is smooth. Don't mix the batter too much.
Step 6
Spoon batter into paper cases. Bake for 20 minutes until cooked through, then cool on a wire rack.
Step 7
Beat butter and Nutella until well combined.
Step 8
Add vanilla extract and heavy cream and beat until combined.
Step 9
Slowly add in powdered sugar and beat on high for 2 minutes until light and fluffy.
Did You Make This Recipe?