Tender and soft Nutella muffins bursting with chocolate flavor. These muffins with melt in your mouth texture and is great for snacks, tea, and afternoon coffee. Nutella muffins don't take long to make and you can make them at home in a few steps!
About This Recipe
In previous blog posts, I posted banana and pear muffins recipes in detail. This time I went for a chocolate muffin with Nutella. The muffin is actually a small quick bread with a firmer texture than cake and is baked at a higher temperature. Due to the higher temperature, it is not uncommon for the muffin surface to crack.
Why You Will Love This Recipe
Quick and easy: The best thing about muffins is that they have easy recipes and come together with a handful of pantry staples.
Full of chocolate flavor:
What Do You Need to Make Nutella Muffins?
Nutella: You will need 1/2 to 1 teaspoon of Nutella spread for each muffin.
Flour: For this recipe, you need all-purpose flour.
Baking powder: Baking powder causes muffins to rise. Using the right amount of baking powder in cakes and muffins is very important.
Vegetable oil: Vegetable or sunflower oil makes the texture of muffins soft and moist.
Egg: In this recipe, only 1 egg is used.
Sugar: Use granulated sugar for Nutella muffins.
Vanilla extract: Like all muffins and cakes that we bake, vanilla extract is essential.
How to Make Nutella Muffins Like a Pro?
Before starting, gather the ingredients and place them on the countertop.
Measure the required ingredients accurately.
Make sure that all your ingredients are at room temperature and fresh.
Mix the wet and dry ingredients with a spatula, and don't mix the batter too much. Mix dry and wet ingredients in separate bowls and then add them together.
Bake for 20 to 25 minutes or until a toothpick inserted in the center of the cake comes out clean. Cool in the pan on a wire rack for 10 minutes.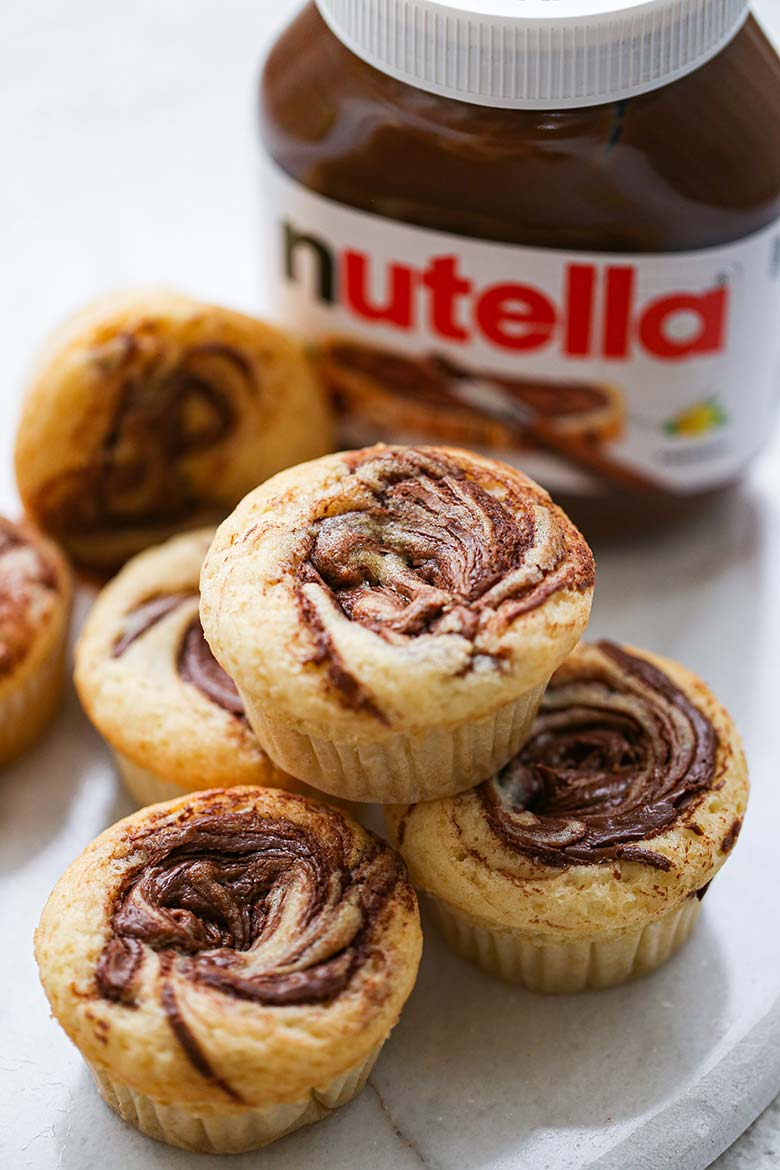 Did you like the Nutella muffins recipe? Try my banana muffins recipe as well! Leave your comment below and If you make this recipe, be sure to tag your photos #yummynotes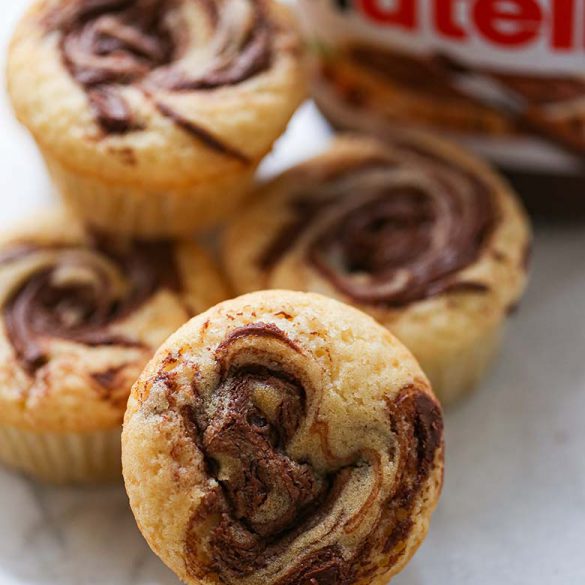 Ingredients
1½ cups flour

2 teaspoons baking powder

12 teaspoons Nutella spread

1/2 cup sugar

1/3 cup vegetable oil

1/3 cup milk

1 egg

1 teaspoon vanilla extract

1/2 teaspoon salt
Instructions
Step 1
Preheat the oven to 190°C or 374°F  and line a 12-hole muffin tray with paper cases.
Step 2
In a large bowl, combine flour, baking powder, and salt.
Step 3
In another bowl, mix the eggs, oil, sugar, and vanilla extract with an electric mixer until light and smooth.
Step 4
In the next step, add milk and mix for another 1 minute.
Step 5
Add the dry ingredients to the bowl of wet ingredients and mix with a spatula until smooth.
Step 6
Spoon batter into paper cases and spoon about 1 teaspoon of Nutella on each muffin.
Step 7
Use a knife to create a swirl.
Step 8
Bake for 15-20 minutes until golden brown.
Did You Make This Recipe?