Crepe is one of the most loved French breakfasts. Crepes, like pancakes, are easy to make and by trying once or twice, you can get good results and surprise the whole family. Another similarity between pancakes and crepes is that you can make both in different flavors. Here only your creativity is important and there are no limits! Now that we have no limits, are you ready to make Biscoff crepes?
About This Recipe
These thin, buttery crepes cooked in a pan, spread all over the world from the Brittany region in France. Crepes, like pancakes, come in all sorts of varieties. From classic crepes for breakfast to chocolate and dessert crepes. Biscoff crepes are made with Biscoff spread and I think it can be a delicious and creative dessert.
What You Need to Make Biscoff Crepes
Flour:  I used all-purpose flour for this recipe.
Butter: One of the key ingredients for the crepe batter is butter. The butter should first melt and reach room temperature and then be added to the crepe.
Sugar: Crepe usually has a little sweetness and is served with powdered sugar and cream or softened biscuit spread. So two to three tablespoons of granulated sugar are enough.
Salt: You will find a small amount of salt in most crepe recipes.
Eggs: Just like pancakes, eggs are one of the main ingredients in crepes batter.
Vanilla extract: The basic flavor found in all crepe recipes.
Biscoff cookie spread: The main flavor of these crepes is Biscoff cookie spread, which gives a sweet, spicy, and caramel taste to the crepes.
Milk: You can use dairy or non-dairy milk.
Water: Basically crepe batter is thin. This is due to the ratio of water and milk to flour. Some people only use milk to make crepes, but I use a combination of milk and water.
How to Make Biscoff Crepes Like a Pro?
Choosing the right pan in making crepes is very important. Use a non-stick and heavy bottom skillet that transfers heat evenly.
The most important reason for crepes to be rubbery is their thickness. The crepes should be very thin. To spread the crepe batter you should swirl the pan around quickly.
If the heat is low, the cooking time will increase, which will cause your crepe to dry out, and the high temperature will destroy the softness of crepes.
The crepe must be thin and smooth so that it spreads when you swirl the pan or skillet.
If the crepe batter is thick, you can add a few tablespoons of milk until the crepe yeast reaches the desired concentration.
Note that you do not need to add a lot of oil or butter to the pan to cook the crepes. Too much butter or oil will prevent the crepes from cooking evenly.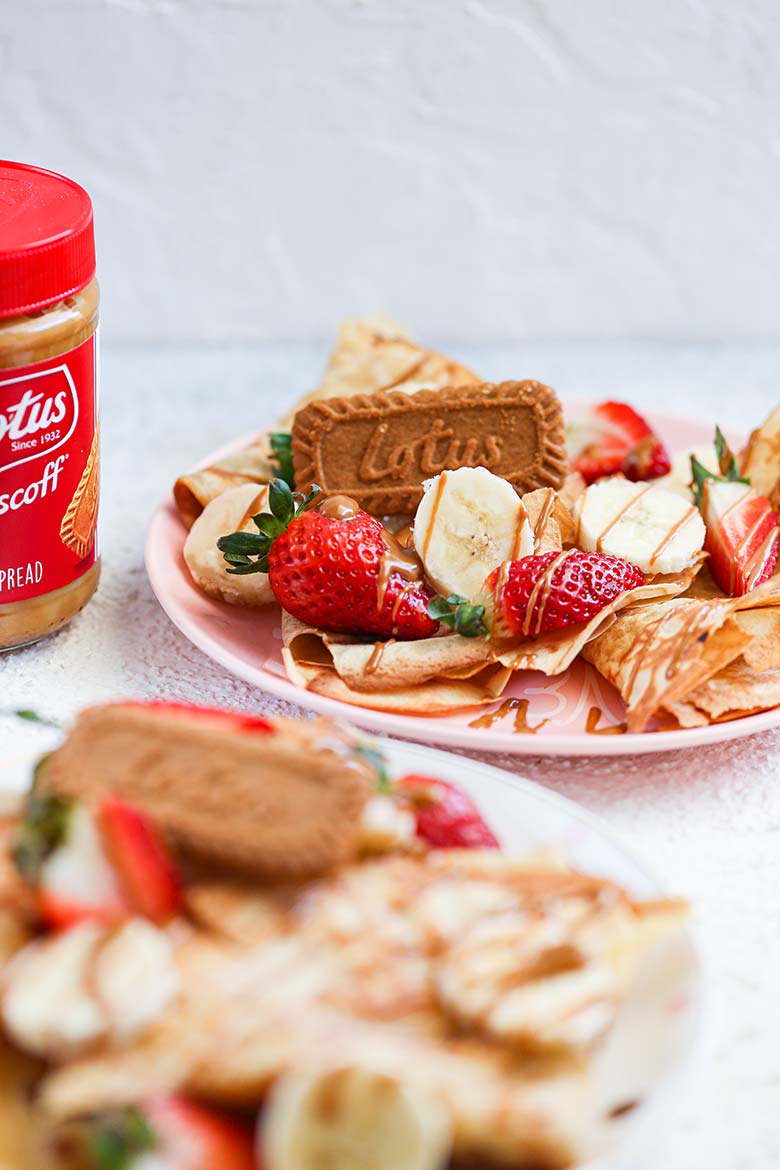 Did you like the lotus Biscoff crepes recipe? Try my Biscoff mug cake recipe as well! Leave your comment below and If you make this recipe, be sure to tag your photos #yummynotes 
Looking for More Lotus Biscoff Recipes?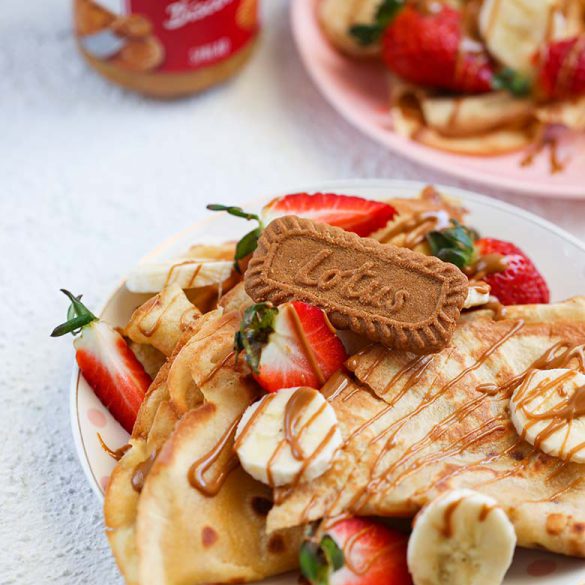 Ingredients
1 cup all-purpose flour

2 tablespoons sugar

3 tablespoons biscoff cookie spread + more for topping

3 tablespoons unsalted butter + more for cooking

1 teaspoon vanilla extract

2 large eggs, room temperature

1/2 cup water, room temperature

3/4 cup milk, room temperature

1/4 teaspoon salt
Instructions
Step 1
Melt butter in the microwave or on the stovetop. Set it aside to cool to room temperature before adding it to the batter.
Step 2
In a large bowl add all the ingredients and beat with a hand whisk. Instead, you can pour all the ingredients into a food processor and blend until the batter is smooth.
Step 3
Cover the batter and chill it for 15 minutes.
Step 5
After chilling the batter, give it a quick stir. Lightly grease a non-stick skillet with butter. I used a 9.8-inch skillet but you can use a smaller 8-inch skillet too.
Step 6
Once the skillet is hot, pour 3 - 4 tablespoons of batter into the center of the skillet. Then swirl quickly to spread the crepe batter evenly on the surface of the pan.
Step 7
Cook for a minute or two until the sides are crispy then flip the crepe. Cook the other side for another 1 minute. Fold or roll crepes and top with melted cookie spread and fresh fruits.
Did You Make This Recipe?