This easy-to-make and amazingly delicious eggless tiramisu will impress your guests! It has a rich coffee flavor balanced by the sweetness of mascarpone filling topped with a dusting of cocoa powder.
What Is Tiramisu?
The literal meaning of Tiramisu, a legendary Italian dessert, is known as "Cheer me up" or "Pull me up". There are many ways to make tiramisu. Although there are various claims about the birthplace of one of the world's most popular desserts, the popular opinion in Italy is that tiramisu was first made in Treviso, in the Veneto region. The tiramisu recipe is said to belong to the owner and chef of Le Beccherie restaurant in Treviso. The tiramisu dessert we make at home is actually a little different from the original. Most of the time, we use ready-made pastry cake instead of "Savoiardi" or ladyfingers.
Why You Will Love This Recipe
No-bake: Looking for a delicious, no-bake dessert that'll impress your guests? This eggless tiramisu is the perfect recipe for you.
Easy to make: Tiramisu is one of the easiest desserts to prepare. Just mix the creamy filling, assemble, and chill.
Standard pantry ingredients: This recipe is incredibly easy to make and you can find all the ingredients already in your kitchen.
What You Need To Make Eggless Tiramisu
Heavy cream: The tiramisu filling is made by whisking together mascarpone cheese, sugar, and heavy cream.
Mascarpone cheese: Mascarpone cheese is used to make a rich whipped filling for eggless tiramisu.
Sugar: You can either use sugar or icing sugar as a sweetener for your tiramisu filling.
Coffee: I use espresso to moisten Ladyfinger biscuits but strong brewed coffee and instant coffee will work too!
Ladyfinger biscuits: I have used light, crispy, and sweet ladyfinger biscuits to make this tiramisu.
Cocoa powder
How to Make Eggless Tiramisu?
The cheese used in making this dessert should be creamy and salt-free. Among the cheeses, the best choice is the mascarpone cheese.
Any kind of biscuits not be used to make Italian tiramisu. Some use flavored biscuits, while this dessert has its own biscuit known as "Lady Finger"; If this biscuit was not available, plain sponge cake could also be used.
The best coffee for this dessert is espresso or instant coffee, which must be bitter and black.
You can also add some cream, grated chocolate, and even a little powdered coconut to the tiramisu recipe. Of course, adding any of these ingredients will make the recipe different from its original.
If you are going to use mascarpone cheese, it must be softened at room temperature. Otherwise, lumps will form while adding it into the cream. It should be added little by little and the consistency should be checked.
 Put a mixing bowl and whisk in the freezer to get as cold as possible before mixing ingredients.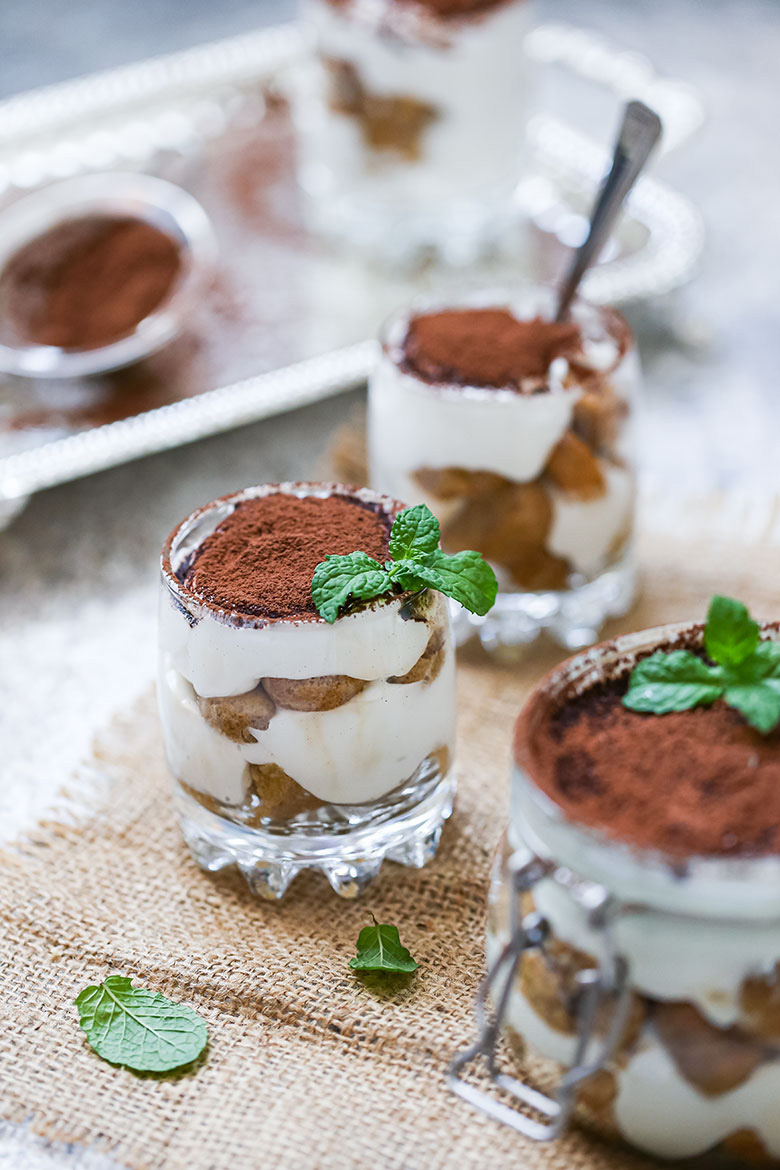 FAQs
How Long Does Tiramisu Last in the Fridge?
Leftovers should be refrigerated for use within 3-4 days, otherwise, the texture and taste will be affected.
Do You Use Soft or Hard Ladyfingers for Tiramisu?
Dry and crispy ladyfingers will give a better taste and texture to your Tiramisu. If your ladyfingers are soft, you can put them in the oven to make them dry and crispy.
Why Is My Tiramisu Soggy at the Bottom?
You probably put the ladyfingers in the coffee for a relatively long time. This helps the flavors perfectly come together.
How Long Does It Take for Tiramisu to Set?
Place the tiramisu in the fridge for at least 6 hours before serving.
Did you like the eggless tiramisu recipe? Leave your comment below and If you make this recipe, be sure to tag your photos #yummynotes  
 Looking for more eggless dessert recipes? Check out the eggless creme caramel recipe.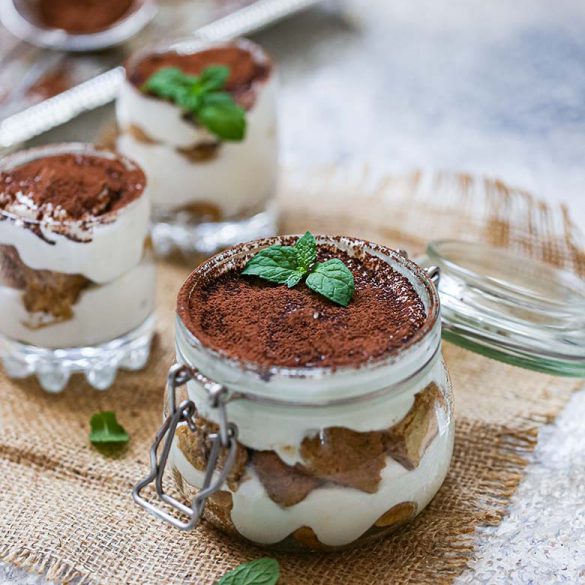 Ingredients
2 tablespoons instant coffee or espresso powder

2 cup hot water

1.5 cup heavy whipping cream

1/2 cup sugar

250 gr mascarpone cheese (at room temperature)

20 pcs ladyfinger biscuits

2 tablespoon cocoa powder

1 teaspoon vanilla extract
Instructions
Step 1
Start by making the espresso and leaving it to cool to room temperature.
Step 2
Meanwhile, to prepare the whipping cream, put 2/3 of the cream in a large bowl and start whisk with sugar until stiff peaks form. Then add the mascarpone cheese little by little.
Step 3
Stir the whipping cream each time you add the mascarpone cheese or it may clump. While adding the mascarpone cheese, add the remaining heavy whipping cream little by little and beat well with the mixer each time.
Step 4
After your cream has a smooth consistency, set it aside. Gently dip the ladyfinger biscuits into the coffee mixture and place half of them in the baking dish.
Step 5
Pour half of the cream over the first layer. Flatten with a spatula and repeat the step of dipping the biscuits in the coffee for the second layer.
Step 6
After adding the rest of the cream to it and spreading it, put it in the refrigerator. Let rest in the refrigerator for at least 6 hours.
Step 7
Dust with cocoa powder just before serving.
Did You Make This Recipe?