Affogato is a delicious mix of gelato(Italian ice cream) and espresso coffee, which, despite its simplicity, is one of the most popular Italian desserts. If you can't decide between coffee and a sweet dessert after dinner, this affogato recipe is for you.
What is Affogato?
Affogato in the Italian language means "drowned." If you haven't tried it yet, I can describe it as espresso with a scoop of ice cream in it. It all started when the sweetness of ice cream and the bitter taste of espresso came together. If you want to make a classic affogato, all you need is a cup of hot espresso and a scoop of vanilla ice cream. 😊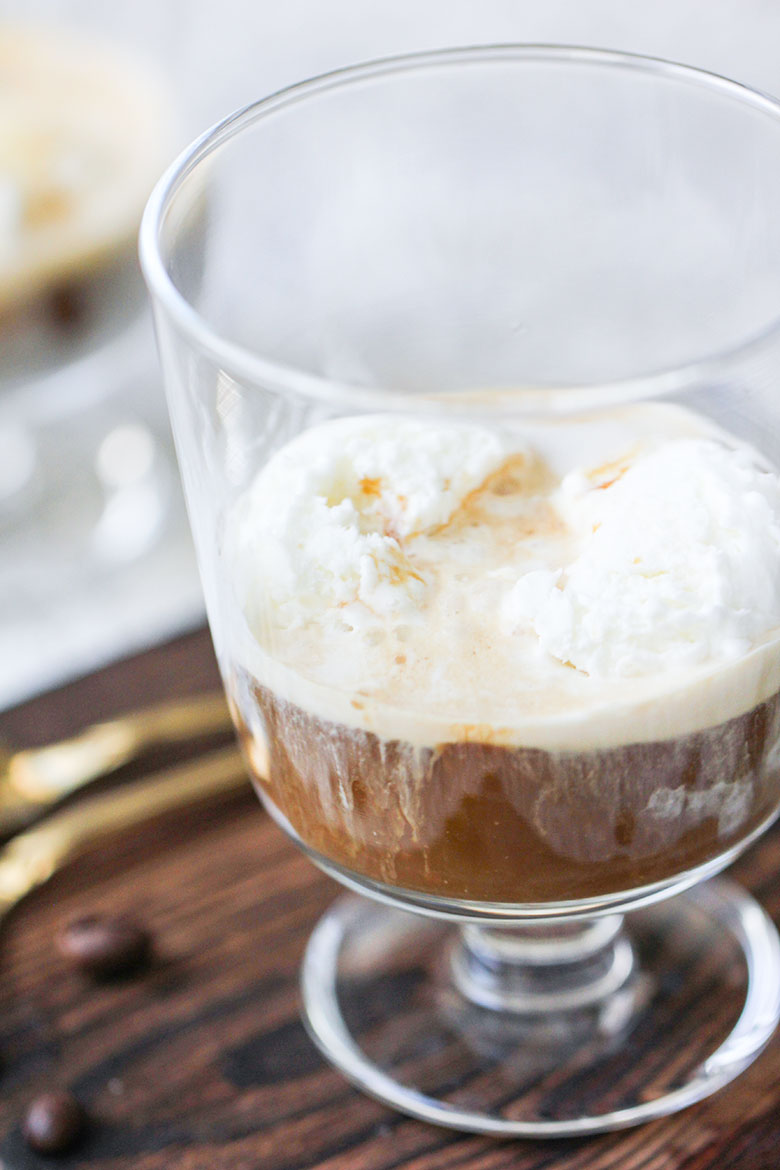 What's the Difference Between Ice Cream and Gelato?
Maybe you're wondering what the difference between ordinary ice cream and Italian ice cream (gelato) is. The answer is that classic ice cream has more cream and more fat, and the process of cooling or freezing it with Italian ice cream is different, which is why Italian ice cream has a lot more flavor and color and is more suitable for making different compositions of Affogato.
What You Need To Make Affogato
Espresso: Both the Moka Pot and Espresso Machine can make the espresso shots you need in this recipe.
Vanilla ice cream: Use vanilla ice cream or gelato for this recipe.
How to Make the Perfect Affogato Dessert
Add hot coffee to ice cream.
Immediately after preparing the espresso coffee, add it to the ice cream and serve it immediately. You should serve affogato before the ice cream begins to melt.
After preparing the espresso, you can dissolve some tiny chocolate chips in the coffee and then pour it onto the ice cream.
Before adding an espresso, you can add 30 ml of other drinks and additives, such as sorts of syrups, to ice cream or coffee.
You can even use hot earl gray tea or matcha tea instead of using espresso coffee.
Affogato can be served with pieces of biscuits or peanuts.
Instead of using espresso cups, you can also use mugs or ice creams to serve dishes.
You can use filtered coffee or cold espresso to make this dessert but if you want to drink a real affogato, then you should never miss hot espresso and vanilla ice cream.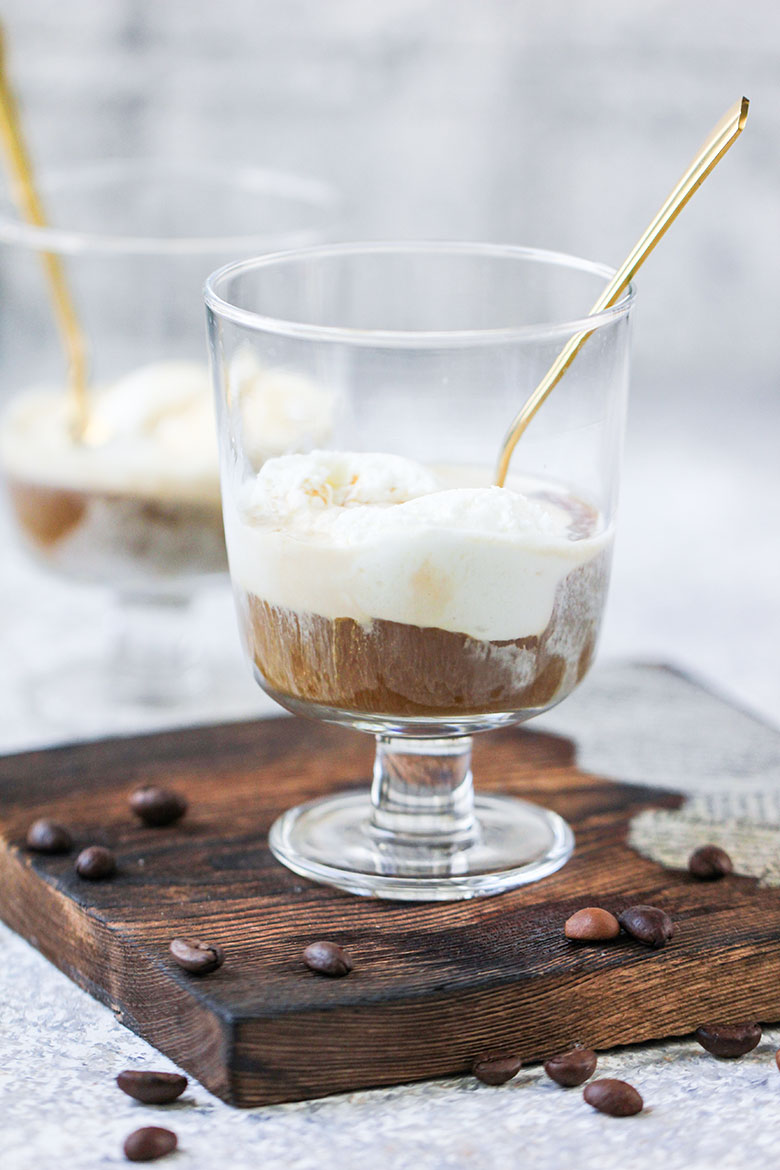 FAQs
Which Ice Cream Is Best for Affogato?
The traditional Affogato is made with vanilla gelato. Of course, vanilla ice cream also works well for this dessert. Espresso also pairs well with chocolate and mocha ice cream.
How Do You Drink Affogato Coffee?
You can eat affogato with a spoon. The ice cream is softened by the warmth of the coffee and can be easily eaten with a spoon.
Ice Cream to Espresso Ratio
I usually use 1 shot of espresso to 1 or 2 scoops of vanilla ice cream.
How to Slow Down the Melting of Ice Cream?
To slow down the melting of ice cream you can serve affogato in chilled glass cups.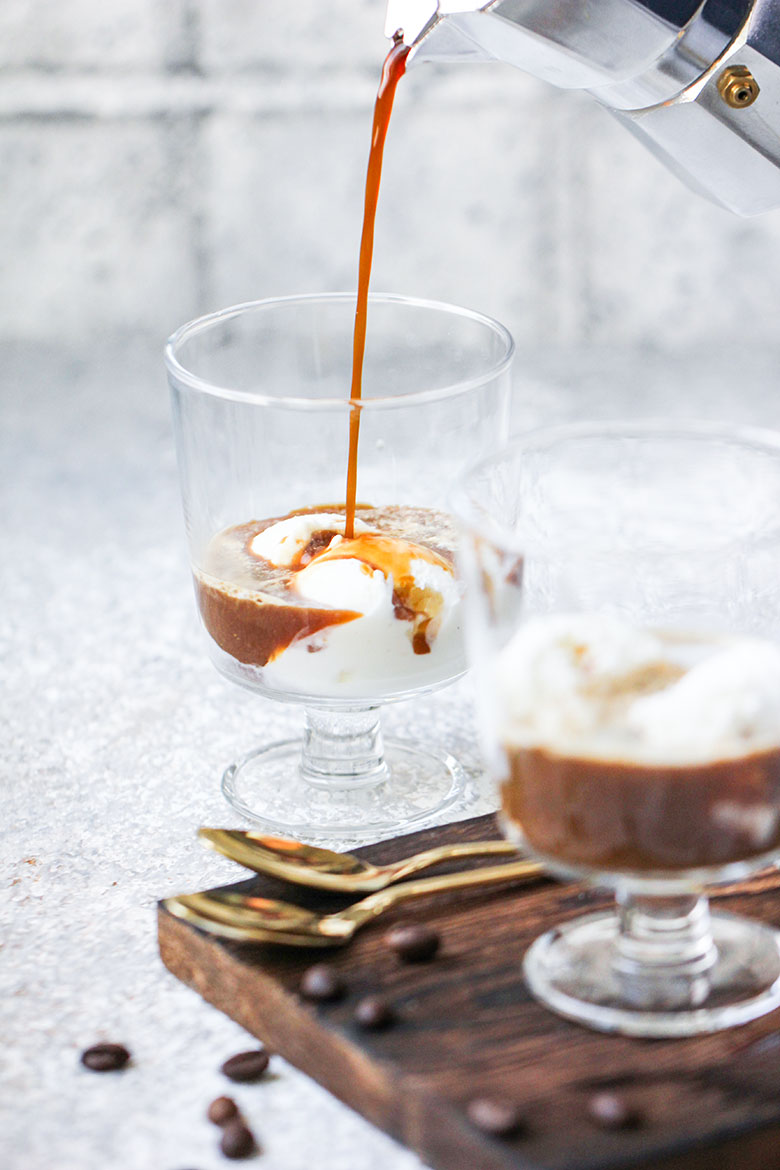 If you like the affogato recipe, try our strawberry oreo milkshake and watermelon smoothie recipes. Leave your comment below and If you make this recipe, be sure to tag your photos #yummynotes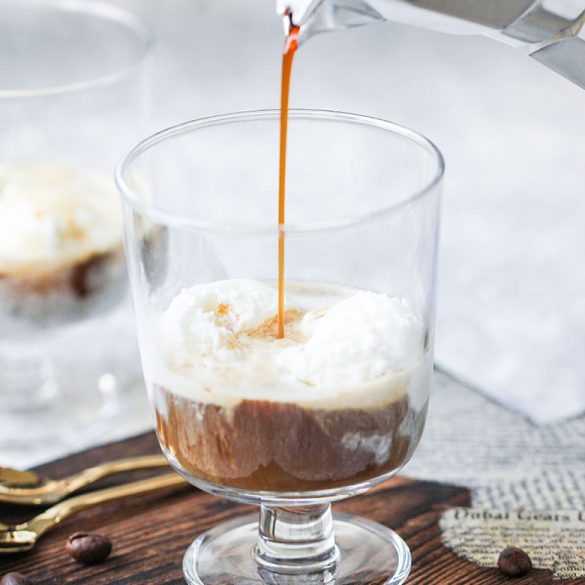 Ingredients
1 scoop vanilla ice cream or Italian ice cream (Gelato)

1 shot espresso
Instructions
Step 1
First, put a scoop of classic or Italian ice cream with vanilla or chocolate flavor, in a medium-sized cup (minimum capacity of 150 ml).
Step 2
Then make an espresso coffee (30 mg) with an espresso machine or moka pot.
Step 3
Immediately after preparing the espresso, slowly pour it onto the ice cream. Top with ingredients like nuts, hazelnuts, pistachios, grated chocolate, or cocoa powder.
Did You Make This Recipe?