The weather is warming up, a good time to try a sweet, cold drink that is made from milk, ice cream, and oreo cookies. Who doesn't love Oreo cookies? Follow the instructions for a delicious and cool strawberry oreo milkshake.
For a classic taste, you can never go wrong with The combination of strawberry and Oreo. I love the idea of a strawberry Oreo milkshake for Valentine's day. While you can make an Oreo milkshake with strawberry ice cream, you can also try it with vanilla ice cream or frozen bananas.
About This Recipe
Looking for new ways to make milkshake with everyone's favorite sandwich cookies? Check out our favorite strawberry oreo milkshake recipe. A sip of this strawberry oreo milkshake will take you to heaven. Made with sweet, ripe strawberries mixed with finely crushed oreo cookies and vanilla ice cream and topped with sweetened whipped cream. Just a summer perfection!
Why You Will Love This Recipe? 
Quick and easy: Thick and creamy milkshakes are easy to make at home. They come together in minutes with very little fuss.
Just need 3 ingredients: Yes! You just need 4 ingredients to make this milkshake. Ice cream, Strawberries, Oreo cookies, and milk.
Perfect for spring and summer: Refreshing, creamy and cool drink for spring and summer days.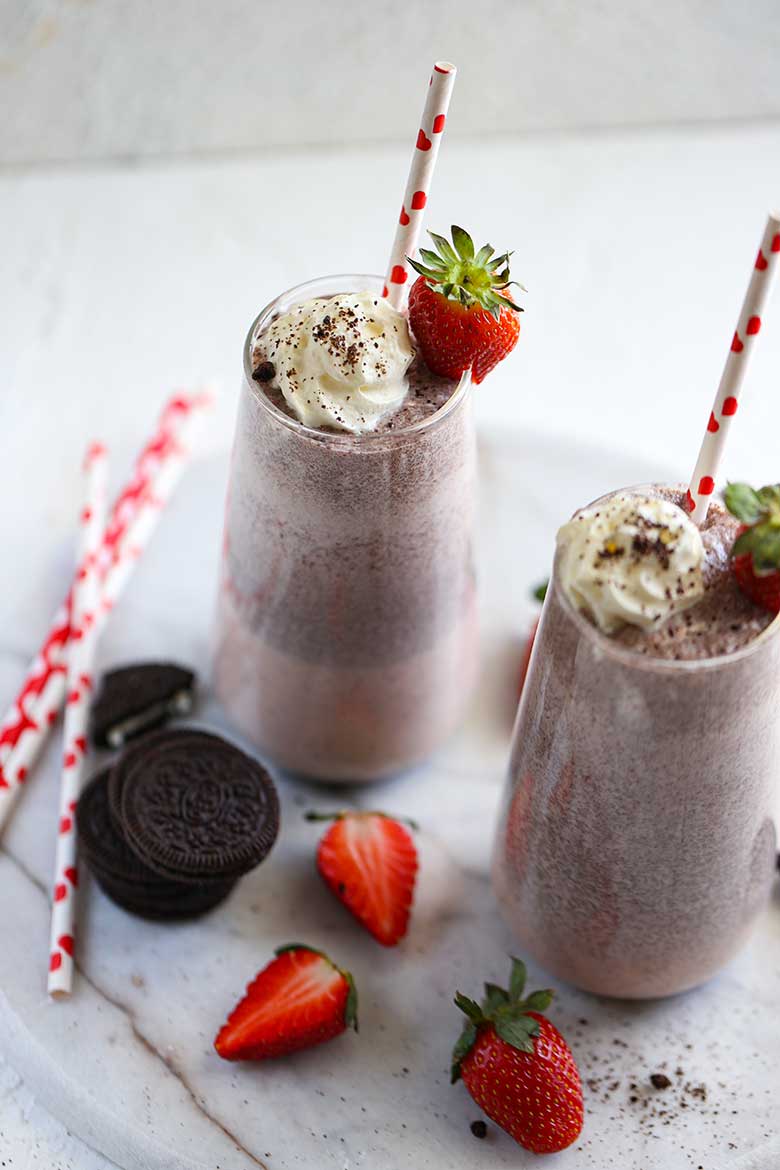 What You Need To Make Strawberry Oreo Milkshake
Strawberries: Use fresh or frozen strawberries.
Oreo sandwich cookies: Put the biscuits in a plastic bag and bash with a rolling pin until it is fine or crush the biscuits in a food processor.
Ice cream: I only used vanilla ice cream in this recipe, but you can use a combination of vanilla ice cream and strawberry ice cream.
Milk: The amount of milk and ice cream you add to the milkshake is very important, the ratio of the two should be balanced so that the milkshake is neither too thick nor too thin.
Whipped cream for topping
Pro Tips to Make Strawberry Milkshake Recipe
I usually like the milkshake to be a little thicker, so I add 1/2 cup of milk for every 1 ½ cup of ice cream.
The only rule you should keep in mind when making a milkshake is that it is better to have high-fat milk. The fatter the milk, the more creamy the milkshakes will be. So for the creamiest milkshake texture, aim for whole milk. If you are vegan, you can use non-dairy milk.
If you want to prepare a low-calorie milkshake, you can reduce the amount of ice cream and use vanilla yogurt.
Serve milkshakes immediately and don't refrigerate them.
A History Of The Oreo Cookies
Oreo is a cookie brand name. Oreo cookies were first produced in 1912 at a factory in Manhattan, New York, and Chelsea. This classic cookie usually consists of two chocolate wafers with a cream filling. When the cookie was first introduced in 1912, it appeared as an Oreo Biscuit, which changed in 1921 to Oreo Sandwich.
Over the years, many different types of Oreo Cookies have been produced, and in the 21st century, the limited edition production of this brand has been very popular.  For the first time, Oreo Cookies were sold in 500 grams of metal packaging for 25 cents.
Did you like the strawberry oreo milkshake recipe? Try my salted caramel milkshake as well! Leave your comment below and If you make this recipe, be sure to tag your photos #yummynotes 
Looking for More Milkshake Recipes?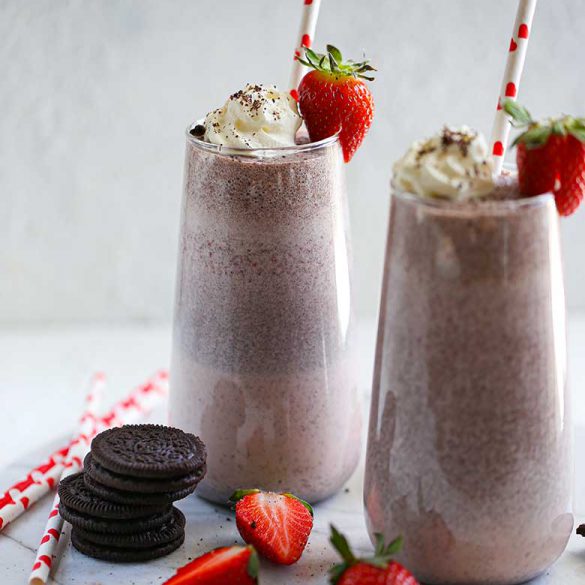 Ingredients
Some Oreo cookies, divided

Chocolate syrup

1 cup milk

2 cups strawberry ice cream, softened

Fresh strawberries
Instructions
Step 1
Chill glasses in the freezer for 5–10 minutes to keep your milkshake from melting quickly.
Step 2
Drizzle chocolate syrup into the glasses.
Step 3
Using a knife or food processor, chop up Oreos and set them aside.
Step 4
Add strawberry ice cream to the blender.
Step 5 
Add Oreo cookies to the blender.
Step 6
Add the milk to the blender and blend ingredients until the Oreos completely mixed with the milk and ice cream.
Did You Make This Recipe?