There is nothing I like more than a cup of tea in the morning. Of course, drinking tea is not limited to the morning; Drinking it at different times of the day can relieve fatigue all day long. Brewing tea and drinking it is common all over the world and is one of the most consumed beverages. The temperature of the water and the duration of brewing also have a direct effect on the taste and aroma of tea. Here are some interesting tips for brewing Persian Chai.
Common Methods Of Brewing Persian Chai
The first step in brewing tea is to choose its type. If you want to drink strong black tea, perhaps the most well-known examples are Earl Gray and Darjeeling tea. Darjeeling is a quality tea, but Earlgerie is a British product made from black tea with bergamot leaf oil and has a unique aroma. The use of tea bags is also the choice of lazy people who like to prepare tea without considering the correct amount of tea and other rules. But comfort is not everything. It takes a little hard work to get good things done.
Many of us think that the dark color of the tea after brewing is a sign of its quality, while good quality tea has a lighter color after brewing. Northern Iranian tea, which is one of the best and most well-known teas in the world, is completely light in color and has an extraordinary natural taste and aroma.
Another characteristic of Iranian tea is its tannin content. Tannin is the bitter agent of tea and gives it antioxidant and anti-cancer properties. However, high levels of tannins cause digestive problems and prevent the absorption of iron.
The amount of tannins in Iranian tea is quite appropriate, that is, it is not so much that it is problematic for you, nor is it so low that you are deprived of its nutrition benefits.
The Role Of Water In Brewing Tea
The teapot is better to be made of porcelain. Many people do not consider a metal teapot suitable for brewing. Glass teapots are also much better than metal teapots. If you use a samovar(a tall metal container that heats water to make tea) to heat water, never add hot water to the samovar and change the samovar water frequently. It is better to use a large teapot so that the tea leaves move freely in boiling water. If you have a tea maker, make sure that the temperature can be adjusted to different degrees of 70, 80, 90, and 100 degrees Celsius.
How To Brew Persian Chai?
Brewing time is very important for the taste, color, the aroma of the Persian Chai. The same instructions can not be given, the brewing time depends on the type of tea. The types of black tea available on ​​the market take about 3 to 15 minutes to brew. Many types of tea are best brewed at a temperature of about 80 to 85 degrees.
One of the important points that perhaps few people pay attention to is the effect of brewing time on the release of various substances in tea. Without going into the chemical composition of tea, we can say that if you drink tea to relieve fatigue, it is better to shorten the brewing time and only a few minutes (3 or 4 minutes). But if you are looking for a soothing effect of tea, you can consider the brewing time to be more than 10 minutes.
If you want to get the right formula for brewing tea, you need to take some time and see how and through what steps you will get the best results.
Pro Tips To Brew Persian Tea
If the tea is left in boiling water too much, it will become bitter. Tea leaves are delicate and thin, and soaking them in very boiling water can cause burns. This burn will also make the taste of tea bitter. If you feel a bitter taste in the tea, change the time the tea stays in the teapot and the water temperature (reduce the water temperature by 10 ° C).
Consider the amount of tea consumed per serving and then brew the tea. If you pour a lot of tea into the teapot, the taste of tea will be bitter and unpleasant.
3 to 4 minutes is enough time to brew tea.
Stir the tea leaves in boiling water to spread the color and aroma better.
Use fresh water each time you brew tea.
Pour a teaspoon of tea into the teapot for each person.
Did you like pro tips to brew Persian Chai? Leave your comment below and If you make this recipe, be sure to tag your photos #yummynotes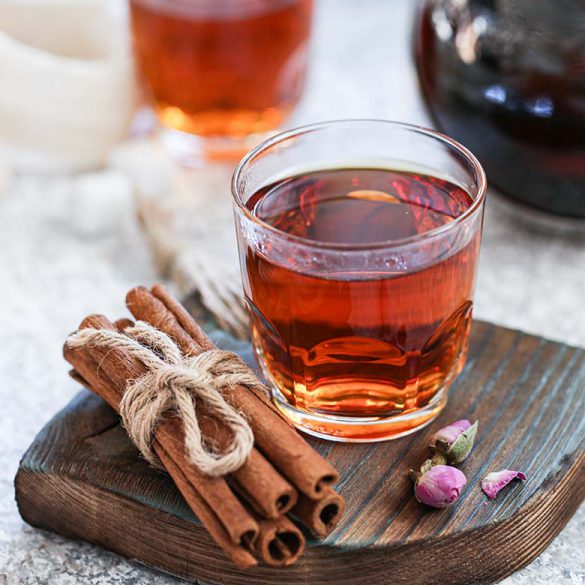 Ingredients
Cold water

1 tsp black tea leaves
Instructions
Step 1
Pour cold water into a kettle and let it heat up to 88 °C.
Step 2
Pour 2 to 3 grams (1 teaspoon) of black tea leaves into the teapot.
Step 3
Pour the hot water directly and gently on the black tea leaves.
Step 4
Put the lid on the teapot and let it brew for 3 to 5 minutes. Let the tea brew for 3 minutes and then test it every 30 seconds to get the desired taste.
Step 5
After the tea tastes good, strain it and pour it into the cup.
Step 6
If you like, you can help improve the taste of black tea by adding fresh lemon juice or honey, milk, and sugar.
Did You Make This Recipe?