A sweet and refreshing pomegranate milkshake is a perfect drink for early autumn days. The pomegranate milkshake can be enjoyed as a healthy snack or a light dessert.
Why You Will Love This Recipe?
Quick and easy: Rich, fruity, and creamy milkshakes are easy to make at home. They come together in minutes with very little fuss.
Perfect for fall and winter: Refreshing and flavorful cool drink for fall and winter days. Milkshakes are not only for summer!!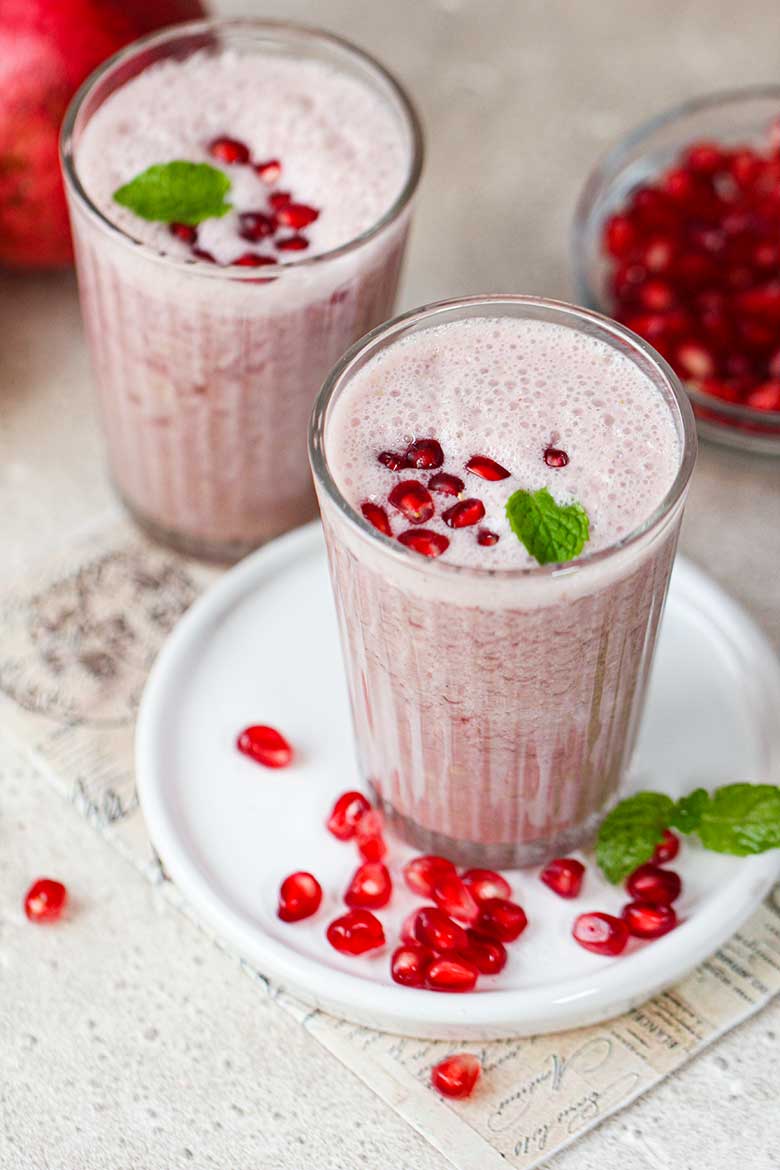 Ingredients You Need
Milk: Use cold milk to make this milkshake. You can even put some ice cubes in the blender. The amount of milk and ice cream you add to the milkshake is very important, the ratio of the two should be balanced so that the milkshake is neither too thick nor too thin.
Ice cream: I only used vanilla ice cream in this recipe. Ice cream makes the texture of the milkshake richer and thicker.
Pomegranate Juice: You can use store-bought or homemade pomegranate juice.
Sugar: If you use ice cream, you do not need to add sugar.
Pomegranate seeds and mint leaves for garnish.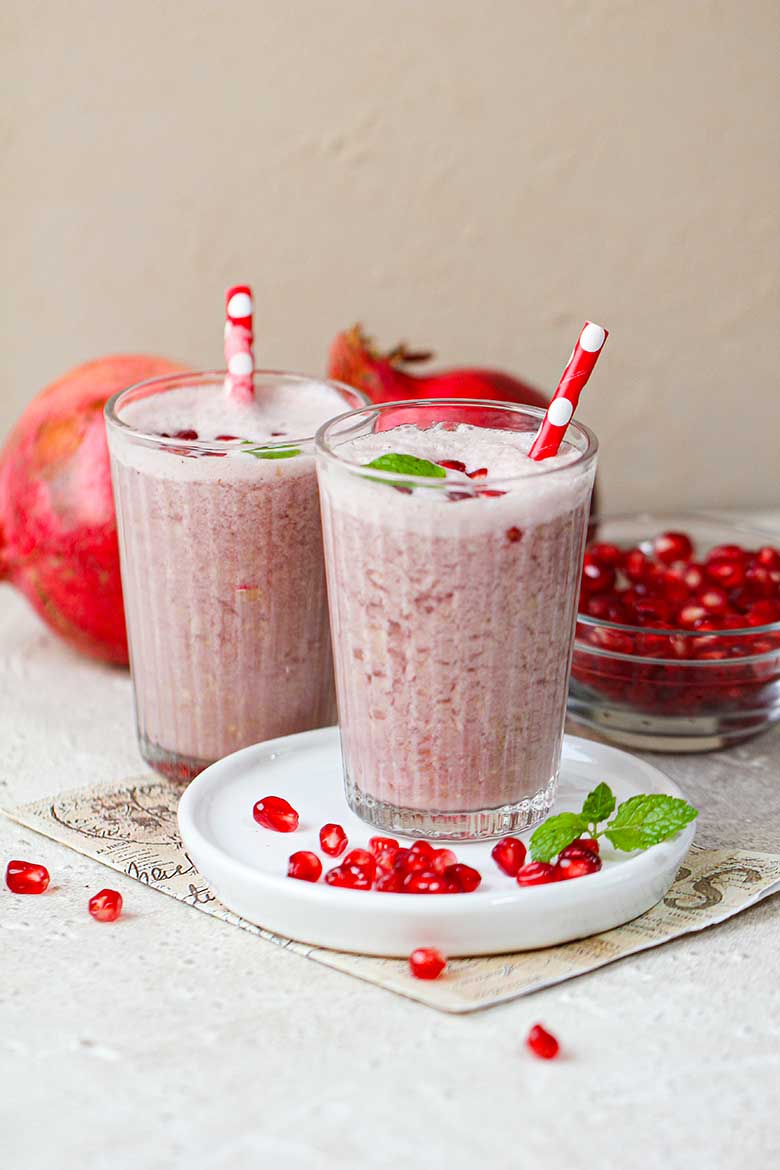 How to Make Pomegranate Milkshake?
Mix ingredients in a blender until smooth.
Pour the milkshake into a tall and chilled glass and top with pomegranate seed and min leaves.
Removing Pomegranate Seeds
Using a sharp knife, draw a circle slightly below the part of the pomegranate that looks like a crown and separate it. Score the outside of the pomegranate into 4 or 6 sections. And then break open the pomegranate into sections. Remove the seeds from the skin and white membranes. Pour the arils into a blender. Add sugar and pulse for 10 seconds until the juice around the seed is released. Pour the content of the blender into a fine mesh strainer. Separate the seeds from the pomegranate juice.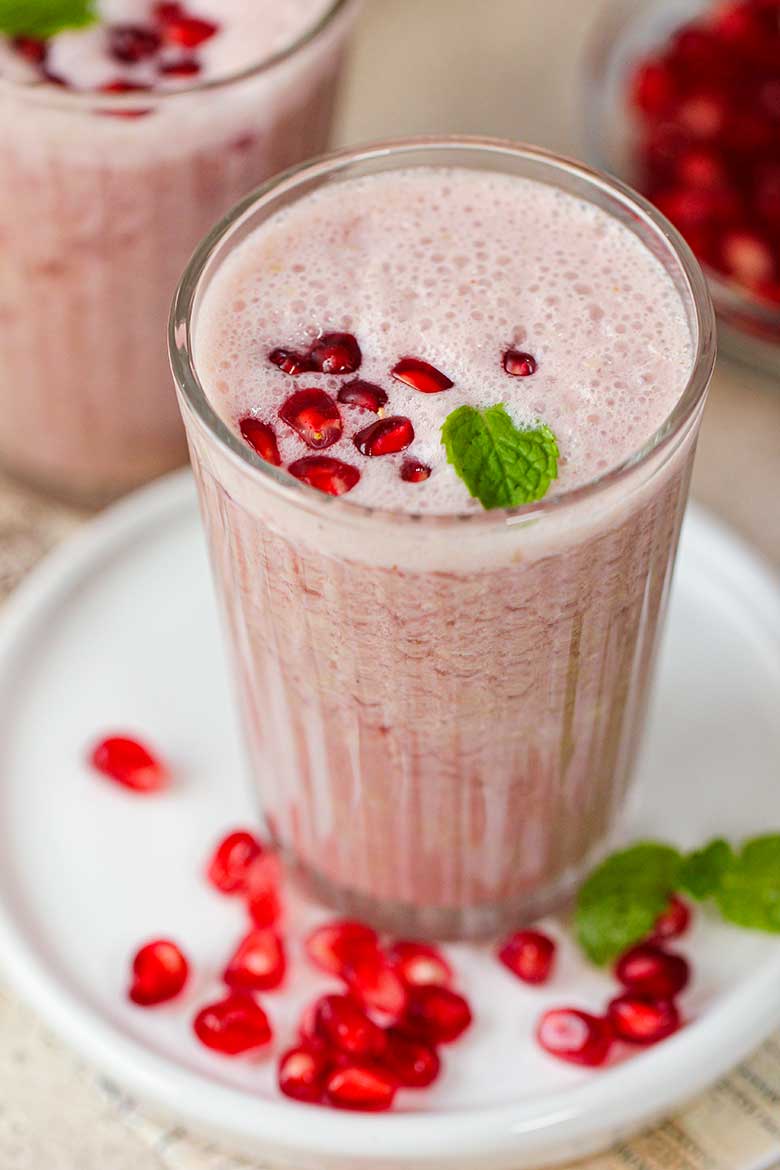 Did you like the pomegranate milkshake recipe? Try my salted caramel milkshake as well! Leave your comment below and If you make this recipe, be sure to tag your photos #yummynotes 
Looking for More Milkshake Recipes?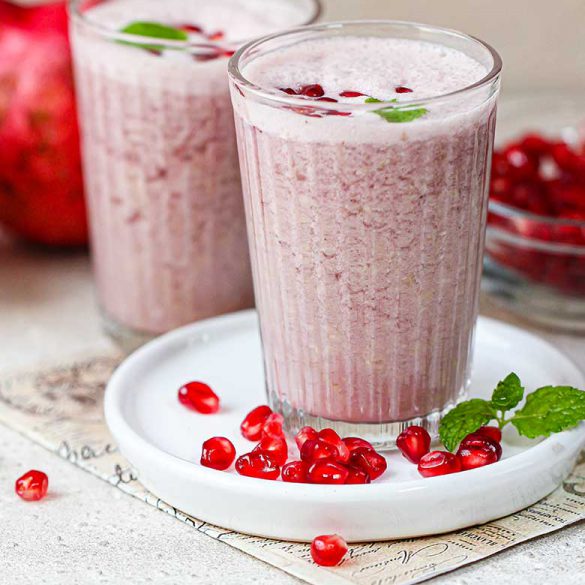 Ingredients
1 cup pomegranate seeds (1 medium-sized pomegranate)

1/2 cup chilled milk

3 scoop vanilla ice cream
Instructions
Step 1
Cut the pomegranate and remove the seeds to a bowl. Discard the inner white membranes of the pomegranate.
Step 2
Place the pomegranate seeds in a blender and pulse them a few times to allow the juice to get released from the seeds. Don't blend it too long otherwise, the juice would turn bitter.
Step 3
Strain the juice and discard the seeds.
Step 4
Add milk, pomegranate juice, and ice cream into the blender jar and mix until smooth.
Step 5
Transfer the milkshake to chilled serving glasses. Garnish with pomegranate seeds and fresh mint leaves.
Notes
For a healthier shake substitute sugar with honey according to taste. Add a scoop of vanilla ice cream to make it even more rich and creamy.
Did You Make This Recipe?