This milkshake is loaded with tons of pistachio flavor topped with whipped cream and ground pistachios. If you are tired of very, very ordinary milkshakes and smoothies and would like to try a new drink, just head to the kitchen and make this drink. A Pistachio milkshake is ideal for dessert or a sweet treat.
What You Need To Make Pistachio Milkshake Recipe
Milkshakes do not have fixed and specific ingredients. You can prepare it exactly to your taste.
Whole milk: The only rule you should keep in mind when making a milkshake is that it is better to have high-fat milk. The fatter the milk, the more creamy the milkshakes will be. So for the creamiest milkshake texture, aim for whole milk. If you are vegan, you can use non-dairy milk.
Vanilla ice cream: The best flavor along with the rich and earthy taste of pistachios, is the flavor of vanilla! Of course, I think chocolate ice cream can also be a good alternative to vanilla ice cream.
Pistachios: Best Unshelled pistachios should have a yellow to dark green color. They have a rich and earthy taste that you can't get enough of! Pistachio is used in many middle eastern desserts like baklava, mafroukeh, and kunafa. Make sure you do not use roasted pistachios. Roasted pistachios are darker in color.
Ground pistachios for topping: A large glass of milkshake is complete with toppings. Whipped cream, crushed pistachios, caramel syrup, or chocolate sauce. All of these are good options for pistachio milkshakes.
Honey: You can use any sweetener of your choice here. Sugar, honey, or maple syrup will work.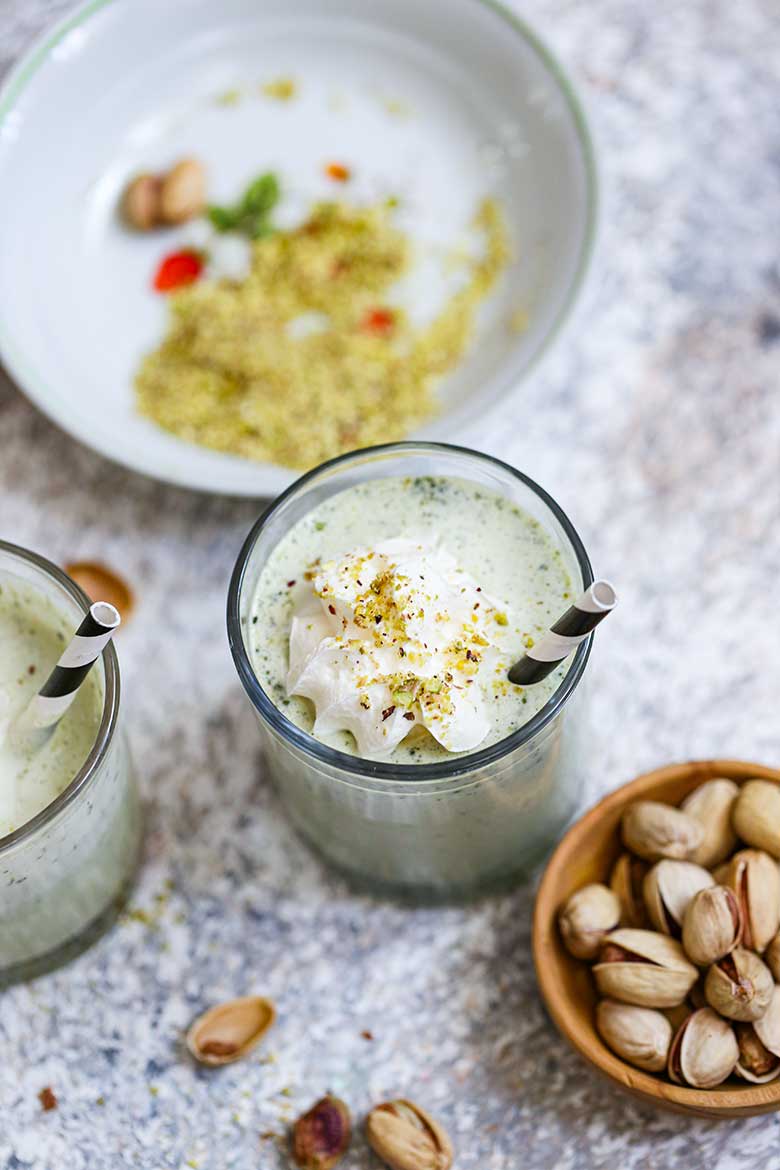 Pro Tips To Make Pistachio Milkshake Recipe
If you like to make a glass of milkshake and enjoy every sip of it, you should know the tricks of making a milkshake. One of the most important points is the freshness of the ingredients in the recipe. Now it's time to put the ingredients together in a blender! Slowly add the milk to the ice cream. Also, another point you should pay attention to is that the ice cream should be softened but not melted! At this point, you can decide on the thickness of your milkshake. If you think it is too runny, you can add ice cream. Pour the milkshake you prepared into a large glass and garnish it with whipped cream or ground pistachios.
Can I Make a Milkshake Ahead of Time?
I don't recommend making it ahead of time. This milkshake is best served as soon as it is blended.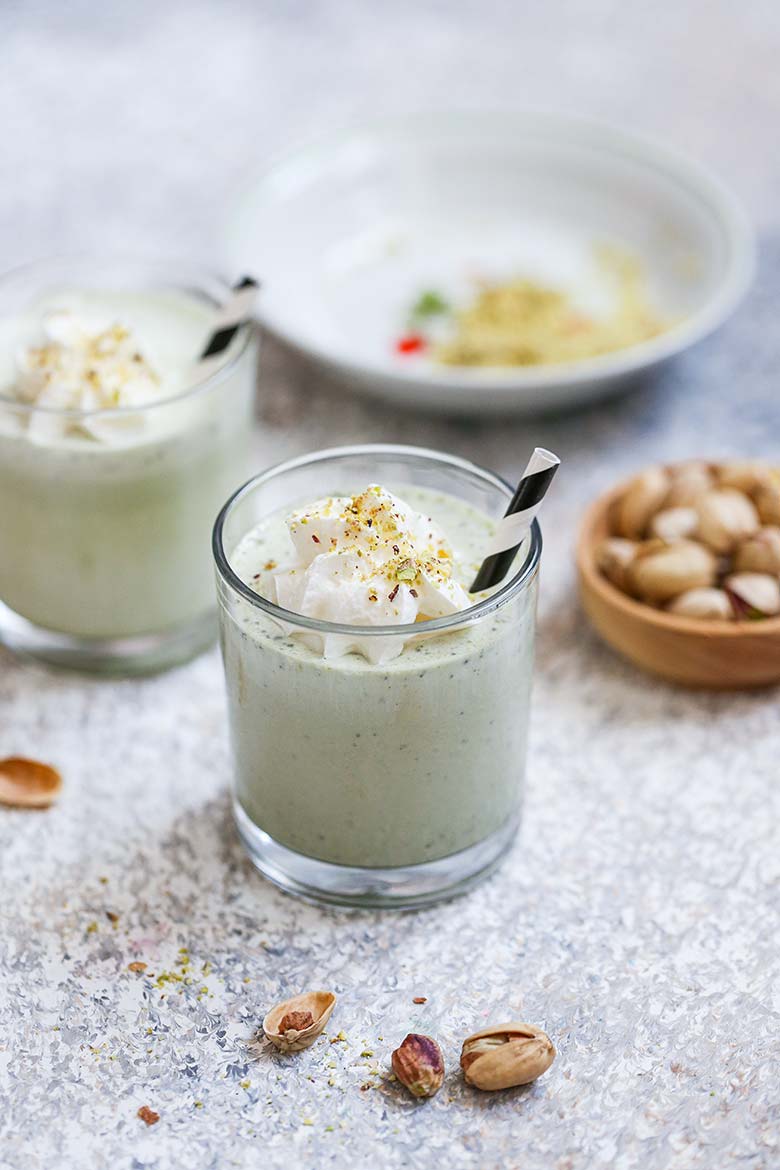 Pro Tips to Make a Milkshake
For a creamy pistachio milkshake, make sure you use full-fat ice cream, whole milk, or half and half.
Serve milkshakes immediately and don't refrigerate them.
Chocolate ice cream can also be used instead of vanilla ice cream in this milkshake.
 If you think the milkshake is too runny, you can add more ice cream. Pour the milkshake into a tall glass cup and top it with whipped cream or caramel syrup.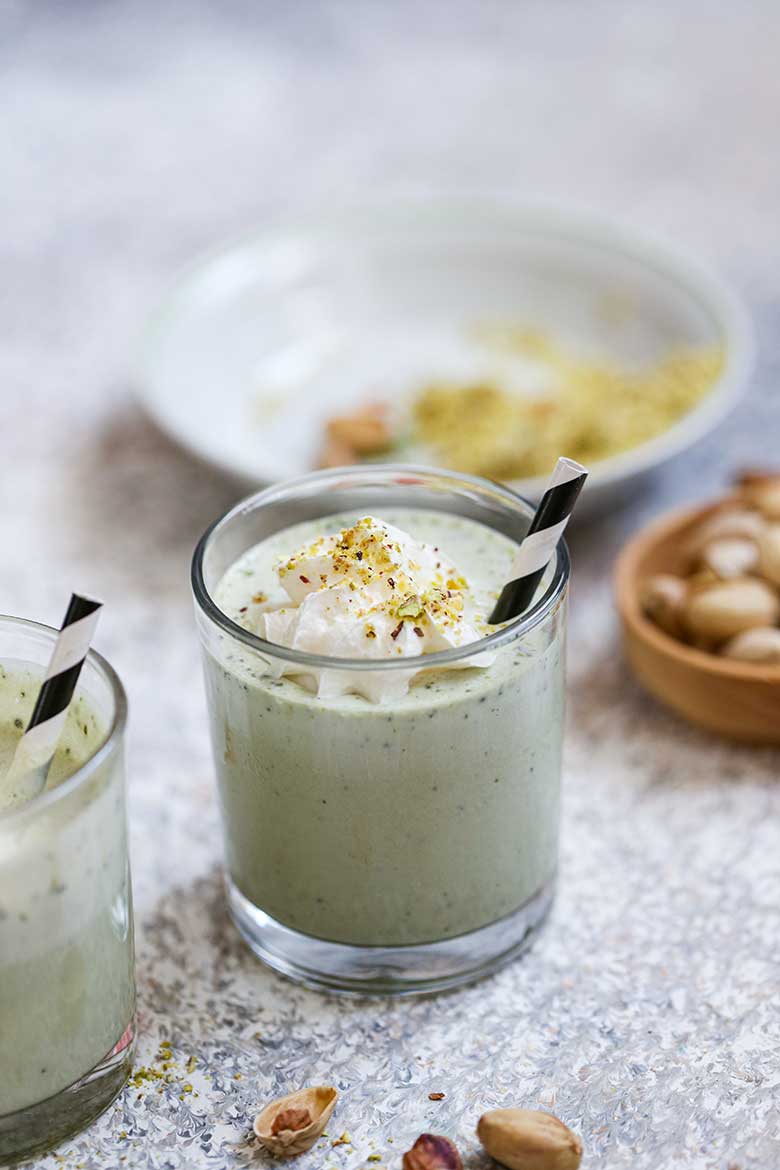 Did you like the pistachio milkshake recipe? If you like this recipe, try the Oreo milkshake recipe. Leave your comment below and If you make this recipe, be sure to tag your photos #yummynotes 
Looking for More Milkshake Recipes?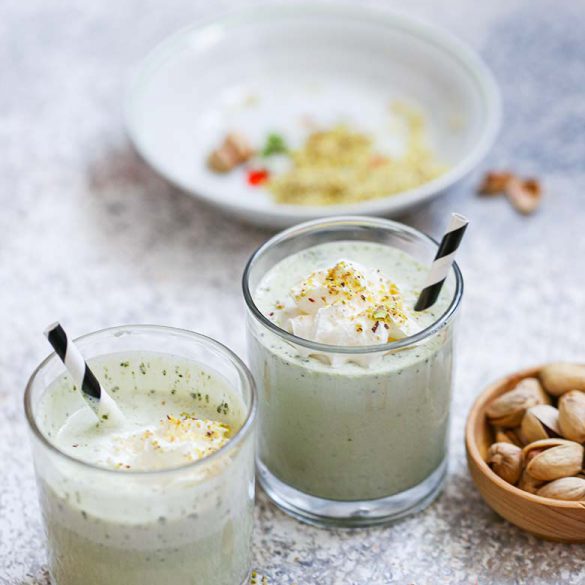 Ingredients
100gr pistachios

2 cup milk

1 tablespoon honey or sugar

4 scoop vanilla ice cream

ground pistachios for garnish
Instructions
Step 1 
First, put the pistachios in a blender. Then add ice cream and milk and mix for 1 to 2 minutes.
Step 2
Pour milkshake into a glass and top with ground pistachios.
Notes
For a vegan pistachio milkshake, you can use almond milk and dairy-free ice cream.
Did You Make This Recipe?