Today, I have a delicious milkshake recipe for you. Combining the flavor of mango and vanilla ice cream the mango milkshake is a refreshing summer treat. Instead of fruit juices containing refined sugar on market shelves, you can prepare your own delicious milkshake at home and drink it with peace of mind. Bring all the ingredients together in the blender and mix. That's it! Everyone in the house will love the mango milkshake that you will prepare with a combination of mango, milk, and ice cream.
About This Recipe 
A sweet and refreshing mango milkshake is a perfect drink for summer, also a great way to start the day, or perfect for a light dessert or snacks. This mango smoothie has the right balance of sweetness without adding any sweetener. You can customize this smoothie to your liking by using different kinds of ingredients.
What You Will Need for Mango Milkshake Recipe
Mango: Choose ripe and orange mangoes. Ripe mangoes have a fruity and sweet aroma. Use a paring knife to cut out the pit and remove the peel. It is best to use Alphonso mangoes for this recipe. Alphonso mangoes are known for sweetness, richness, and flavor.
Whole milk: For the best results, use 2%, whole milk but you can use Non-Dairy milk like coconut milk, almond milk, oat milk, or soy milk.
Vanilla ice cream: If you want the taste of mango to be dominant in the milkshake, use vanilla ice cream. Ice cream helps in making thick and creamy milkshakes.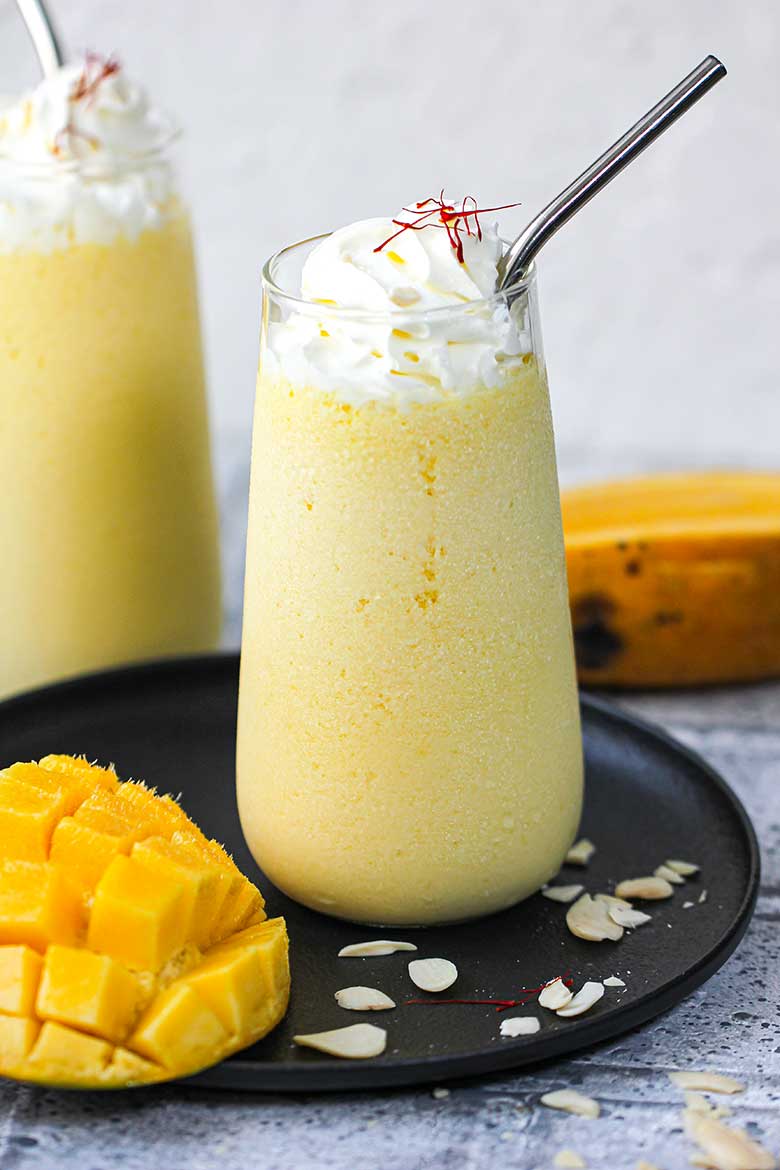 Instructions
Using a sharp knife cut the sides of the mango off. Peel mango pieces and chop them. Add milk, ice cream, chopped mangoes to a blender and blend until creamy and smooth. Garnish with whipped cream, cashews, or pistachios.
Mango Milkshake Without Ice Cream
You can simply add ice cream or remove it from this recipe. The easiest way to have a no-ice-cream milkshake is to blend a few ice cubes with milk. Note that if you want to end up with a creamy milkshake you should add ice cream. Also, you can add frozen mangoes, plain yogurt, or vanilla yogurt to have a thick milkshake.
Learn More About Milkshake
The term milkshake was first heard in American cuisine in the early 1880s. A type of eggnog beverage made from eggs and milk and sugar. In the early 1900s, when it comes to milkshakes, the definition of a chilled mixture made with chocolate, strawberry, or vanilla syrup came to mind. At the same time, Americans began to look for different flavors in their milkshakes and began to consume them by putting ice cream in them. In the early 1930s, the milkshake was the most popular beverage of the popular cafes of the period called Malt Shop.
Since electric hand blenders are not that common, milkshake takes its name from the fact that it is made by shaking in jar-type shakers. Milkshake is the name of the beverage that is made with ice cream, milk, and various flavored syrups are whipped in shakers until they have a homogeneous consistency.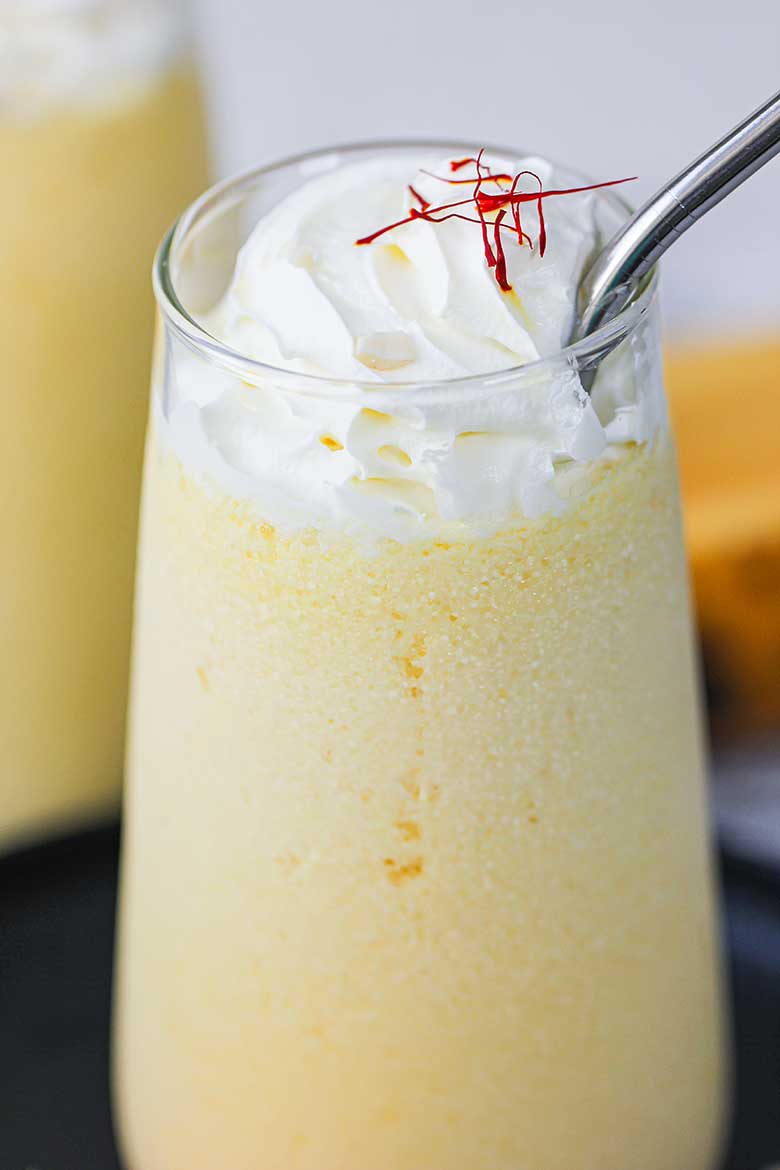 Tips and Tricks
What makes a milkshake thicker? For a thicker milkshake, use less milk or swap milk with heavy cream. Another way to thicken milkshakes is to use frozen fruit. For this reason, put the mango pieces in a ziploc bag and put them in the freezer for a few hours.
Add your choice of flavorings like saffron, cardamom powder and vanilla extract.
Top milkshake with whipped cream, saffron threads, crushed almonds or small mango pieces.
If you use ice cream and sweet and ripe mango to make milkshake, you don't need to add sweetener. But if the mango is sour or tart, you can use sweeteners like maple syrup and sugar.
Did you like the mango milkshake recipe? Try my pistachio milkshake and homemade snickers milkshake as well! Leave your comment below and If you make this recipe, be sure to tag your photos #yummynotes 
Looking for More Milkshake Recipes?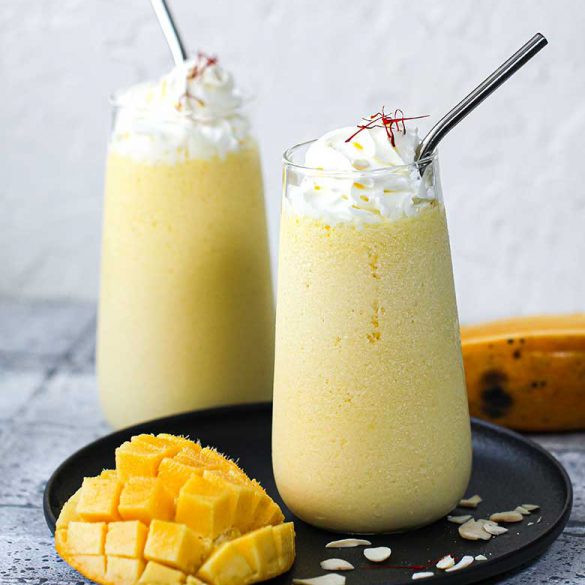 Ingredients
1 cup mango

1 cup vanilla ice cream

1 cup milk
Instructions
Step 1
First, put the mango cubes in a blender. Then add ice cream and milk and mix for 1 to 2 minutes.
Step 2
Pour the milkshake into a glass and top with whipped cream.
Notes
Add your choice of flavorings like saffron, cardamom powder and vanilla extract. For a thicker milkshake, use less milk or swap milk with heavy cream.
Did You Make This Recipe?