Nutella milkshake is a creamy and thick milkshake that you can prepare in a very short time when you want to cool off or when you want to serve a decadent and sweet treat for your friends. let's start by taking a look at the ingredients you need…
About This Recipe
A sweet and decadent Nutella milkshake is the perfect treat for chocolate lovers. This blend of Nutella, milk, and ice cream is pure magic. Thick, creamy, chocolatey, and absolutely delicious! This recipe only needs 3 ingredients and comes together within a blink of an eye.
Why You Will Love Nutella Milkshake?
Quick and easy: Thick and decadent milkshakes are easy to make at home. They come together in minutes with very little fuss.
Just need 3 ingredients: Yes! You just need 3 ingredients to make this milkshake. Ice cream, Nutella, and milk.
Perfect for spring and summer: Refreshing, creamy, and cool drink for spring and summer days.
Ingredients You Need
Nutella chocolate spread: Well, as the name of this milkshake tells us, it tastes like Nutella. All you need to make this milkshake delicious is Nutella. I add one tablespoon of Nutella per person.
Milk: The amount of milk and ice cream you add to the milkshake is very important, the ratio of the two should be balanced so that the milkshake is neither too thick nor too thin.
Ice cream: I only used vanilla ice cream in this recipe, but you can use a combination of vanilla ice cream, hazelnut ice cream, coffee ice cream, or any other flavor.
Whipped cream and chocolate sauce for topping
Pro Tips to Make Nutella Milkshake Recipe
I usually like the milkshake to be a little thicker, so I add 1/2 cup of milk for every 1 ½ cup of ice cream.
The only rule you should keep in mind when making a milkshake is that it is better to have high-fat milk. The fatter the milk, the more creamy the milkshakes will be. So for the creamiest milkshake texture, aim for whole milk. If you are vegan, you can use non-dairy milk.
If you want to prepare a low-calorie milkshake, you can reduce the amount of ice cream and use vanilla yogurt.
Serve milkshakes immediately and don't refrigerate them.
 If you think the milkshake is too runny, you can add more ice cream. Pour the milkshake into a tall glass cup and top it with whipped cream or chocolate syrup.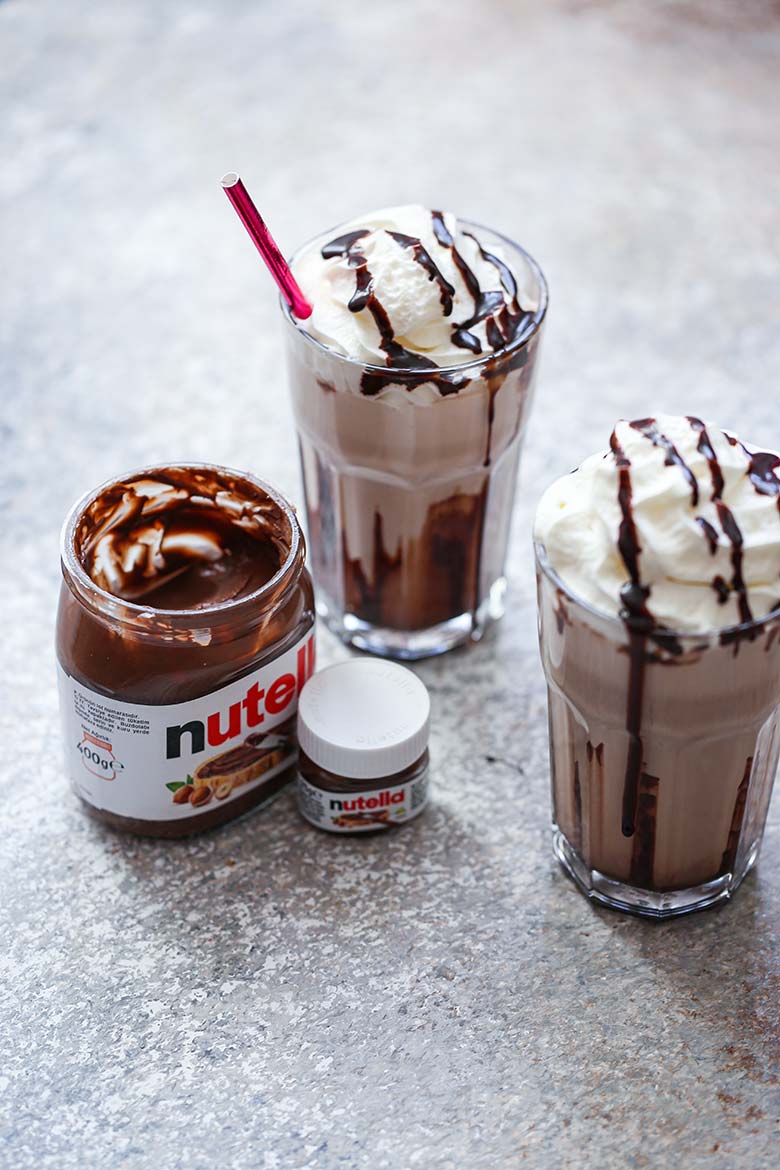 FAQs
Can I Make Nutella Milkshake Ahead of Time?
I don't recommend making it ahead of time. This milkshake is best served as soon as it is blended.
Nutella Milkshake With Chocolate Ice Cream
Want to double the rich chocolate taste in your milkshake? Just swap vanilla ice cream with chocolate ice cream.
How to Make a Milkshake Without a Blender?
Having a blender makes it much easier to make a milkshake, but it can be done without it. All you need is a large bowl and a whisk. Allow the ice cream to sit out for 5 minutes to soften. Add ice cream, milk, and Nutella to the bowl. Use a whisk to mix ice cream, milk, and Nutella. Once the mixture reaches a smooth consistency, pour it into a glass, top it with whipped cream and chocolate sauce, and enjoy!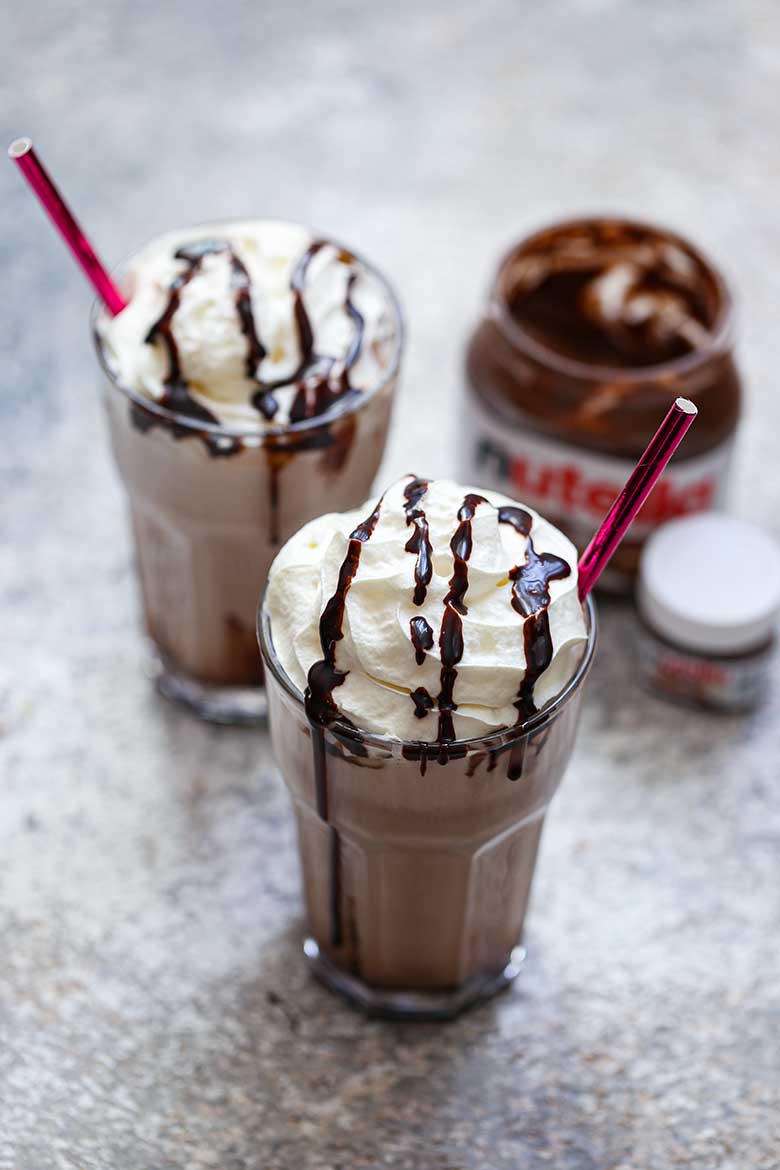 Did you like the Nutella milkshake recipe? Try my salted caramel milkshake as well! Leave your comment below and If you make this recipe, be sure to tag your photos #yummynotes 
Looking for More Milkshake Recipes?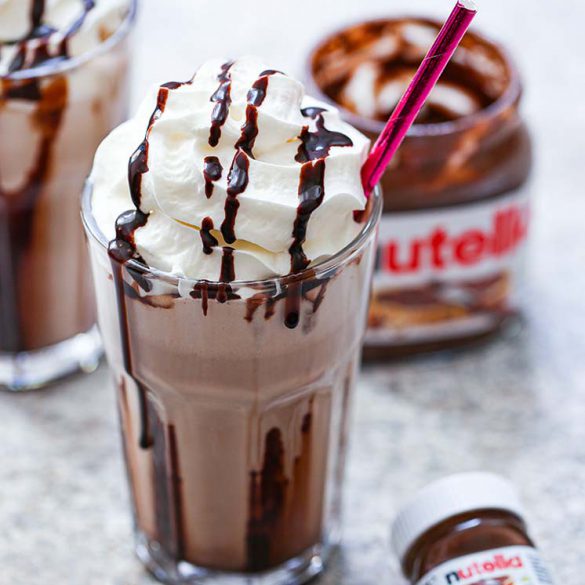 Ingredients
2 tablespoons Nutella chocolate spread

1 ½ cup of vanilla ice cream

1/2 cup milk

Chocolate sauce and whipped cream for topping
Instructions
Step 1
Put all ingredients in a blender.
Step 2
Let's blend for 30-40 seconds until smooth.
Step 3
Drizzle Nutella inside serving glasses. Then pour the milkshake into a tall glass and top it with whipped cream and chocolate sauce if you want.
Did You Make This Recipe?