Red velvet cupcake is one of the main items on the menu of coffee shops. A cupcake with a velvet texture, red color, pleasant taste, and of course a rich cream. This cake is one of the confectionery classics and today, inspired by its original baking recipe, cupcakes, waffles, pancakes, and cookies are also baked. Today we are going to make delicious red velvet cupcakes topped with cream cheeses frosting together. Here is the red velvet cupcake recipe with white chocolate mocha filling.
What Is Red Velvet Cake?
Is red velvet cake just a chocolate cake? Although the cocoa powder is one of the main ingredients of red velvet cake, this cake is very different from chocolate cake. Many believe that the original red velvet cake was a type of chocolate cake that was prepared with a combination of butter, buttermilk, baking soda, cocoa powder, and flour.
The soft and velvety texture of this cake was the result of chemical interactions of cocoa powder and baking soda with vinegar or buttermilk, and the red color of the cake was classically created from the combination of acids and bases and chemical changes of natural cocoa powder pigments. Later and with the increase of red velvets popularity, edible red color was added to the recipes to make the cake more bright and red.
Tips for Making Red Velvet Cupcake Recipe
For making red velvet cake; ingredients should be at room temperature.
Dry ingredients required for the cake should be sifted first.
The acidity of buttermilk causes it to react with baking soda and the texture of cupcakes becomes soft and puffy.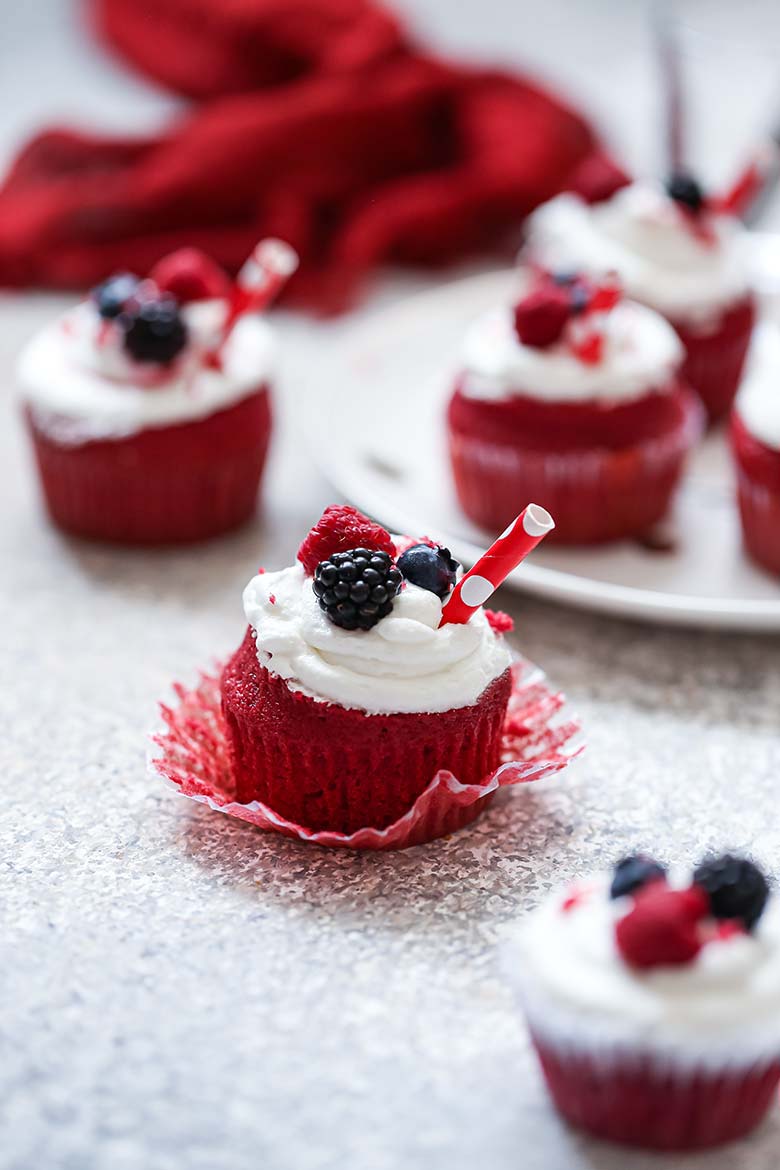 Did you like the red velvet cupcake recipe? Leave your comment below and If you make this recipe, be sure to tag your photos #yummynotes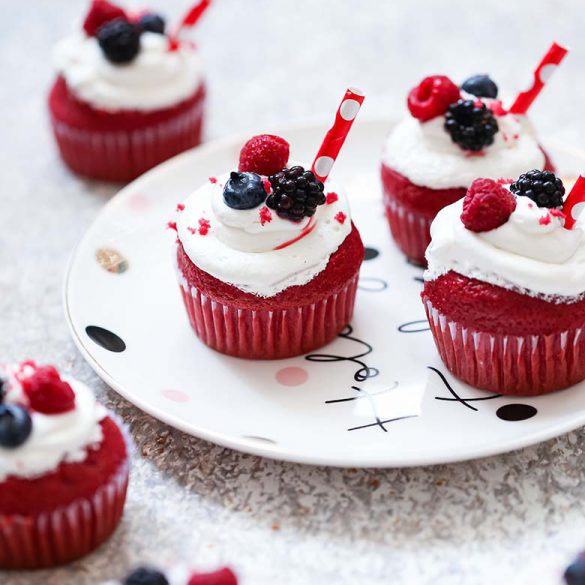 Ingredients
200 ml milk

1/2 fresh lemon

2 tablespoons of vegetable oil

1 tablespoon of cocoa powder

1/2 teaspoon of baking soda

1/4 teaspoon of salt

1 teaspoon of baking powder

170 g flour

1 teaspoon Vanilla Extract

150 g granulated sugar

1 egg

red food coloring

For the Cupcake Filling

150 g of chopped white chocolate

1/4 cup heavy cream

1 cup softened butter

1 cup powdered sugar

1/2 teaspoon vanilla extract

1 teaspoon espresso coffee powder

For the Topping

whipped cream

Fresh berries
Instructions
Step 1
Preheat the oven to 350°F.
Step 2
Pour fresh lemon juice into the milk, stir and set aside for 15 minutes.
Step 3
Mix the dry ingredients(cocoa powder, baking soda, salt, baking powder, and flour) in a large bowl.
Step 4
In another bowl, mix the eggs, sugar, vanilla extract, and vegetable oil with a mixer to lighten the color of the egg.
Step 5
Add the food coloring to the buttermilk and mix until smooth. Add the red food coloring until you reach the desired color for cupcakes.
Step 6
Add the buttermilk and flour mixture to the beaten egg and sugar in 3 steps. Mix batter for about 1 minute after each step.
Step 7
Place cupcake papers into a cupcake pan. Pour the batter into the cupcake papers. Bake in the oven for 18 to 20 minutes.
Step 8
Put the white chocolate and heavy cream on low heat until the chocolate melts and mixes with the cream.
Step 9
Then add espresso coffee powder and mix well, then remove from heat and let cool.
Step 10
After cooling, add butter, powdered sugar, and vanilla extract and mix with a mixer to lighten the color of the butter and reach a soft texture.
Step 11
After the cupcakes have cooled, fill them with a little filling cream and top with whipped cream.
Did You Make This Recipe?