Shakshuka is a popular Middle Eastern egg dish cooked in spicy tomato sauce that can be served any time of the day. Shakshuka or poached eggs in spicy tomato sauce is one of those foods that seem hard to make, but it's not. Ingredients can be found in all kitchens and you can cook shakshuka for less than half an hour.
About This Recipe
Shakshuka was first cooked in Africa but is now very popular in the Middle East. Harissa sauce is a chili paste originating from North Africa. Its main ingredients are red chilies and other spices. It looks more like a breakfast dish but can be served any time of the day.
What do You need to Make Shakshuka?
Eggs: Eggs are one of the main ingredients in this recipe. Depending on the number of people you prepare this food for, you should increase or decrease the number of eggs.
Canned or fresh tomatoes: I suggest using fresh tomatoes during the tomato season. Peel tomatoes then chop them. Then pour into a food processor and puree thoroughly.
Oil: Onions and garlic should be lightly sauteed in oil, which is why we need oil.
Onion: It is better to use yellow onion. Finely dice the onion.
Garlic: Garlic gives a good taste to this food, but if you do not like it, you can ignore it.
Red bell pepper: As I said, Shakshuka is originally made with Harissa sauce, which is a chili sauce. I do not have Harissa sauce myself, so I use bell pepper and a combination of other spices.
Tomato paste: I also add a little tomato paste to make Shakshoka tastier and more colorful.
Spices: Chili powder, paprika, salt, and black pepper.
Fresh parsley: Shakshuka is usually garnished with freshly chopped parsley or coriander.
Feta cheese: As a topping, you can also add a little crumbled feta cheese. Feta cheese melts with heat and tastes very good.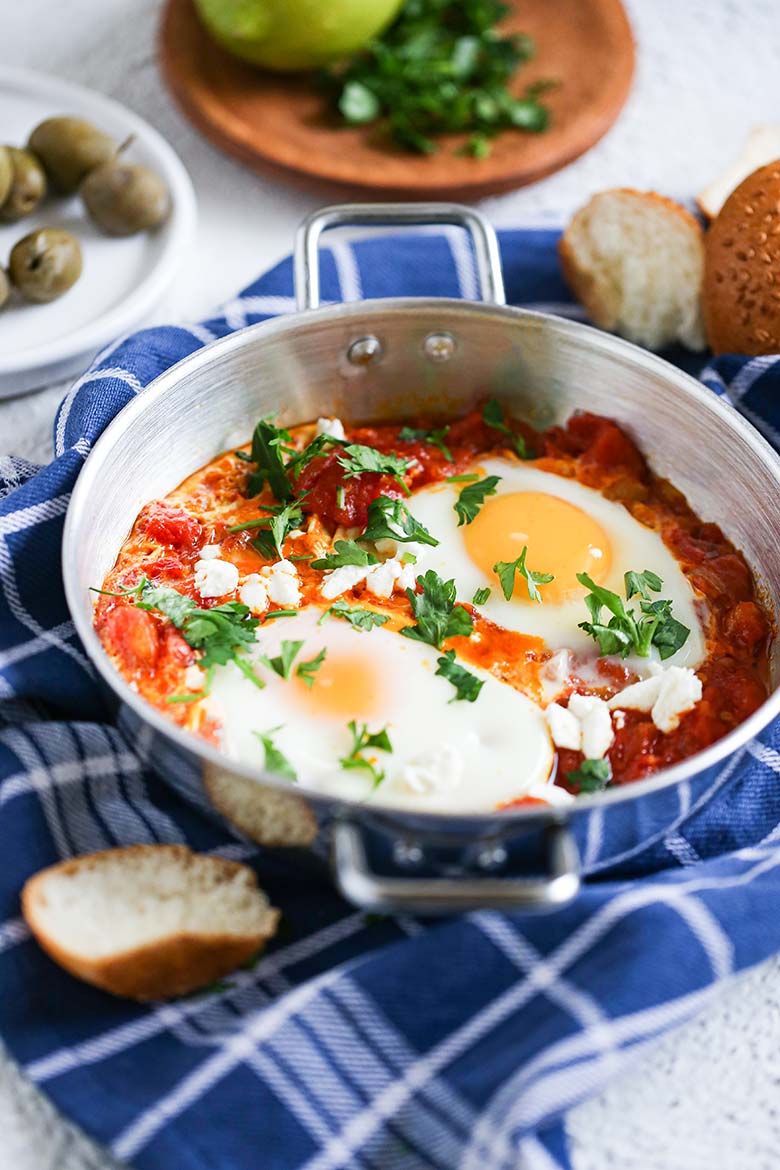 Did you like the shakshuka recipe? Try my spinach and mushroom omelet recipe as well! Leave your comment below and If you make this recipe, be sure to tag your photos #yummynotes 
Ingredients
3 medium tomatoes

2 eggs

2 tablespoons oil

1 clove garlic, minced

1/2 red bell pepper, chopped

1 teaspoon tomato paste

1/4 teaspoon chili powder

1/2 teaspoon paprika

Salt and black pepper

Fresh parsley

Crumbled feta cheese
Instructions
Step 1
Peel tomatoes then chop them. Then pour into a food processor and puree thoroughly.
Step 2
Pour a little oil into a saucepan and put it on the heat.
Step 3
Add the chopped onion and fry until translucent and golden.
Step 4
Add minced garlic and chopped red bell pepper. Then saute for another 2 minutes.
Step 5
Add tomato puree and tomato paste and let cook for 10 minutes on medium heat.
Step 6
Add salt, pepper, and other spices and stir.
Step 7
Then add the eggs and put the lid and let the eggs cook.
Step 8
Top with fresh parsley and crumbled feta cheese and serve.
Did You Make This Recipe?