I can eat these mini pancakes for every single breakfast and every single day. These fun-to-make little pancakes are easy to make with simple, everyday ingredients. These bite-sized pancakes will melt in your mouth! You can serve them with a drizzle of chocolate sauce or maple syrup.
About This Recipe 
Want a fancy Sunday morning breakfast? Whether you're celebrating a holiday or just crave a fancy breakfast, these mini pancakes are the best! Incredibly light and fluffy with a melt-in-your-mouth texture, this recipe is a fun spin on classic breakfast pancakes. You can easily whip them up in less than 30 minutes and pleasantly surprise everyone.
Serve these mini pancakes in a bowl and top them with chocolate chunks, berries, maple syrup, chocolate sauce, or your heart desires. The ingredients you need to make mini pancakes are not much different from the ingredients of classic pancakes.
Why You Will Love This Recipe
Easy to make: These pancakes are so easy to make and they are done in less than 30 minutes! This simple recipe gives you a good reason to head into the kitchen and make your cereal pancakes.
Perfect for special occasions: These pancakes are easy to make for holidays, birthday parties, or any special events.
Great leftover: Made a big enough batch of pancakes and don't know what to do with the leftovers. These mini pancakes keep well for 2 or 3 days. Just wrap them tightly in plastic wrap or place them in an air-tight container in the fridge.
What You Need To Make Mini Pancakes
Flour: Plain all-purpose flour works best for these pancakes.
Egg: You will need one or more eggs, depending on the number of pancakes you make.
Sugar: You can use maple syrup, granulated sugar, or calorie-free sweetener to sweeten pancake batter.
Milk: Milk adds moisture, and keeps the pancakes fluffy.
Baking powder: Baking powder helps leaven the pancake batter, creating a soft and fluffy texture.
Vanilla extract: Vanilla adds sweetness and flavor.
Pro Tips To Make Pancake Cereal
The most important tip is the consistency of the batter. If the batter is too runny, pancakes will spread as soon as you pour them, they will not be the size you want and they will be thin instead of fluffy.
Use a small fork to flip pancakes. When making mini pancakes, the most challenging step is to flip the pancakes. You may find it difficult to flip them with a spatula.
The temperature of the pan is another important tip. You should definitely pour batter into a heated and lightly oiled pan. These pancakes are very small and burn quickly if the heat is high.
How To Serve Pancake Cereal?
You can serve mini pancakes in the form of breakfast bowls or as a dessert. You can drizzle Nutella or chocolate sauce on your mini pancakes. Also, You can serve them in bowls by pouring milk on them and even adding dried fruits.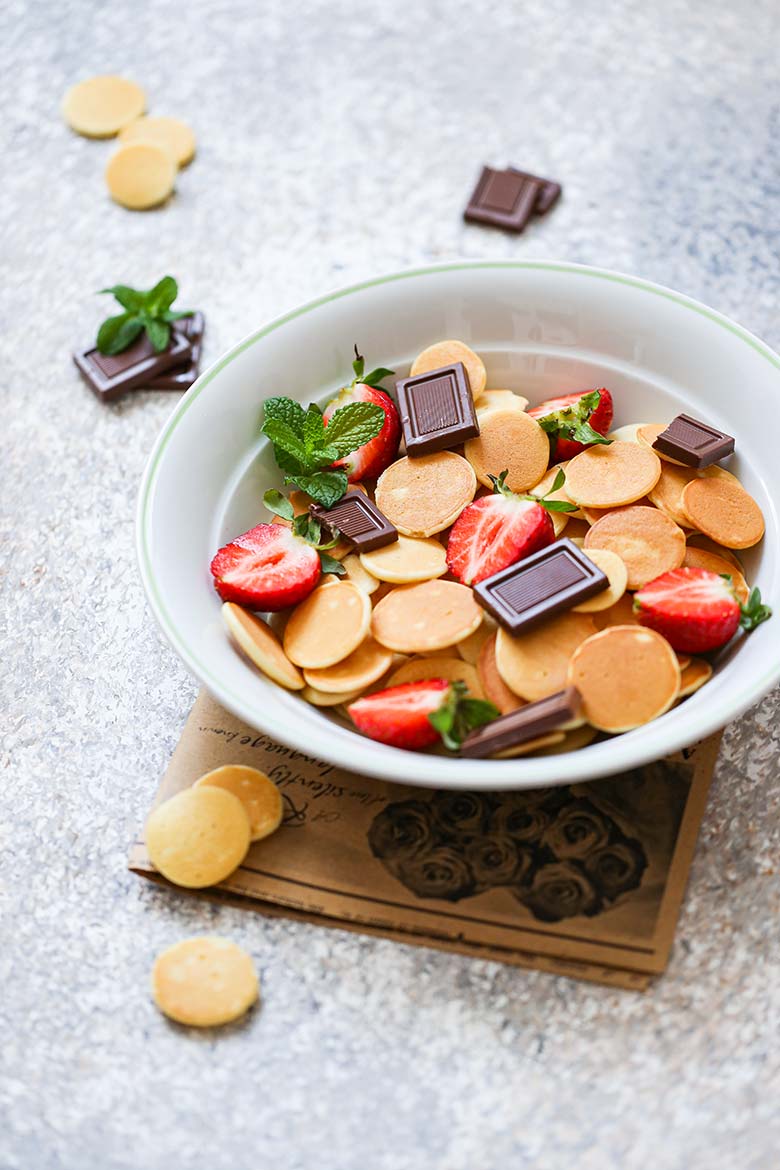 How to Serve Mini Pancakes?
Serve mini pancakes with maple syrup, chocolate sauce, and fresh berries.
Did you like the mini pancakes recipe? Try my Biscoff pancakes recipe as well! Leave your comment below and If you make this recipe, be sure to tag your photos #yummynotes  
Looking for More Pancake Recipes?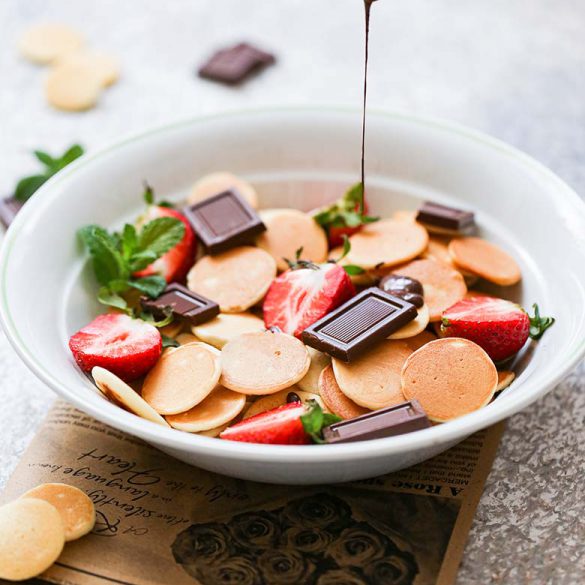 Ingredients
1 egg

1 tablespoon sugar

1/2 cup milk

3/4 cup flour

1 teaspoon baking powder

1 teaspoon vanilla extract
Instructions
Step 1
Beat eggs and sugar well with a whisk.
Step 2
Add milk, flour, baking powder, and vanilla extract and mix well.
Step 3
Grease a non-stick pan with a small amount of oil.
Step 4
Pour the batter you have prepared into the heated pan with a teaspoon. If available, you can use a piping bag.
Step 5
Flip them carefully when they start to color and become golden brown.
Step 6
Put the pancakes that are cooked on both sides in a bowl. You can top them with fruits of your choice, sweeten them with peanut butter, honey, Nutella, chocolate chips, or pour milk and consume it like cereal.
Did You Make This Recipe?