Hi everyone! I'm back after a long pause with a new creamy and thick Oreo milkshake recipe.  I have been busy with Yummynote's Instagram page and other projects for some time and I wanted to come back with new recipes and great photos. To be more precise, this is the second milkshake whose recipe I publish on my blog. I already made a strawberry Oreo milkshake and published the recipe in another post. Oreo milkshake just needs a few ingredients and will be ready in less than 2 minutes!
About This Recipe
Like most milkshakes, the basis of this milkshake is milk and ice cream. The only thing that makes this milkshake different from other milkshakes is the wonderful taste of Oreo biscuits. You are free to choose the flavor of ice cream, I think vanilla or chocolate ice cream is great for this milkshake. Pour the ice cream, your favorite milk, and a few Oreo chocolate biscuits into the high-speed blender and mix until smooth and creamy. Then top with whipped cream, chocolate sauce, crushed biscuits.
What You Need For Oreo Milkshake Recipe
Milk: You can use any type of milk to make a milkshake, but high-fat milk gives milkshakes a more creamy texture. The amount of milk added to the milkshake should not be so much. If the amount of milk added is more than ice cream, the milkshake will be runny. If you want to feel the taste of chocolate more, you can use chocolate milk.
Ice Cream: The best ice cream flavor to make this milkshake is the classic vanilla ice cream.
Whipped Cream: Whipped Cream is not one of the main ingredients for making a milkshake and it depends entirely on your taste. For a healthier and lower-calorie version, it is better to remove the whipped cream.
Oreo Biscuit: I used chocolate-flavored sandwich Oreo biscuits with a vanilla flavor filling.
Cocoa powder: If you want the taste of chocolate in the milkshake, add a teaspoon of cocoa powder.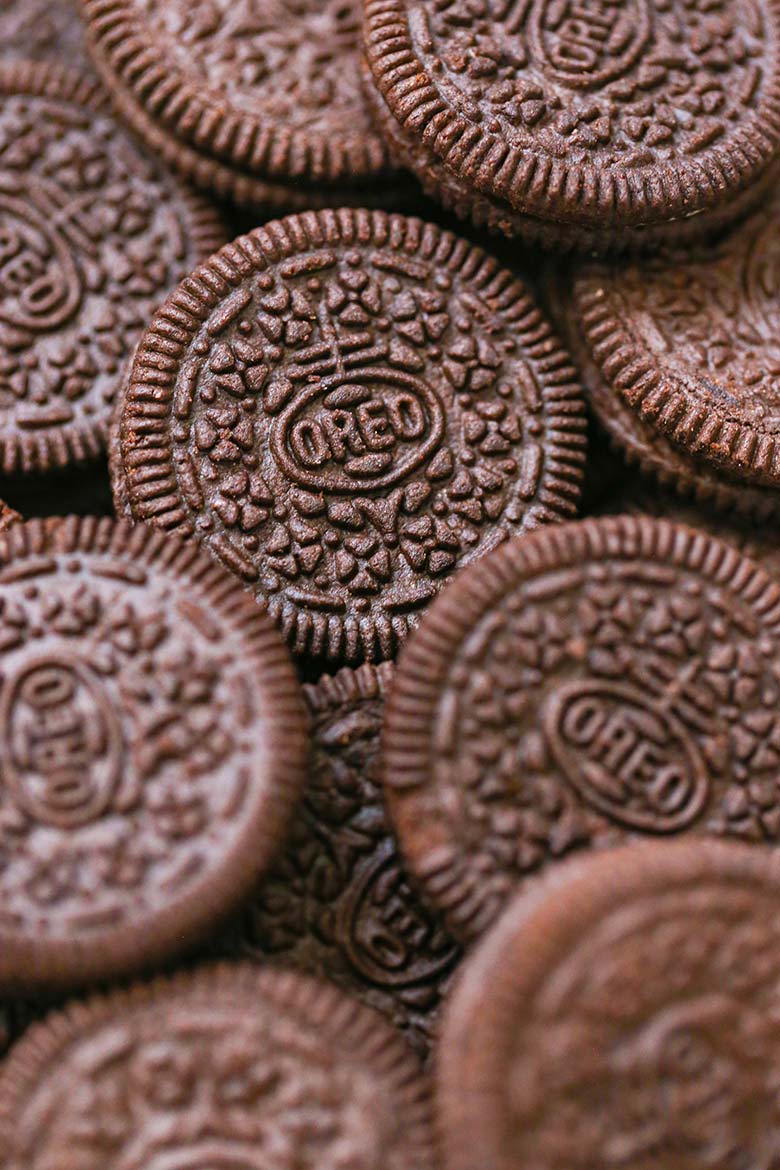 Milkshake VS Smoothie
Milkshakes and smoothies are both delicious and popular drinks. The difference between milkshakes and smoothies is in their taste, color, concentration, and nutrition. Smoothies are drinks that are often made from fruits and vegetables and most of the time do not have milk, yogurt, or ice cream in their recipes. But there are no specific rules. The most common ingredients for making smoothies are fruits such as kiwi, pineapple, berries, or green vegetables. However, different people have different recipes for making them. Many people who want to lose weight and exercise drink smoothies before or after exercise. But it is important to know that the nutritional value and calories of smoothies strongly depend on the ingredients used to make them.
Now let's see how to prepare milkshakes. Shakes, commonly known as milkshake, is often served as a dessert. Because most shakes usually contain a lot of chocolate or whipping cream, they are high in calories. Also, smoothies are usually thicker than milkshakes.
How to Make a Healthy Oreo Milkshake?
A milkshake is typically a high-calorie drink. Due to the presence of high-fat dairy milk, ice cream, and biscuits. How to make milkshakes healthier? If we want milkshakes to be healthier and not use dairy milk in them, we must find an alternative to milk and ice cream.
I usually use almond milk instead of dairy milk, which is also very tasty. Also, you should add ice instead of ice cream. True, this milkshake will not have a very thick and creamy texture, but it is as delicious as a milkshake with full-fat milk and ice cream. Because the healthy version of milkshake ice cream has been removed, I think we need a little sweetener. You can use sweeteners with zero calories. And finally, you need some Oreo biscuits. Pour the almond milk, sweetener, Oreo biscuits, and ice cubes into the high-speed blender until the texture is creamy and smooth.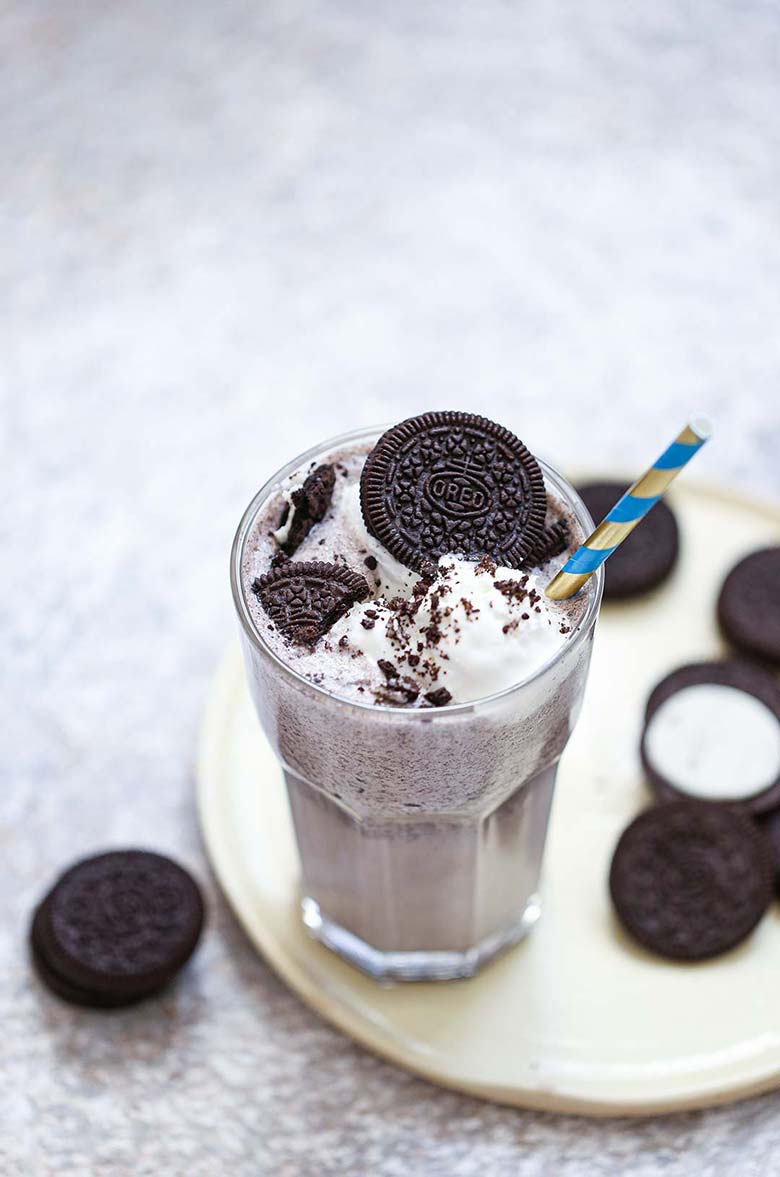 Did you like the Oreo milkshake recipe? Take a look at other homemade milkshake recipes. Leave your comment below and If you make this recipe, be sure to tag your photos #yummynotes 
Looking for More Milkshake Recipes?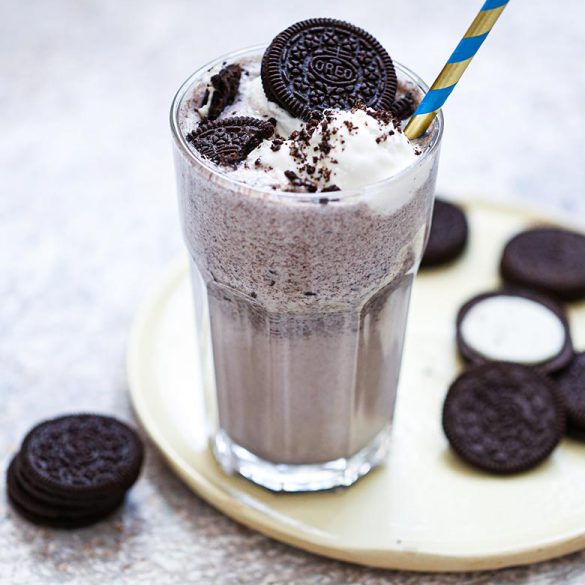 Ingredients
3 scoops of vanilla ice cream

4 Oreo cookies

1/2 cup milk (preferably whole milk)
Instructions
Step 1
Crush the biscuits and pour them into the blender with vanilla ice cream. Add milk to make ice cream and biscuits easier to mix. Note that the amount of milk should not be too much, because then the milkshake will be very thin and runny.
Step 2
Mix ingredients in a blender until smooth.
Step 3
Pour milkshake into a tall glass and top with crushed Oreo biscuits and whipped cream.
Did You Make This Recipe?