A Refreshing and Healthy Morning Drink. Super easy to make and flexible! Smoothies are best for busy mornings. Mix your favorite fruits and vegetables in the blender. That's it! If you are a true smoothie lover, be sure to try this chocolate cherry smoothie recipe.
About This Recipe
You can find fresh cherries in season at your local supermarket. Remove pits from cherries and freeze them for later use. Chocolate and cherries are a great combination that we used in this smoothie. Chocolate cherry smoothie is a snack rich in nutrients. Cherry with its unique flavor is a good source of fiber and vitamin C.
What You Need to Make Chocolate Cherry Smoothie
Cherry: Pit cherries and freeze overnight.
Banana: Bananas can be frozen or added to a smoothie at room temperature if you do not like your smoothie to have an icy texture.
Milk: You can use both vegan milk and dairy milk to make this smoothie.
Sweetener: I prefer to use honey or maple syrup.
Cocoa powder: Use high-quality cocoa powder for the best flavor.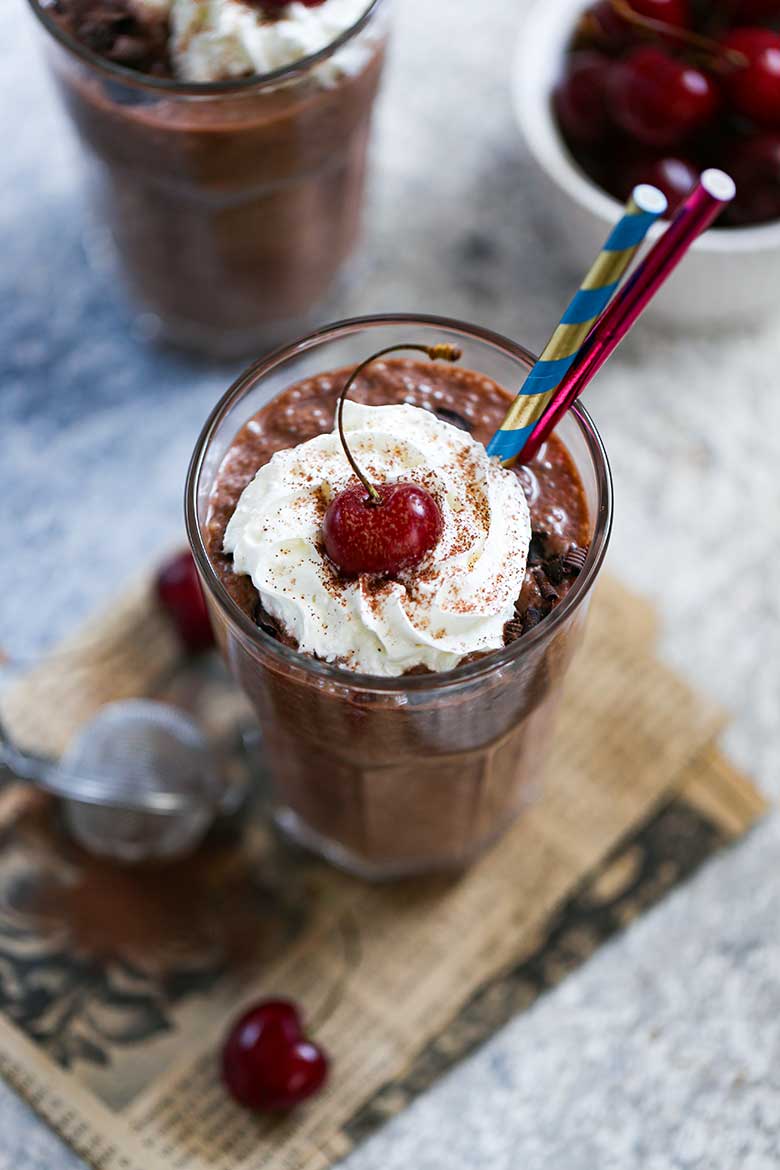 Pro Tips to Make Chocolate Cherry Smoothie
Provide a strong, high-speed mixer. Because the conventional blender can not crack the pieces of fruit and ice as well.
The main ingredients of each smoothie are fruit, liquids (water, juice, milk) or yogurt, and ice. Put all these ingredients in a mixer and turn it on to mix them up.
If you have enough time, put the fruits in the freezer before you make the smoothies. Otherwise, you should add more ice to the mixer.
Instead of using cow milk, you can use coconut or hazelnut milk.
Most of the smoothies have a little honey (about a teaspoon). But you can use maple or sugar syrup instead of honey.
Did you like the chocolate cherry smoothie recipe? Try my cantaloupe orange smoothie recipe as well! Leave your comment below and If you make this recipe, be sure to tag your photos #yummynotes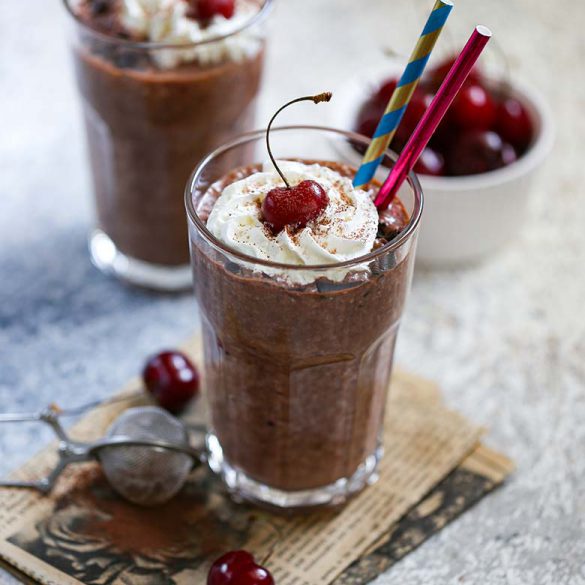 Ingredients
1 cup frozen cherries, pitted

1 cup milk

3 teaspoons cocoa powder

1 ripe banana

1/2 teaspoon vanilla extract
Instructions
Step 1
Place all ingredients in blender and mix until smooth.
Step 2
Top with chocolate and serve immediately.
Did You Make This Recipe?