Prepared with honey, milk, cinnamon, and vanilla flavor, french toast is one of the most popular staples of French cuisine. Cinnamon french toast can be served at breakfast with honey or jams. In addition, making the cinnamon french toast takes only a few minutes. This makes French toast a pleasant breakfast on a busy workday. If you are a sweet item lover for breakfast, you will like these toasts.
About This Recipe
If it's the weekend and you do not know what to make for breakfast that all family members will love, French toast is an ideal choice. Just need a few slices of toast and milk and eggs in the fridge. You can prepare it as a quick snack or for your breakfast tables, afternoon tea, for your guests, and for your children.
Why You Will Love This Recipe
Easy to make: Looking for an easy but tasty sweet breakfast recipe for Sunday morning? These cinnamon french toasts are so easy to make and they are done in less than 30 minutes!
Standard pantry ingredients: The ingredients you need for this recipe are pretty much the same as a regular french toast recipe. You can find all the ingredients already in your kitchen.
Extra fluffy: These french toasts are light, tender, and fluffy on the inside and crispy on the outside.
What Do You Need to Make Your Own Homemade French Toast?
Bread: What kind of bread should be used for French toast? I mostly use baguettes, challah, and brioche.
Milk: You can use your favorite choice of milk.
Eggs: Use large, fresh eggs and mix well with milk.
Cinnamon and vanilla extract: The aroma of vanilla and cinnamon is very compatible with French toast, so do not forget them at all.
Sugar: You can use any kind of sugar for these french toasts. If you use brown sugar, you should add more sugar to the mixture. Because brown sugar is less sweet than white sugar.
How to Make French Toasts Like a Pro?
French toast ends up soggy when the bread soaks up too much of the egg and milk mixture. Soak the bread in the mixture for about 10 – 20 seconds per side.
Do not put many bread slices in the pan at the same time.
To make the French toast, you must use bread that is one day past its production date. Fresh bread is not suitable for making french toast because it crumbles.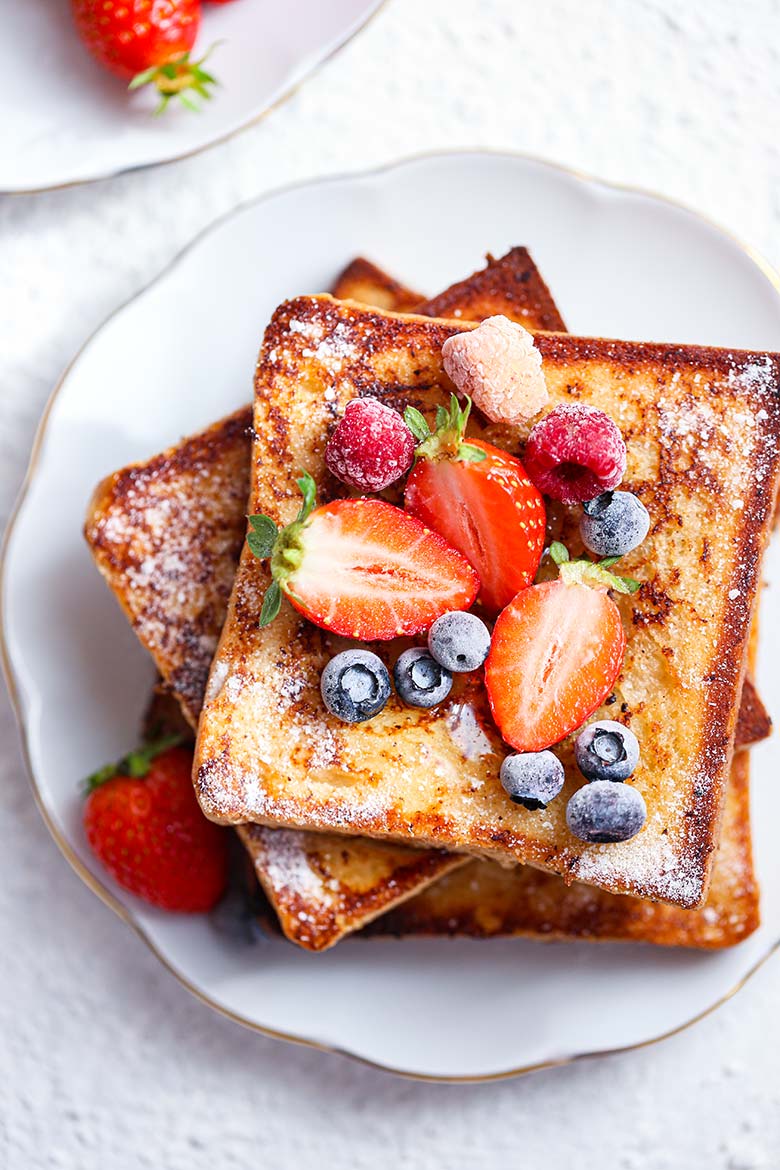 FAQs
What Bread Makes the Best Toast?
I mostly use brioche, challah, or white bread to make french toast. Use thick enough bread slices for french toast. Too thin slices will fall apart easily.
Why Is My French Toast Soggy?
Don't soak bread slices for too long. This causes the bread to absorb too much custard and you will likely end up with soggy French toast.
Did you like the cinnamon french toast recipe? Try my pumpkin spice pancake recipe as well! Leave your comment below and If you make this recipe, be sure to tag your photos #yummynotes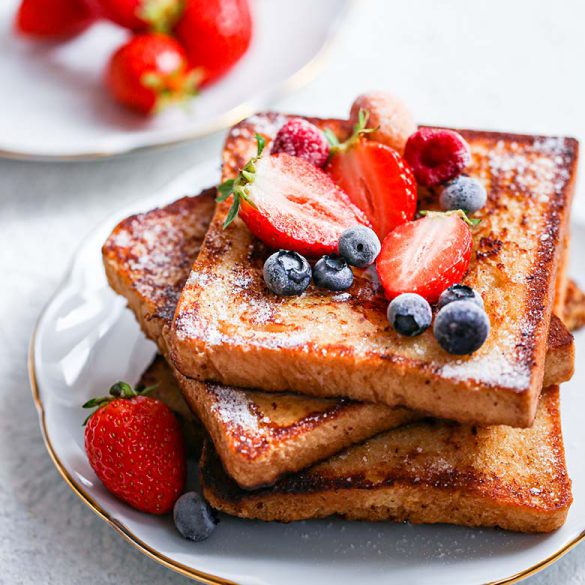 Ingredients
4 slices bread

1 egg

1/2 cup milk

1/4 teaspoon salt

3 tablespoons sugar

1/2 teaspoon vanilla extract

1/2 - 1 tablespoon cinnamon powder

Butter - for frying
Instructions
Step 1
In a bowl, whisk together the milk, eggs, vanilla extract, and salt.
Step 2 
On a plate, combine the sugar and cinnamon powder.
Step 3
Melt 1 tablespoon of butter in a large pan over medium-high heat.
Step 4
Roll a piece of toast on the egg-milk mixture making sure all sides are covered.
Step 5
Place in pan and repeat with the other toasts until the pan is filled but the pieces are not touching each other. Turn them until all sides are golden.
Step 6
Transfer them to the plate with the cinnamon sugar and roll to coat all sides.
Step 7
Transfer to a serving plate, serve with fresh fruits and honey or maple syrup.
Did You Make This Recipe?