Biscoff French toast is an ideal alternative for mornings you want to pamper yourself or an indulgent item for the Sunday breakfast table. Start your day off with this cookie butter-flavored french toast.
About This Recipe
Prepare a mixture of eggs, milk, sugar, and a pinch of cinnamon. Spread a layer of Biscoff cookie butter between two slices of bread. Roll the bread slices in a mixture of beaten eggs, milk, sugar, and cinnamon, and then fry both sides in a non-stick frying pan. Sprinkle with crushed cookies and drizzle with melted cookie butter. Yummmm! 🥰
Why You Will Love This Recipe
Easy to make: Looking for an easy but perfectly decadent breakfast recipe for Sunday morning? These Biscoff French toasts are so easy to make and they are done in less than 30 minutes!
Perfect for special occasions: Biscoff stuffed french toast is easy to make for holidays, birthday parties, or any special events. A total crowd-pleaser!
Uses pantry ingredients: This recipe is incredibly easy to make and you can find all the ingredients already in your kitchen.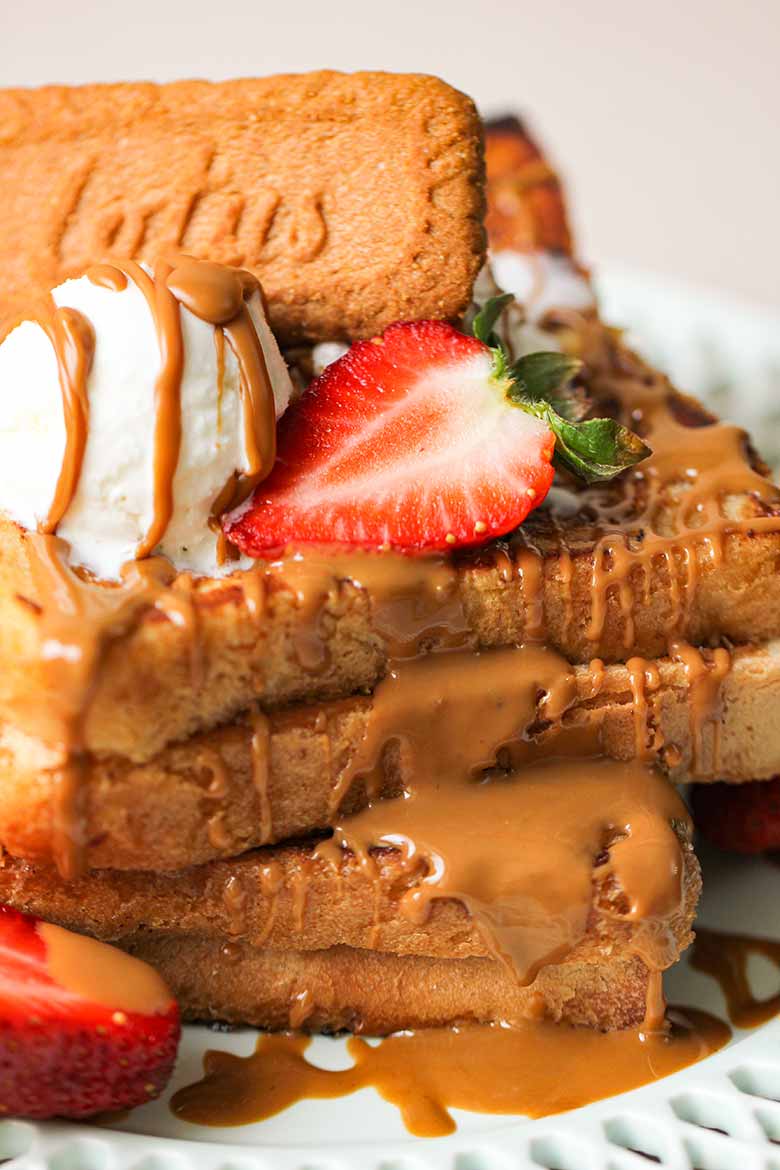 What You Need to Make Biscoff French Toast
Bread: What bread makes the best Biscoff French toast? I mostly use brioche, challah, and soft white bread to make French toast.
Eggs: The base of the French toast batter is milk, eggs, and sugar. Mix the eggs thoroughly with a whisk before adding the milk.
Sugar: The amount of sugar we add is usually small because later the French toast is served with maple syrup, honey, cookie butter, or something like that.
Milk: Milk adds moisture and fat to the French toast. To prevent soggy french toast, do not dip the bread into the custard for too long.
Biscoff cookie spread: The main flavor of this Biscoff French toast is Biscoff cookie spread, which gives a sweet, spicy, and caramel taste to the bread slices.
Butter
Biscoff cookie crumbs for topping
Whipped cream and bananas for topping
How to Make Biscoff French Toast Like a Pro?
Use a non-stick frying pan or electric griddle. Always make sure that the pan is hot before you put the bread slices in otherwise french toast will stick.
For the extra-rich French toast substitute half-and-half for the milk.
Coat the pan with vegetable oil and butter. This will help prevent the butter from burning. Carefully wipe the pan between each batch.
Use thick enough bread slices for french toast. Too thin slices will fall apart easily and if bread slices are too thick they don't cook through completely and you will end up with raw and custardy french toast.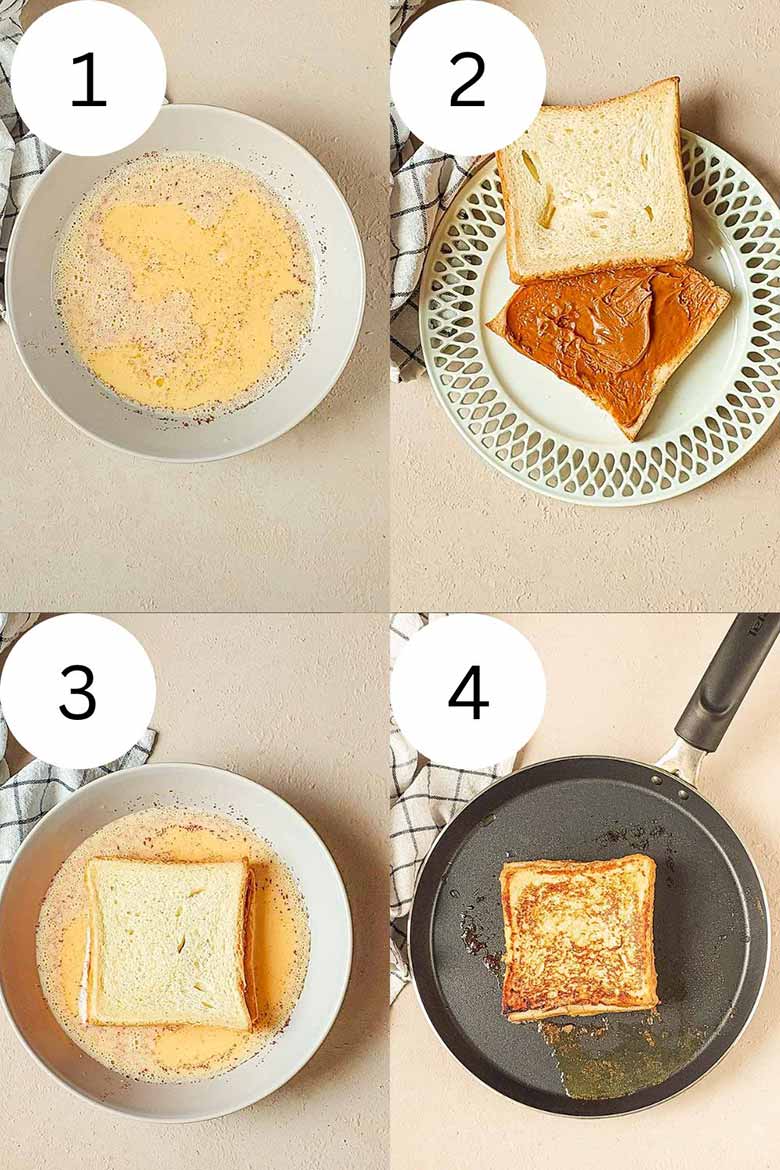 FAQs 
Should the Inside of French Toast Be Soggy?
A perfectly cooked french toast is crispy and brown on the outside and soft on the inside. Therefore, the inside of the toast should not be soggy or too dry.
How Do You Keep French Toast Crisp?
To make your French toast crispy, put it in the oven for a few minutes before serving to dry it out a bit.
Does Biscoff Taste Good on Toast?
Biscoff spread has a texture like peanut butter. You can spread it on toast or use it for making pancakes, french toast, and desserts.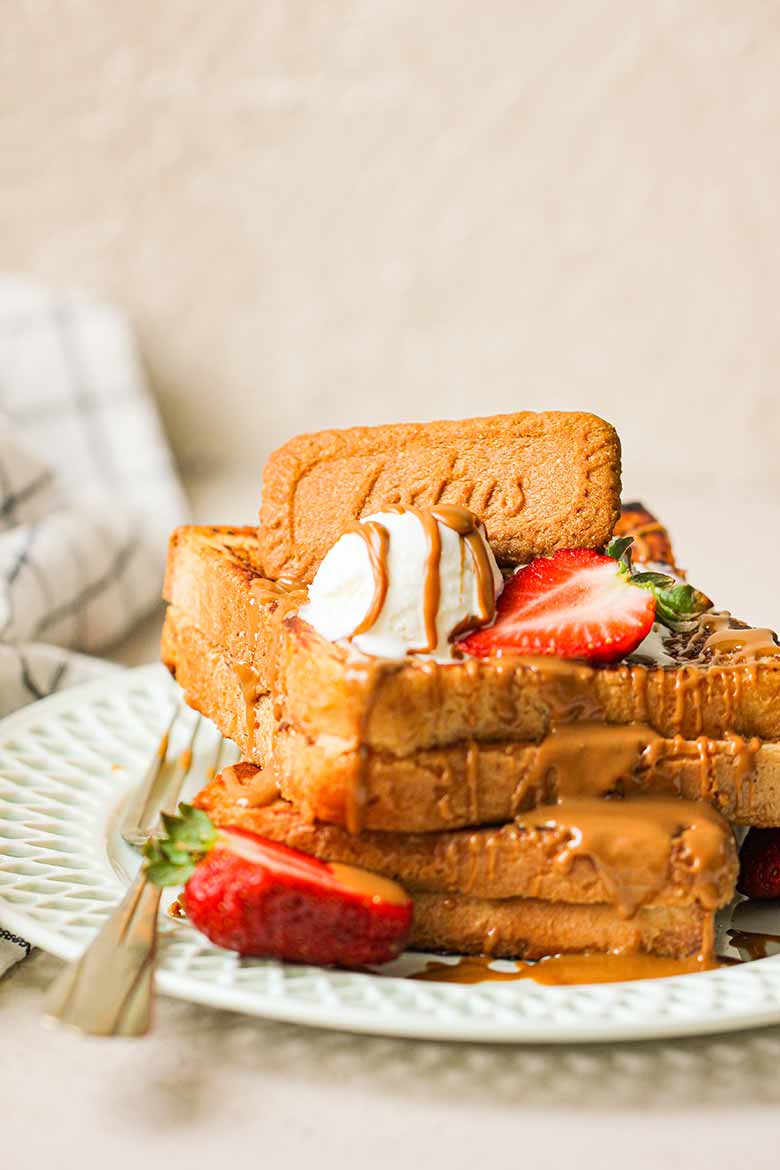 Did you like the Lotus Biscoff French toast recipe? Try my Biscoff crepe recipe as well! Leave your comment below and If you make this recipe, be sure to tag your photos #yummynotes 
Looking for More Lotus Biscoff Recipes?
Ingredients
4 bread slices

2 large eggs

1/3 cup whole milk

2 tablespoons sugar

1/2 teaspoon vanilla extract

1 tablespoon butter for the pan

1/4 teaspoon ground cinnamon (optional)

2 tablespoons Biscoff cookie spread + more for topping
Instructions
Step 1
In a bowl, whisk together the milk, eggs, vanilla extract, sugar, and cinnamon.
Step 2
Melt 1 tablespoon of butter in a large pan over medium-high heat.
Step 4
Spread a layer of Biscoff cookie butter between two slices of bread. Roll pieces of toast on the egg-milk mixture making sure all sides are covered.
Step 5
Place in pan and repeat with the other toasts until the pan is filled but the pieces are not touching each other. Turn them until all sides are golden.
Step 6
Transfer to a serving plate, top with whipped cream, and drizzle with melted cookie spread.
Did You Make This Recipe?