If you are searching for a special salad for winter we recommend winter fruit salad; This salad is packed with antioxidants and vitamins. A combination of Kiwi, Apple, Banana, and Pomegranate makes it one of the best fruit salads you would ever make.
About This Recipe
This fruit salad is super easy to prepare and delicious that even those who don't like fruit can't say no to it. Cut the fruits to the size you want, pour them in layers in a glass cup or serving bowl, drizzle dressing on it, then serve it. You can prepare it in advance and put it in the refrigerator. You can also serve the fruit salad in single-serving bowls if you like. Also, you can customize the fruits in this salad.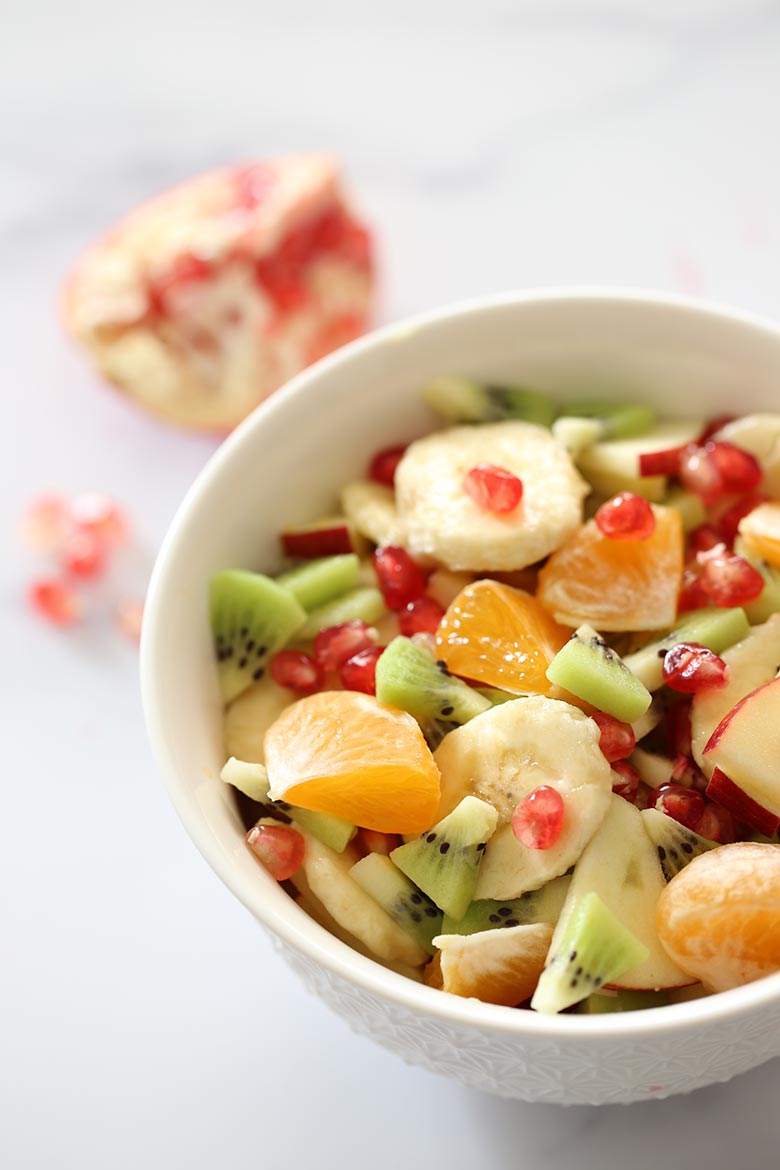 How to Prevent Fruit from Turning Brown
Any time you cut fruits like bananas, pears, and apples that you don't want to turn brown, simply squeeze some lemon juice over them. You can use fresh, or bottled lemon juice.
Make sure to cover the fruit tightly with plastic wrap, or place it in an air-tight container until you are ready to serve it.
How Long Can You Keep Winter Fruit Salad
Fruit salad should be discarded if left out for more than 2 hours at room temperature. The fresh fruit salad lasts for about 1-2 days in the fridge if stored in an airtight container without dressing.
Did you like the winter fruit salad recipe? Try my strawberry banana cheesecake salad as well! Leave your comment below and If you make this recipe, be sure to tag your photos #yummynotes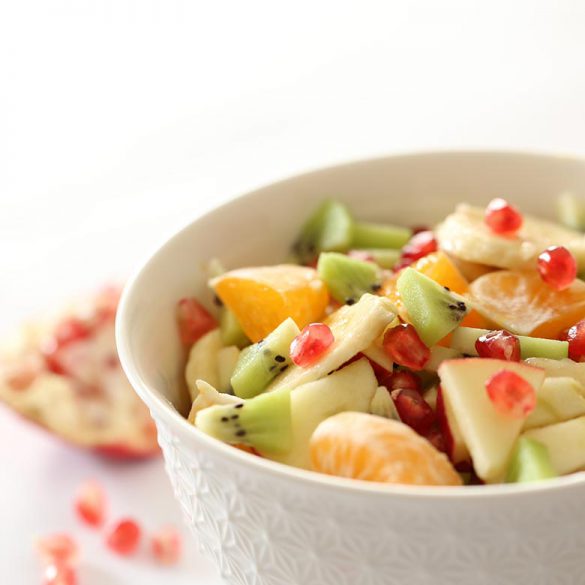 Ingredients
4 kiwi

2 banana

2 apples

30 pomegranate seeds

4 tablespoons lime juice

1/2 teaspoon sea salt

1 mandarin or orange
Instructions
Step 1
Peeled and slice all fruit mentioned in ingredients, then tossed in a large bowl.
Step 2
Mix sea salt and lime juice in a small bowl, then pour over the salad. Cover and refrigerate for 30 minutes. And it's ready to serve!
Notes
Garnish with mint leaves if desired.
Did You Make This Recipe?