German cucumber salad recipe with only 6 ingredients that will be ready in under 10 minutes. This crunchy and creamy cucumber salad is simple and makes a great appetizer or side dish!
About This Recipe
Creamy German cucumber salad loaded with sliced red onion, and fresh dill, drizzled with a light dressing. That's perfect for a warm summer's day. This cucumber salad recipe includes minimal ingredients and it's very easy to make.
What Do You Need to Make German Cucumber Salad
Cucumbers: Make sure you use seedless cucumber (English cucumber).
Red onion: The red onion adds crunch and flavor to this salad.
Mayonnaise: Mayonnaise adds creaminess and a tangy finish to the salad.
Lemon juice: Fresh lemon juice is a must for the salad dressing.
Dill: Fresh dill adds a delicate freshness and aroma.
Pro Tips To Make German Cucumber Salad Recipe
What type of cucumber should you use? Feel free to use whatever kind of cucumbers you'd like but seedless cucumbers work best.
You can add sliced radish to a salad. It gives a nice crunch to the salad.
I used dill to make the salad more delicious and I think they made a good combination with cucumber and red onion but you can add any other vegetable you like.
You can serve the cucumber salad immediately or, for best flavor, refrigerate it for 30 minutes before serving.
Salad Dressing 
I used plain yogurt, a little mayonnaise, olive oil, lemon juice, and salt and pepper to make the dressing for this delicious salad. You can even use a traditional German cucumber salad dressing made with sour cream, white vinegar, and a little sugar, but I did not like the sweet taste of the salad dressing and preferred to make it this way.
Should I Use Fresh Or Dry Dill?
Both fresh and dried dill can work in cucumber salad, but I recommend using fresh dill.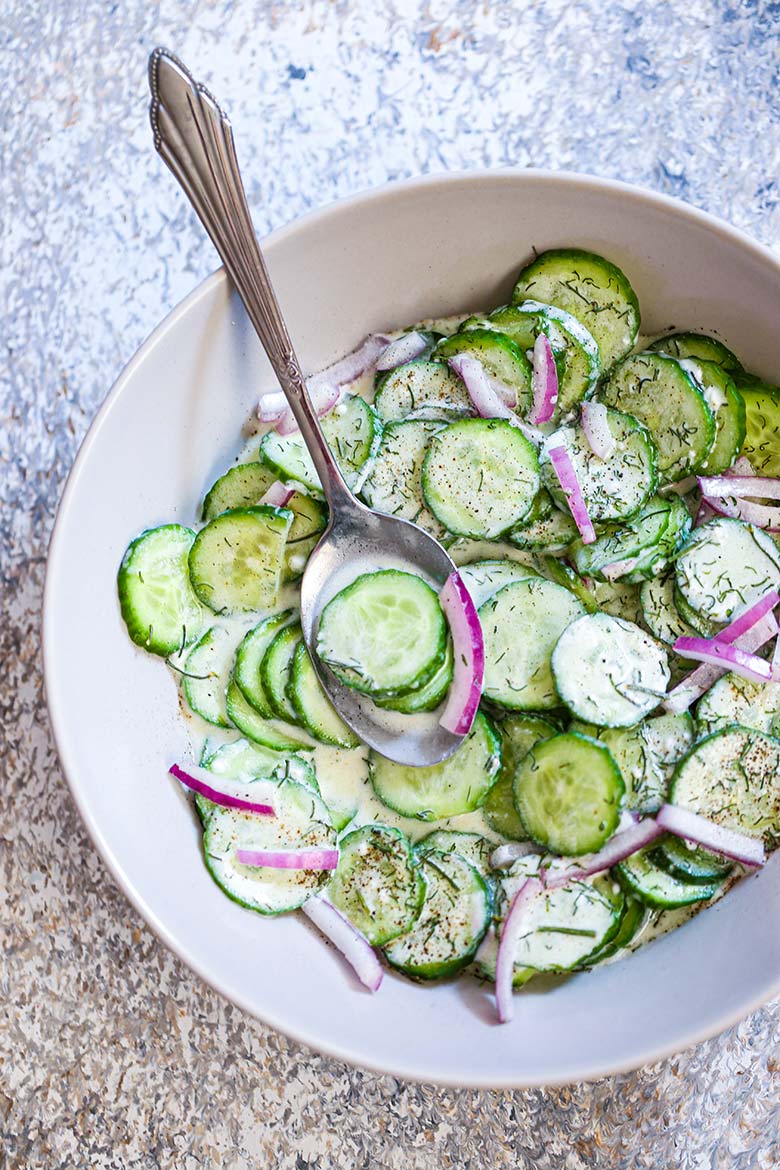 Did you like the German cucumber salad recipe? Try my tuna salad sandwich recipe as well! Leave your comment below and If you make this recipe, be sure to tag your photos #yummynotes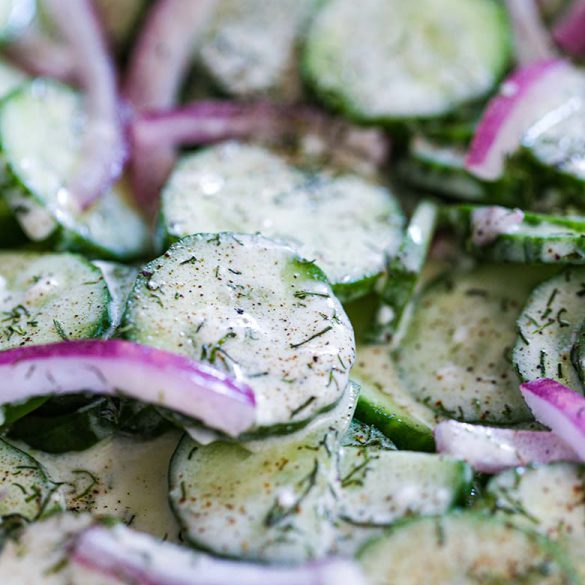 Ingredients
3 cucumbers

½ teaspoon salt

1/4 red onion thinly sliced

1 tablespoon mayonnaise

1/4 cup fresh lemon juice

2 teaspoons fresh dill

1/4 cup olive oil

1/4 teaspoon Black pepper

1/2 cup plain yogurt
Instructions
Step 1
Thinly slice the cucumber and onion and add to a large bowl.
Step 2
In a small bowl, combine yogurt and mayonnaise then add the dill to the mixture. Add salt, pepper, olive oil, and lemon juice to the salad dressing. Add the cucumber and onion into a suitable bowl and pour the dressing over the salad.
Did You Make This Recipe?